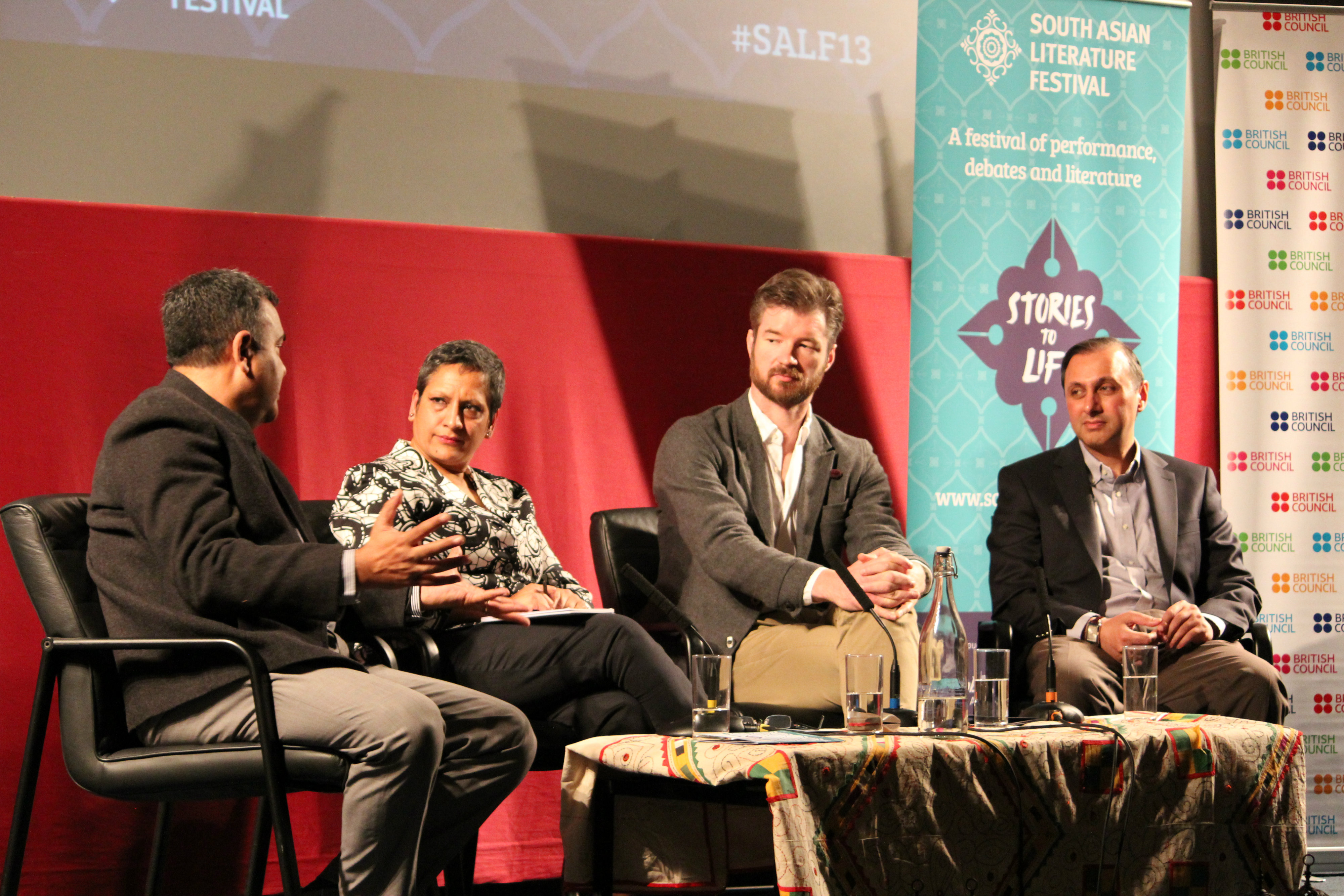 ---
LONDON:



I walked into the session a few minutes late and was struck by the tall and broad woman on screen in what appeared to be a Western country, crying as she heard the news of a flood destroying a village in India. She was obviously connected to the village somehow.

She then stumbles into a phone booth, dials a number and when a woman says 'hello?' at the other end, she is overcome with relief.




She tries but cannot say anything in response. She hangs up, calls again, this time managing a 'ma' in between her tears.

Her pain is met with the response: "My son is dead. Never call here again." It is then that one realises the person on screen is actually a 'pre-op transsexual'. The protagonist is then seen in his room, tearing his clothes off and breaking down in his loneliness.

This kicked off the Queer Desi Literature session at the South Asian Literature Festival currently being held in venues across London, with Pakistani representation including names like author Kamila Shamsi, BBC's Aamer Ahmed Khan and those with some Pakistani roots like journalist and writer Iman Qureshi, film-maker Aleem Khan and writer Aamer Hussein.

The clip from Aleem Khan's short film, Diana, mentioned above depicted beautifully the loneliness of such people, reminding me of the hijra community in Pakistan and making me wonder if they, while undeniably often shunned and ostracised, might be better off because they at least have others like them they can relate to and also wondered whether that makes life any easier.

Khan spoke about how he can never talk about his partner to his Pakistani father who had simply never been exposed to such a relationship, while he was much more comfortable around his mother, who had.

He also deals with the challenge of being asked on a regular basis how his queer films will be marketable. His answer: "I don't bloody know! I just want to make films I'm passionate about and believe that if I'm interested in a topic, surely others must be as well."

The panel also included authors Iman Qureshi, Sharmila Chauhan and theatre maker Bobby Tiwana.

Qureshi started writing queer literature because she was tired of "seeing our lives through the eyes of white people" and didn't understand "why we won't tell our own stories". She desperately wanted a transgendered actor to act in the movie version of one of her books, someone who could bring experience. However, Khan argued that this didn't matter, as long as the character is believable and, in Chauhan's words, "is able to bring certain sensitivity to the surface."

There was also consensus among the artistes that it is easier for queer theatre to get funding as it is very localised and doesn't require universal appeal, while the publishing word has stricter gatekeepers and often self-publishing is the only option. Movies, too, are harder to get funded, but are more accessible and easier to absorb by the masses than books. They also believe that queer literature should not have its own isolated category, but one that is part of mainstream literature.

When an audience member asked why queer relationship is often focused on the physical aspect, when there is so much more to it, Chauhan commented that South Asia is by and large a society obsessed with love but one that hates sex. And queer literature is capable of creating work that everyone can relate to as everyone knows what it is like being in a relationship.

Talking India and Pakistan

A session titled 'Reporting Across Borders' focused more on media than on traditional literature, while also shedding light on the India-Pakistan relationship.

Present to talk about his experience of Pakistan was journalist Declan Walsh along with lawyer and author Farooq Bajwa and Rahul Kansal, Executive President of Bennett, Coleman & Company, under which come many of India's newspapers, including the Times of India.

While a lot of the same rhetoric was said at the talk that one has often heard before — how the media of each country perceives the other as a threat and how little steps can be taken to improve this — the consensus eventually reached was that, as Kansal put it, the US has replaced India as "public enemy number one" in the eyes of the average Pakistani. In Walsh's words, our national narrative has been consumed by the US and we have a more nuanced view of India, one reason being exposure to Bollywood. However, for the average Indian, Pakistan remains the biggest threat, due in no small part to the Mumbai attacks which were aired live and have been forever ingrained into the public's psyche.

Walsh also commented on Bilal Lashari's feature film Waar, describing it as a "slick Bollywood style film with a tortured leading man, where at the end of the day, the bad guys turn out to be from the Indian intelligence, giving us insight into the thinking of the Pakistani military" — which has allegedly funded the film.

Walsh, having reported in Pakistan for many years, added that it is tricky to know what is really happening when a small incident at the border recoils into a big incident with politicians in Islamabad and Delhi "often left on the back foot trying to keep up with what's happening". He also said that while events like the Karachi Literature Festival provide a voice to many people of goodwill  and imagination, one runs up very quickly against those with other strategic goals.

According to Walsh, ex-president of Pakistan Pervez Musharraf came close to improving relations with Indian Prime Minister Manmohan Singh, but even this was behind closed doors and so creating political consensus would have been a huge challenge.

He also spoke about how Pakistan is deeply unsure about its own identity, still having furious debates to figure out what Jinnah would have wanted while political forces appropriate him for their own use.

He said he was not particularly optimistic about better relations "due to the nuclear capabilities of both countries". "Pakistan with its insecure military and India with its arrogance as well as the fact that relations are always hostage to unpredictability, you never know when another Mumbai attack could happen," he said.

On free press in Pakistan, Walsh said that there are two extremes — there is an "incredibly vibrant, in-your-face media" in the major cities where papers carry commentary with strong criticism, but it is still a very dangerous place for journalists who report from the provinces of Khyber-Pakhtunkhwa and Balochistan and some smaller towns.

In comparison, Kunal commented that the press is freer than ever before when it comes to taking a frank look at its internal problems.

Commenting on the Aman Ki Asha initiative in which Kansal has been involved, Kansal said that while there were no real results on ground, the sheer enthusiasm with which it was received and the people who attended the cultural shows it organised to bring Pakistani artistes to India, made it a success in his eyes.

His answer to improving relations was to bring about small changes such as allowing Pakistani trucks to cross the border in order to deliver cargo rather than have to stop nearby and have labourers carry goods to the other side, as well as relaxing visa restrictions, describing both issues as silly bottlenecks.

According to Kansal, there was a time when quality dramas coming out of Pakistan such as Dhoop Kinaray gave the Indian people a glimpse into the lives of those across the border, but now the only news they ever hear is about terrorist camps and plots against India. "There is a single-minded, myopic image of Pakistan being seen only through the prism of security," he said.

The festival runs till November 1.

Published in The Express Tribune, October 30th, 2013.

Like Life & Style on Facebook, follow @ETLifeandStyle on Twitter for the latest in fashion, gossip and entertainment.