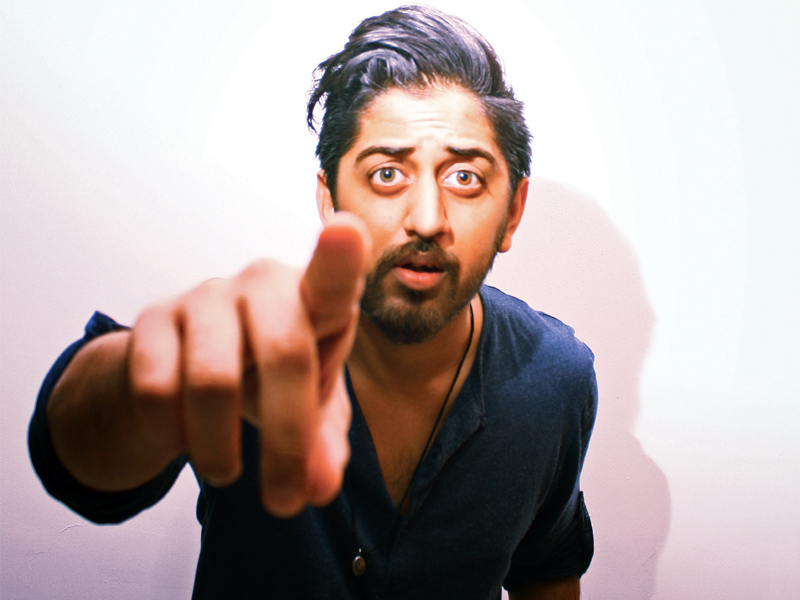 ---
KARACHI:



In the span of a year or so, 25-year-old Talal Qureshi has established himself as one of Pakistan's hottest producers/DJs. Without much help from the mainstream media, which mostly focuses on pop bands and commercial artistes like Strings and Atif Aslam, Qureshi has managed to make his mark as an electronic musician.




His latest single is called Lollicops, the video of which has been directed by the uber-talented duo Shahbaz Shigri and Aisha Linnea (they also directed Adil Omar's infamous Paki Rambo, which bagged a Lux Style Award nomination in 2012). The song is smooth and textured but is not 'dhikchick dhikchick' beat upon beat. Hilarious, quirky and memorable, the music video features two characters playing cops. They suck on lollipops and party with stuffed teddy bears before ripping them apart. What's funnier is singer-songwriter Adil Omar's appearance in the video. In what is a gimmick that takes a harmless dig at the police force scenario in our country, the song and video are full of flavour and punch.

This isn't the only video that Qureshi has released in recent weeks. He collaborated with Taimoor Salahuddin (Mooroo's Music) on the music video of Clubbing in Multan. The song title is edgy, the video even edgier! Directed by Salahuddin, the video is fresh and exciting. It stars Adil Omar as the slick, suited villain and Qureshi, who is on the run with a briefcase and punk girl. The car chase scene between them is fun and exceptionally well-shot. At one point, Adil does some exaggerated dance moves before getting into a scuffle with the punk girl. The video doesn't promote violence just like Ali Zafar's Aag didn't. It's merely a concept that both the videos depicted. But where Ali's video has no place for humour, Clubbing in Multan is drenched in dark humour.

While Lollicops is smooth, Clubbing in Multan has a bigger musical canvas and stays stuck in your head long after you hear it. The collaboration between Qureshi and Mooroo's Music is not a one-off. Qureshi remixed a beautiful and nostalgic song Tasveer by Mooroo's Music. "I'm producing few tracks for Mooroo, he's a great musician and I love working with him," reveals Talal and continues, "I'm releasing a new track soon, which is called The Whirling Ruckus. It is a collaborative track with Usman Riaz. My collaborative EP with Adil Omar will come out soon, probably around December/January. We're still recording and producing it right now. I don't really want to give away too much but I'll say this EP will be the best thing to come out of Pakistan."

In a quick conversation, Talal Qureshi talks remixes, electronic music and plans for the future.

Tell us about remixing Meesha Shafi's Dhol Bajay Ga and Attaullah Khan Essakhelvi's Kameez Teri Kaali.

Kameez Teri Kaali has to be the most random tune I've mixed so far. I believe this remix has paved the way for me to reach out to these people and take my music to them. As for Meesha, I'm a fan. I messaged her and told her that I am interested in remixing one of her tracks. I personally liked her song Dhol Bajay Ga, so I pitched it to her and she thought the output would certainly be interesting. I decided to do a traphop mix of it. The response was great! The great thing was that it got premiered on BBC Radio1/BBC Asian Network before it was released over the internet.

Are your songs played on local radio stations?

I think I get more international airplays than local ones. My tracks are on heavy rotation in the UK on the BBC Asian Network/BBC Radio1 and my music has been featured on radio stations in Finland, Austria, Iceland, Germany, Japan, India and Belgium.

How does Pakistan respond to Talal Qureshi?

I think they are slowly getting to know what I do. I have a stable fan base, which is growing day by day. I really want to play a part in building an electronic music industry in Pakistan, so I try to help them with anything that is possible.

You've signed up with a UAE-based record label. Can you throw some light on it?

Yes, recently, I was called to Dubai by this upcoming electronic music record label, Dubro Records. They have great plans that work and sync with my ideas for the stuff I want to do in future. That is the reason I signed up with them. This label has been launched by a really talented EDM producer/friend Zohaib Naveed (Y2Z).

Published in The Express Tribune, October 27th, 2013.



Like Life & Style on Facebook, follow @ETLifeandStyle on Twitter for the latest in fashion, gossip and entertainment.