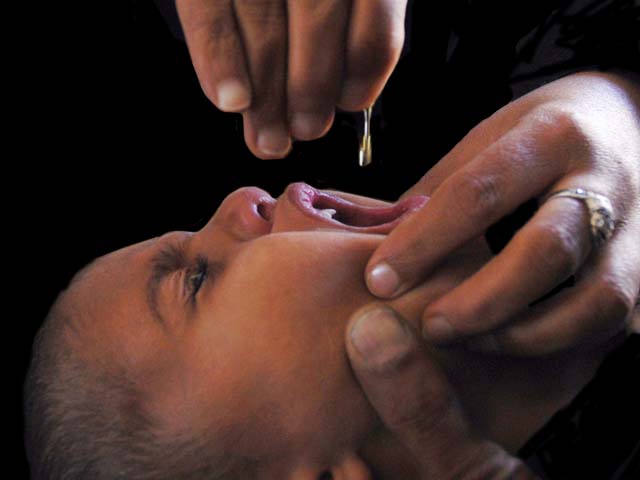 ---


On a number of occasions, I have argued Pakistan is on the verge of eradicating polio but that failure to do so would have serious global consequences. There is no need for me to repeat these arguments. Having said this, on World Polio Day 2013, I will not shy away from re-emphasizing some salient truths about the current and urgent dangers that polio poses to our children.




In a nutshell, although I do not intend to become part of any controversial debate like so many others, as a father I am disheartened to know hundreds of thousands of innocent children are now being deliberately exposed to a crippling future. Let's be honest with ourselves, polio affected children are less likely to grow up to be future doctors, nurses, teachers or lawyers. Most of them and their families will be convicted to a life of poverty and deprivation. What is troubling for me as a father is how we have come to be in a situation where so many children are being denied or deprived of a highly effective public health intervention.

Polio eradication is not rocket science. If we vaccinate our children, they will be protected, if we don't, polio will keep on following them. The poliovirus is smart; it looks for children with poor immunity levels and attacks them, cripples them. The vaccine, however, is smarter than the virus; it brings the immunity of the children to optimum levels, leaving the virus no room to attack. This is the reason why it is so important to ensure children are immunised during each and every polio round, so their bodies are prepared any time the virus attacks.




Polio travels largely undetected across borders and continents. A Pakistani citizen who leaves Karachi with a bad cold may never know that a few hours later, he has infected a cab driver in Dubai, Doha, or Cairo with polio. Easy and cheap air travel has increased the mobility of the virus and has made it more dangerous for the rest of the world. Now no country in the world is absolutely safe from poliovirus.

This is the main reason why the world is so interested in eradicating polio from Pakistan and other polio endemic countries. Every polio-free country has a right to be nervous that all the financial resources and tireless efforts which were put in place for their children and their country to stand in the row of polio-free nations may be jeopardized if all countries, including Pakistan, are not declared polio-free in the near future.

At the end of 2011, Pakistan was facing one of the worst and largest polio outbreaks in over a decade, with 198 confirmed polio cases and almost all sewage samples confirming the presence of the virus in the environment. The virus was everywhere and every child in this country was at risk. Transmission was particularly intense in three zones, including the Federally Administered Tribal Areas (Fata) and parts of central Khyber-Pakhtunkhwa, Quetta and its neighbouring districts of Killa Abdullah and Pishin, as well as Karachi. With so many paralysed children and asymptomatic children silently spreading the virus, we had reached an all-time low.




So, what was done following this low-point? To cut a long story short, all the so-called "failing polio programme of 2011" needed were some key game-changing decisions. Intensification of activities, accountability and oversight were key to the change we saw in 2012. The children of Pakistan remain grateful to all the deputy commissioners, commissioners and the higher bureaucracy for their efforts to ensure a healthy future. Thanks in large part to their efforts, Pakistan recorded a 70% decrease in cases in 2012, with only 58 polio cases. Moreover, one of the three types of poliovirus was completely eradicated during that year.

Without exaggeration and in frankness, by the end of 2012 Pakistan had made such big strides towards eradication that life without polio seemed a very real possibility for the children of the country. Then horrific things happened. The dreadful attacks on polio teams that started in December 2012 continued into 2013. It goes without saying such events, and the accompanying intimidation and fear, cause serious damage to the morale of polio workers who work tirelessly for the future generations of the country. Ironically, rather than attacking a virus that cripples and kills, our health workers were being attacked and killed. Preceding the targeted attacks on polio teams, a ban on all polio immunisation was introduced by the Taliban in North and South Waziristan in June 2012. With very limited vaccination activity in the area since that date, we have a huge 'vaccination-gap'. The ban remains in place.

In other parts of the country, in spite of their fear, vaccinators heroically continued their battle against the disease and carried on from house to house to offer the vital polio drops. In my view, their humanitarian spirit and courage is truly worthy of a Nobel Prize.

The success of polio eradication efforts continued in 2013. We currently have 46 polio cases this year – a further reduction on the 2012 figure. The noticeable exception to this success is the areas in which inaccessibility and fear have prevented vaccinators from reaching children. In fact, close to 90% of the children paralysed by polio this year come from the areas in which there are problems of inaccessibility due to the ban on vaccination, or a fear of violence against polio teams and where good quality vaccination has therefore not been possible. In these areas, approximately 1.3 million children have little chance of immunisation as compared to the rest of the children in Pakistan.
Without a doubt, the outbreak in these areas clearly threatens the children in the rest of Pakistan.

In North and South Waziristan combined, an estimated 260,000 children have remained deprived of the polio vaccine since the ban on immunisation. As a result, 14 innocent children have been unjustifiably paralysed and the outbreak threatens the future of so many more. A large number of these children (74%) have never received a single dose of polio vaccine. In 2012, this number was very small - only 13% of polio afflicted children were unvaccinated. An estimated 91% of children paralysed by the poliovirus in Waziristan were below the age of two years. This shows these affected children were born around or after the month of June last year, when the ban on immunisation was imposed. This makes it very clear children who remain unvaccinated during polio campaigns are and will remain vulnerable to the poliovirus. Denying a child's right to vaccination is a great injustice.

Laboratory results have now confirmed the current number of children infected and paralysed by the poliovirus in North Waziristan and Bara of Khyber Agency this year is only the tip of the iceberg. A historic poliovirus 'tsunami' is unfolding in Pakistan. With such large numbers of un-immunised children, we will soon be hit with a large wave of polio across this country. The children of Pakistan and around the world are at risk. Concrete steps have to be taken by all stakeholders to stop this outbreak.


The onset of paralysis cases in 2013 (up to October 19) occurred in children aged between three months and 8 years. According to the WHO, polio mainly affects children under the age of five but can strike at any age

On this World Polio Day, I would like to make a personal plea to everyone holding a stake in polio eradication.

These stakeholders include, of course, the parents whose responsibility it is to ensure their children are protected against polio. But in order to stop the explosive ongoing polio outbreak in Fata, all parts of government, civil society, communities throughout the country, as well as the Taliban, must now be actively involved in addressing the sizable challenges we face. All that is needed are a few good campaigns reaching every child through negotiated access -  based on the core humanitarian principles of humanity, neutrality, impartiality and independence. The polio eradication effort in Pakistan will continue, whether it takes us one year or longer than that. But at this very moment, we have to save our children from this crippling disease and stop this major outbreak.

The author is the head of Polio Eradication at the World Health Organization.

Fact box



Wild polio refers to a poliovirus which is encountered in nature and not communicated by a strain of the virus used to produce polio vaccines


The source of the virus in a patient matters; less than 5% of those infected with wild
poliovirus show symptoms, the rest show none but can transmit the virus to others


198 was the number of confirmed polio cases in 2011


One of the three types of poliovirus was completely eradicated during 2012


5,994 children could not be administered OPV in an anti-polio campaign in October in Peshawar district due to 'parental refusal'


Published in The Express Tribune, October 24th, 2013.
COMMENTS (3)
Comments are moderated and generally will be posted if they are on-topic and not abusive.
For more information, please see our Comments FAQ