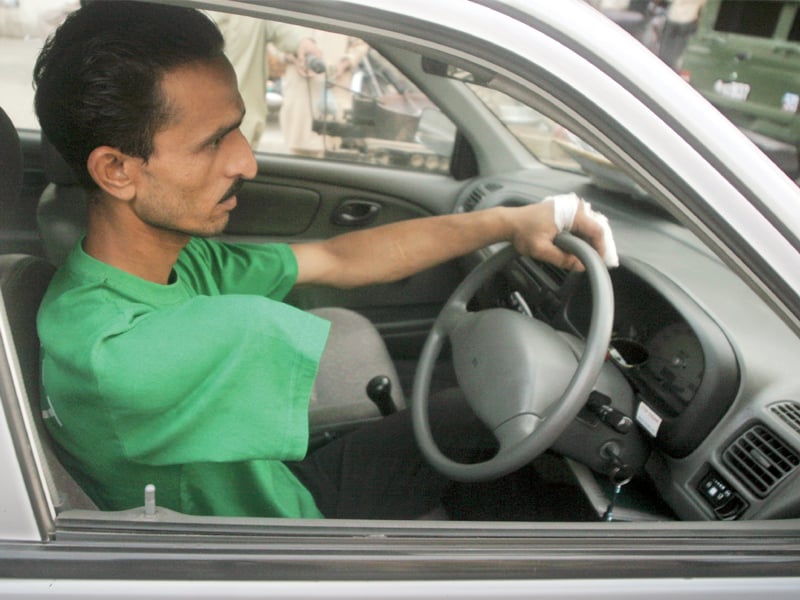 ---
KARACHI:



Valet Ameer Nawab has parked up to 280 cars in a little over ten hours. His colleagues declare him to be the fastest driver around. What is more remarkable is the fact that he has only one arm.




"I have turned my handicap into my strength," smiled the slim man, who lost his right arm a few years ago in a car accident. In April 2010, when Nawab was a driver supplying fuel for the Nato forces, another oil tanker rammed into vehicle in the hilly area of Mach, Balochistan. An oversized green shirt now covers his armless right shoulder that was damaged in the accident. "I thought I would never be able to drive again. It had been my passion since I was a kid."

After the tragic incident, Nawab's driving career came to a temporary halt. He became a vendor, sold cosmetics and worked at a paan cabin to make a livelihood for his three children. He filled the void in his income with these odd jobs until, one day, a cousin pushed him to resume his driving. After practising his skills for a week, he felt confident enough to hit the road again.


Valet Ameer Nawab strove to overcome his handicap after his right arm was cut off in an accident by working as a driver for Valet Solutions (left). A speech- and hearing-impaired person, wears a shirt saying, 'Please understand my disability', as he guides traffic at a shopping mall (right). PHOTOS: AYESHA MIR & ATHAR KHAN/EXPRESS

As a valet, the 28-year-old can easily drive any car he is given — manual or automatic, big or small — as long as it is not left-handed. "People are often reluctant to trust me with their cars as they feel I will not be able to drive," he grins, demonstrating his quick moves on the steering wheel and the gears.

Nawab works for a valet company that hires people with disabilities, offering them job opportunities and the chance of a decent lifestyle.

At another mall, three speech- and hearing-impaired people work as traffic wardens. Wearing t-shirts marked with, 'Please understand my disability', they blow their whistles to attract attention, control traffic, guide clients towards their vehicles and help them get inside and put their things in the car.

A BA graduate, Shoukat signals towards his heart to explain how good it feels to help others. His colleague, Rajab Ali, opens the door of a car to help a family board their vehicle, smiling at them the whole time. Through sign language, Ali, 42, reveals that he has five children, two of whom cannot speak or hear. He has worked in a hospital before but is happy with his current job because of the better tips.




On duty at the mall's basement parking, Shafqat blows his whistle to direct the oncoming traffic. The timid man says that he has married a teacher who also suffers from speech- and hearing-impairment. Their cute little daughter, however, does not have any disabilities.

Man behind the programme

Omer Sheikh, the brains behind the programme hiring people with disabilities, runs a company offering valet services by the name of Valet Solutions. The former banker, Sheikh, says that he was inspired to employ people with disabilities after he witnessed a hearing- and speech-impaired person cleaning windscreens at a petrol pump.

"I feel such people are not given enough opportunities. I wanted to give them a chance to work so they get accepted in society."

Currently, Sheikh has eight disabled employees - deployed at two shopping malls in Clifton, a hotel and a food street. He is looking to recruit more people, hoping to provide opportunities to as many as he can. Apart from Ameer, Sheikh approached all his employees through the Family Educational Services Foundation (FESC). Once a person is selected, an interpreter helps him understand the nature of the job and when he is sent to the location, the others help him understand more about the work to be done.

Published in The Express Tribune, October 23rd, 2013.
COMMENTS (14)
Comments are moderated and generally will be posted if they are on-topic and not abusive.
For more information, please see our Comments FAQ