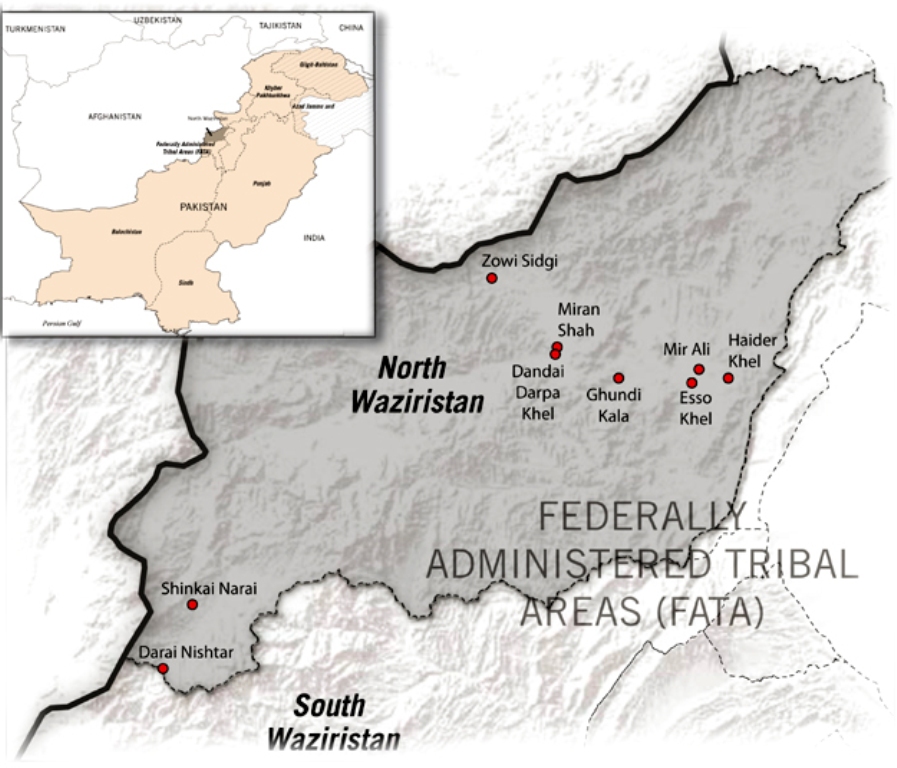 ---
KARACHI:



"I wasn't scared of drones before, but now when they fly overhead I wonder, will I be next?" Eight-year-old Nabeela witnessed the death of her grandmother, Mamana Bibi, by a drone strike in Ghundi Kala village, North Waziristan. She asks the quintessential question surrounding the debate on drones.




Therefore, Amnesty International's report on US drone strikes in Pakistan is duly titled "Will I Be Next?" The report, to be released today (Tuesday), does not claim to be a comprehensive report; but it is a qualitative assessment based on detailed field research into nine of the 45 reported strikes in North Waziristan between January 2012 and August 2013.

The report focuses on the arbitrary deprivation of life, categorically stating – and proving with its case studies, survey and fact-finding – that the "United States has carried out unlawful killing in Pakistan through drone attacks, some of which could even amount to war crimes."

No matter which international law regime is applicable – be it international human rights law or international humanitarian law (the laws of war) – it is obligatory for United States to ensure thorough, impartial and independent investigations are conducted into the killings.

The United States refuses to make public even basic information about the drone programme and does not release legal or factual information about specific strikes, the report points out. "None of the US authorities contacted by Amnesty International (AI) were willing to provide information regarding the specific cases documented in this report or the legal and policy basis for the drone programme in Pakistan." It doesn't stop there. The report also envelopes in other states as well, pinning responsibility on them of upholding international law. The United States and other countries, including Australia, Germany and the UK, that are "providing assistance must act in full conformity with their obligations".


Location of nine US drone strikes in North Waziristan investigated in detail by Amnesty International. *Names and boundary representations do not necessarily constitute endorsement by Amnesty International. MAPS AND IMAGES COPYRIGHT CREDIT: © AMNESTY INTERNATIONAL

Pakistan: not exactly a victim?

Moreover, Amnesty International does not absolve Islamabad of a role in the drone operations either. AI expresses concern in the report about the "failure of the Pakistani authorities to protect and enforce the rights of victims of drone strikes".

According to the publication, Pakistan stands accused of a range of human rights failings: from the possible complicity of some organs or officials of the Pakistan state in unlawful killings resulting from the US drones programme, to the failure to protect people in Fata from unlawful drone strikes or to assist victims.

Although the writers of the report thank the government of Pakistan for their support and cooperation, they do mention, "None of the authorities answered questions regarding specific drone strikes or the possible role of some Pakistani officials or private citizens in the US drone programme".

Precision weapons: not precise enough?

At the centrepiece of the report is the unlawful and unexplained killing of non-combatants. Clearly, the drones are missing 'targets' and there is no proof or identification of whether the people who are hit are genuine militant targets or not.

"We cannot find any justification for these killings. There are genuine threats to the US and its allies in the region, and drone strikes may be lawful in some circumstances. But it is hard to believe that a group of labourers, or an elderly woman surrounded by her grandchildren, were endangering anyone at all," said Mustafa Qadri, an AI Pakistan researcher.

And there is no explanation or remorse either. Who is killed and why are unknowns. This secrecy has enabled the United States to act with impunity and block victims from receiving justice, the report claims.

Through this publication, Amnesty International and Human Rights Watch jointly call on the US Congress to investigate the cases documented and other unlawful deaths and to disclose evidence of human rights violations to the public.

Elderly woman killed, grandson hurt


Labelled imagery of US drone strike on Ghundi Kala, North Waziristan, Pakistan. IMAGES COPYRIGHT CREDIT: © AMNESTY INTERNATIONAL

Mamana Bibi, 68, was tending her crops in Ghundi Kala village on the afternoon of October 24 last year when she was killed by two Hellfire missiles fired from a drone. Her three granddaughters saw the blast, the killing, the destruction, as they were in the field, 119 feet away.

However, a few minutes later, another Hellfire missile struck, hitting a vacant area, 9 feet away from where Mamana Bibi was killed. Kaleem, who had rushed to check on his now late grandmother after the first strike, was hit by shrapnel in the second. He broke his left leg and suffered a large, deep gash in his thigh.


Granddaughter of Mamana Bibi, was killed in a US drone strike on 24 October 2012 in the village of Ghundi Kala, North Waziristan, Pakistan. IMAGES COPYRIGHT CREDIT: © AMNESTY INTERNATIONAL

AI terms these strikes "rescuer attacks", as those who run to the aid of the victims of an initial drone strike are targeted in a rapid follow-on attack. Pakistani intelligence officials told Amnesty that a local Taliban fighter had used a satellite phone on a road close to where Mamana Bibi was killed about 10 minutes before the strike and then drove away. They were unaware of why Mamana Bibi's was killed but they assumed that it was related to the Taliban fighter's proximity to her.

However, witnesses and family members denied the presence of militants anywhere near Mamana Bibi at the time of the attack. In addition, AI's investigation found no evidence of military or armed group installations, hideouts or fighters.

The family has not been able to recover from the loss. Mamana Bibi's son told AI that his father is grief stricken and his children are living in constant fear. "My daughter [Asma] suddenly gets scared and tells me she is going to be killed. She is living in constant fear. My children are worried even to just gather outside."

18 labourers 'gone', child injured


Picture taken by a Zowi Sidgi resident reportedly of missile debris from the drone strike on July 6, 2012 that killed 18 people and injured at least 22. IMAGES COPYRIGHT CREDIT: © AMNESTY INTERNATIONAL

On July 6 last year, a group of labourers from Zowi Sidgi village had gathered at a tent. It was their "gathering place" after a long day of work. Missiles hit the tent soon after, killing eight labourers.

Some villagers ventured to search for survivors and sift through the devastation, narrates the report. However, more drones fired another series of missiles a few minutes later, targeting those who had come to the scene.

In the drone strikes that evening, at least 18 people were killed and 22 injured, including an eight-year-old girl named Shehrbano, who sustained shrapnel injuries to her leg.


Image of road leading into Zowi Sidgi village in North Waziristan Agency where 18 labourers were killed in a US drone strike on 6 July 6, 2012. IMAGES COPYRIGHT CREDIT: © AMNESTY INTERNATIONAL

AI identified all those killed and injured in the Zowi Sidgi attack – all but Shehrbano were men of 'military age' , ie, 18-35, which seems to be the criterion for American targeting.  Contrary to official claims that those killed were "terrorists", AI's research indicates that the victims of these attacks were not involved in fighting and posed no threat to life.

………………………………………………………………………………………………………………………………………

[poll id="1240"]

Published in The Express Tribune, October 22nd, 2013.
COMMENTS (33)
Comments are moderated and generally will be posted if they are on-topic and not abusive.
For more information, please see our Comments FAQ