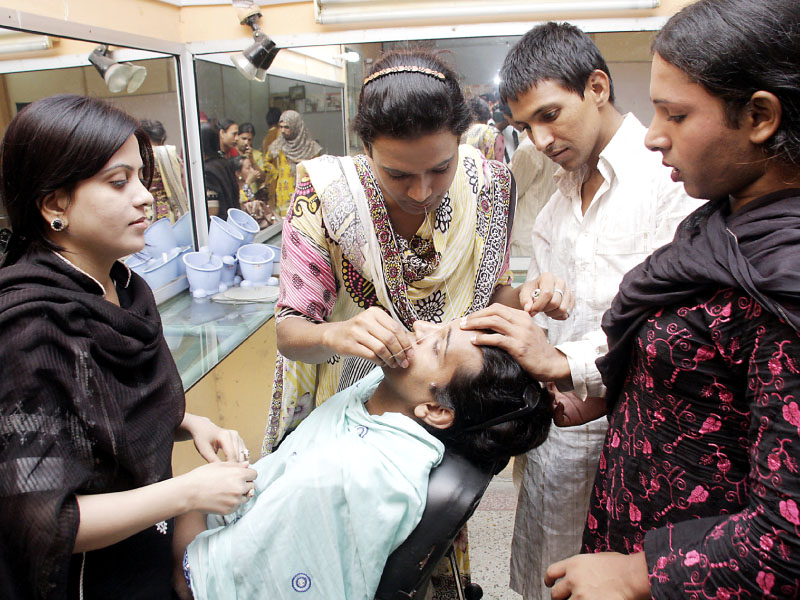 ---
LAHORE:



The entrance to this old structure situated close to the historic Chuburji is discreet. A hallway opens into a classroom lined with mirrors and beautician chairs, with a whiteboard on one wall and chairs all over. This may be an average classroom, but some of the students who come here are not.




For Kajal Bano, 6 months of being a student here is just not enough. "I want to learn more. I know if I am given more time I can learn to speak English," she says and turns to the whiteboard and writes her name and address: "Kajal Bano, Thokar Niaz Baig".

"What awaits us out on the streets is people hurling abuses and throwing eggs, rotten tomatoes and garbage at us. Now they have started throwing water balloons," says Parri, adding "but here, we are respected, feel secure; here, our dreams, no matter how outlandish, seem real."

Parri is one of the 30 students enrolled in a six month literacy and vocational training program being conducted under the Literacy and Non-Formal Basic Education (LNFBE) department for transgenders in the city.

For Parri, who is a mentor for 10 eunuchs, the training centre offers refuge from what she describes as social injustice. "What's so wrong with us? I don't know why people feel so disgusted by us. We are just like them, only somewhat disadvantaged."

The LNFBE department piloted the project earlier this year under which two such training centres were made for transgenders in Rawalpindi and Lahore and holds classes for these students at the Vocational Training Institute (VTI) in Samanabad.

While the centre runs regular classes during the day, it holds special classes for transgenders from 3pm to 6pm. Students are taught basic literacy skills in Urdu and English, and basic mathematics according to the LNFBE adult literacy curriculum for two hours. One hour is dedicated to vocational training. Books are offered by the department.

Beautician courses are highly sought after by Parri and her classmates. "You cannot begin to imagine how excited they were when they heard that we will be offering beauty courses," says principal of the VTI Rana Rafaqat Ali. Though the excitement level was not as high for the literacy part of the programme, the aim is to offer learning opportunities for this community it hardly ever gets.

A coordinator at the centre, Mohammad Shafiq, is responsible for bringing in students every day. Popular amongst the students, it takes Shafiq couple of hours just to gather the students. "Sometimes they are in no mood to come to the centre," he says. "But now they realise it's for their own good."

Despite these efforts, out of a class with a total strength of 30, only 20 make it to their class 5 times a week on an average. This worries the Project Director at the LNFBE, Mohammad Usman. "What needs to be understood is that this is a very difficult segment of society to handle," he says. "While some of them are very bright and ambitious, they are often not motivated enough." Usman believes the greatest challenge is conveying to them the importance of literacy. "This is why we modelled our programme so as to impart vocational training alongside literacy," he explains. Every student is paid a monthly stipend of Rs500. The centre largely tries to provide transport and also provides a free basic medical checkup during their monthly visits to the Fountain House, where they sing and dance at functions and earn a monthly stipend.

Parri brings in 3 chailay (followers) from her group named Chocolate, Sawera and Munni. Regarding the reluctance in her community to get education, Sawera claims it is often the Guru's choice. "We are here because our Guru was into learning. Mostly Gurus just want you to sing, dance and bring money."

One of the students is 35-year-old Tipu, who says "I wish there was something of this sort when I was younger."

The batch is due to pass out this month. The centre is already working on providing these students with job opportunities as trainees.

Published in The Express Tribune, October 19th, 2013.
COMMENTS (4)
Comments are moderated and generally will be posted if they are on-topic and not abusive.
For more information, please see our Comments FAQ