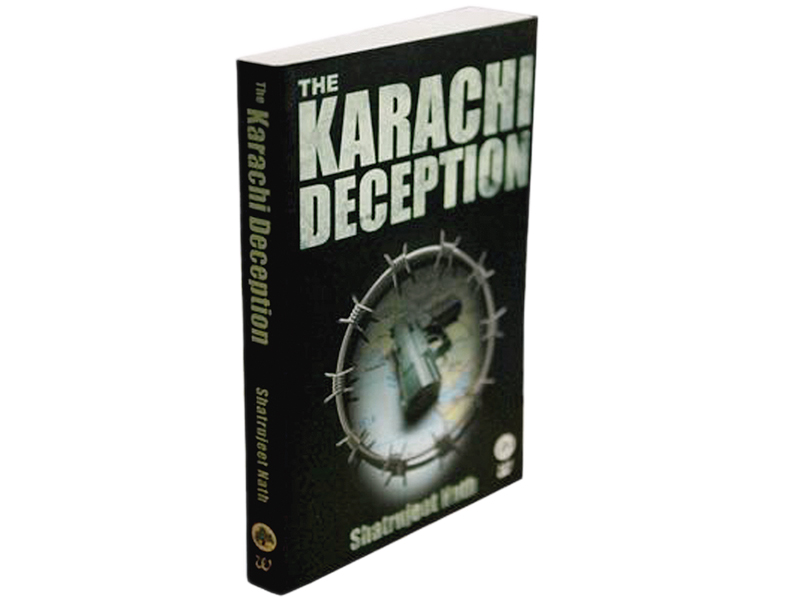 ---
Journalists sometimes make the best novelists. Shatrujeet Nath may be a case in point. The former assistant editor of business newspaper, The Economic Times, has written a spy thriller for his debut novel, The Karachi Deception. The plot concerns infamous underground don Arshad Dilawar, which I understand is a fictitious name for none other than Dawood Ibrahim. It was because of this choice that I felt it was hard to ignore the political baggage this comes with. India has long accused Pakistan of sheltering Ibrahim, who is believed to be living in Karachi. The Indian government has demanded Pakistan hand him over despite the fact that Pakistan has repeatedly denied his presence in the country. With this work of fiction, though, it appears that Nath is laying a similar claim to plead the same case.

The story begins with an assassination plot, set in Pakistan and India, but takes readers to other countries as well. The plot is codenamed 'Abhimanyu' and is hatched by the Research and Analysis Wing (R&AW) and the Indian Army intelligence to kill Mumbai-based Dilawar. The main characters are three Indian commandos Major Imtiaz, Captain Shamsheer and Lieutenant Rafiq. They are picked by top intelligence officials to get into Karachi and take Dilawar out. He is portrayed as a guest of the Pakistan government and Inter-Services Intelligence.




One of the stronger characters is Major Imtiaz, who is bold, courageous and well-focused. Nath could have perhaps paid similar attention to Dilawar, who is central to the story but given short shrift. At many places the reader would like to know what makes him tick, or how he feels and thinks while being taken from one place to another — this would have balanced out the political overtones. And after all, we are always more interested in the villains and attracted to them forensically. We want to know how one becomes an underworld don, and how they hold on to such power.

The novel is set against the backdrop of global terrorism as Dilawar is helping Pakistan's intelligence agencies in its proxy war against India. Although Dilawar escapes the assassination attempt by the skin of his teeth, the readers are then taken to a secret meeting between the heads of the Indian intelligence and R&AW.

The suspense builds as there are plots within plots, as is the case with espionage in this neck of the woods. The characters are caught up in a deadly game. At one point it becomes clear that one mission has been compromised, a rather formulaic twist, which we were expecting. Major Imtiaz starts realising that his men are being lured into a deadly trap.

Fortunately, the book isn't all about bloodletting and violence as Nath has worked it more as a spy thriller. This required strong detailed writing and Nath seems to have done extensive research as evidenced by the close descriptions of places in Karachi and Islamabad. People this side of the border and that will probably enjoy it for different reasons best left to their own political and literary leanings. Perhaps some filmmaker will come along and decide to give the novel another dimension. Either way, it is an interesting addition to the growing corpus of spy and crime fiction coming from this part of the world.

Don't look over your shoulder: three picks for espionage thrillers

The Spy who came in from the Cold



by John le Carré

This slim little book is known as the best spy novel of all time. Le Carré wrote it at the height of the Cold War tensions and its success lies in its examination of how the West condoned the type of espionage that went against democratic values. A British spy working in East Berlin is asked to go back into the cold for one last mission.

Gorky Park by Martin Cruz Smith




Three bodies are discovered in Moscow's famous Gorky Park but they can't be identified as their faces and fingertips have been removed. Arkady Renko, a chief detective for the Militsiya, is assigned to the case. This 1981 crime novel was turned into a film with William Hurt. Aside from being a best-seller, this book was a daring American novel with a Russian hero.

The Alientist  by Caleb Carr




This 1994 best-seller is a crime novel set in the New York of 1896 and follows the police commissioner as he investigates some gruesome murders of immigrants. Carr's ability to work as a historian and novelist bring an entire world alive in this spine-tingling page turner. It is set at a time when the idea of serial killers had just emerged in the study of crime.

Published in The Express Tribune, Sunday Magazine, October 20th, 2013.
COMMENTS (4)
Comments are moderated and generally will be posted if they are on-topic and not abusive.
For more information, please see our Comments FAQ