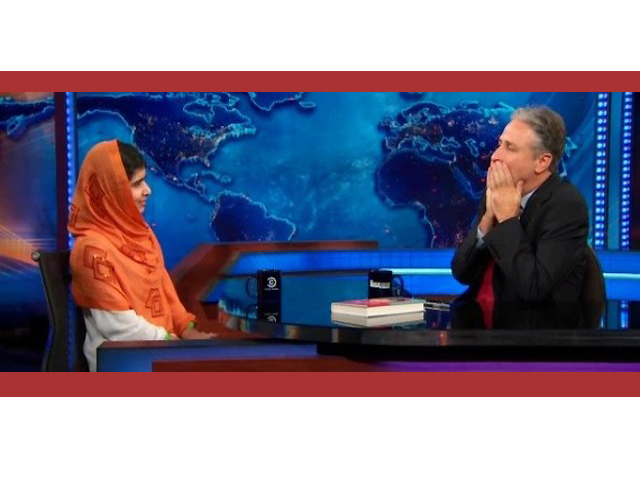 ---
During an interview on American television show "The Daily Show" child activist and blogger Malala Yousafzai stated that women are more powerful than men, drawing laughter and applause from the audience and host Jon Stewart.

The Telegraph reported that her inspiring comments on the show have already gone viral on the internet, with one clip of the interview reaching over 700,000 hits in less than 24 hours.

The 16-year-old girl who was shot by the Taliban last year has become a prominent symbol representing peace and women empowerment. Nobel Peace Prize experts have said that Malala Yousafzai is the "favorite" person to receive the upcoming award because of her bravery and her desire to be a spokesperson for women rights.

During her TV interview she said, "I will be grateful to receive the Nobel Peace Prize as it will be a great honor for Pakistan."

Malala also said that she was not afraid when she received threats from the Taliban, and initially, she had planned to hit any assailant with her shoe. Later however, she rethought her position.

"If you hit a Talib with your shoe then there would be no difference between you and the Talib, you must not treat others that much with cruelty and that much harshly, you must fight others but through peace, and through dialogue and through education," she stated.

During the talk show she wished that she could meet the Taliban and speak to them.

"I'll tell him [Taliban] how important education is and that I even want education for your children as well and I will tell him that's what I want to tell you. Now do what you want," she said.

During the interview, Jon Stewart expressed his desire to adopt Malala.

"Let me ask you – you know – I know your father is back stage and he's very proud of you, but would he be mad if I adopted you? Because you sure are swell…" he stated.

Stewart added that he was humbled by the young girl.



Watch the episode here.
COMMENTS (31)
Comments are moderated and generally will be posted if they are on-topic and not abusive.
For more information, please see our Comments FAQ