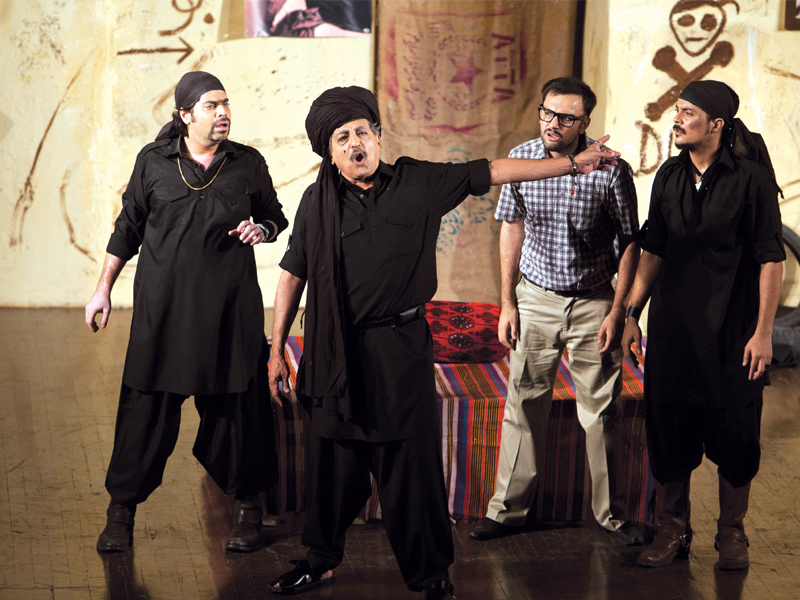 ---
ISLAMABAD: Forget whatever you may have heard about the notorious and outlawed Sultana Daku. The revamped version is the undone likeable villain — and not a Bandit Queen-esque tramp as the title would have us believe — who is seeking redemption for his ill ways, a promise he had made to his dying mother. For this, he gets a journalist kidnapped to have his story featured in the local newspaper.

He is the proverbial Robin Hood who steals from the rich and gives to the poor. He is the crude Gabbar Singh, the unkempt underworld don and the all-round badass king-pin of the theatre play "Sultana Daku" that was staged at the Islamabad Club on Saturday evening.

Directed by Abdullah Farhatullah and co-produced by Usama Qazi and Mohsin Ejaz, the play is a humorous take on the coming-of-age daku stereotypes as we know them. With jokes borrowed from popular culture, it strikes a raw nerve by attacking the power games of politics, media, law and some poignant social realities, all within the hour-and-a-half duration.

The script feels like an experiment which seems to have gone right. Between the daku (Salman Shahid) narrating his biography to the journalist (Shah Fahad) by holding him hostage and the antics by his sidekicks Chuski (Ottoman Ali Khan) and Kekra (Zubair Khan), there are a myriad of overdramatic acts by his girlfriend Eighteen (Nida Shehzad.) Yet on the whole, the on-stage chemistry seems to work just right.

The veteran television and film actor, Shahid, is animated without going overboard. Instead of overpowering his co-actors, his energy and charisma only complement theirs. Ottoman and Zubair make for an interesting duo, breaking into dance and poking good-natured fun at each other.

With the Bollywood extravaganza of music, dance and some solid acting, one tends to overlook the awkward moments of silence or prolonged blackouts between the acts. Moreover, what really makes the play unique is the live violin performances by Ustad Saleem at odd intervals in the play. Like the silent Mr Bean or Charlie Chaplin, he is the undecorated hero, who moves the plot forward with his situational tunes, which send the audience laughing in roars.

Aisha, an audience member said, "I loved the social commentary and the references to one of the politicians (spoiler alert)".

The team at Purple Patch and Media City Productions have given a refreshingly-new spin to the traditional themes of the gangster genre, in what seems an effortless attempt. The play continues till October 13.

Published in The Express Tribune, October 7th, 2013.