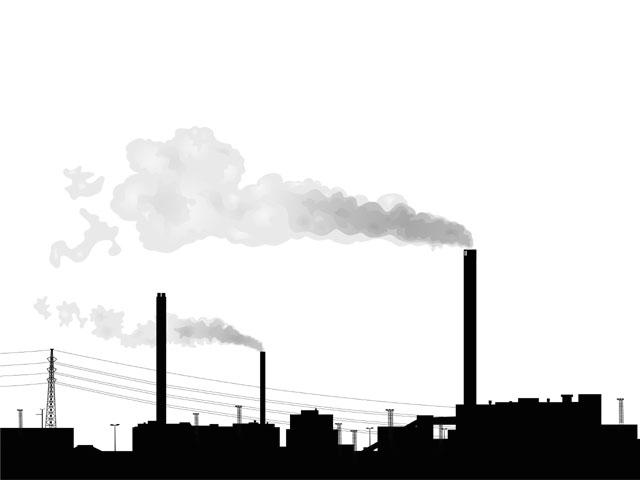 ---
KARACHI:



Karachi will continue to be a troubled city despite effective measures to root out all sorts of mafia unless the government puts an embargo on setting up further industrial units in the metropolis, the only cause of the population explosion.




Frankly speaking, this is the only permanent solution, because unless the government stops the unchecked and uncontrolled massive migration of workforce to Karachi, especially from remote areas of the country, the problem, instead of being solved will get worse.

Such a heavy migration of job seekers along with their families has fractured Karachi's socio-economic structure in various ways. The most significant is the big burden that has been put on its infrastructure, resources, civic amenities and above all law and order.

The city has an estimated population of 23.5 million as of April 2013, and a density of nearly 6,000 people per square kilometre. It is the third largest city in the world by population within city limits and the 11th largest urban agglomeration.

According to an estimate, 90% are migrants from different backgrounds and the population is estimated to be growing at about 5% per year, mainly as a result of internal rural-urban migration, including an estimated 50,000 migrant workers coming to the city every month from different parts of Pakistan.

Regular and heavy migration of people has adversely affected the city. Pollution has already reached alarming levels and with the increase in the number of vehicles on roads, smoke has become a permanent ingredient of the air that people breathe. Diseases like asthma, lung cancer, eye irritation and skin rashes are common in the city. Traffic jams, overcrowded buses and frequent accidents are a routine.

According to a write-up posted by Karachi's prominent businessman Majyd Aziz, Karachi has over 15,000 industries in the organised sector while there are more than 50,000 units in the informal or unorganised sector that are generally not under the purview of either the Labour Department or EOBI/SESSI etc.

The workforce figures do not reflect real employment because employers tend to understate the number of their workers to these departments and agencies. However, conventional wisdom shows that if each factory on an average employs 200 workers, then 15,000 units should be having in excess of three million direct employees.

If the workers of the informal or unorganised sector are included, plus taking into account home-based workers, then one could state that Karachi provides direct employment to over five million workers. This does not take into account domestic workers or volunteers.

Keeping in view the above facts, there cannot be any doubt that the only option to restore the position of Karachi as a peaceful city is to stop migration of people to the city and for that the government must tap the employment and population absorption potential in rural areas over the next decade.

In short, there is no alternative but to put an embargo on setting up industrial units in this city and go for a rural industrialisation drive, if we are to avoid politically explosive levels of unemployment and urban decay over the next decade. This should be initiated on an emergency basis and a comprehensive plan be formulated to develop small industrial zones for small and medium industrial units in rural areas with a view to providing jobs to people in their hometown.

Entrepreneurs can be attracted to invest in rural industrialisation by giving them more and more incentives. The Board of Investment's effort to create Special Economic Zones in the country is a step in this direction.

Rural industrialisation will promote the development of the rural economy, effectively transfer surplus labour force to rural areas, optimise the rural economic structure, improve living standards of villagers and make important contributions to the stability and development of the economy and society in the country.

Our villages have not developed fast. Agriculture is still by and large primitive and offers only seasonal employment. With the number of persons in the family increasing generation after generation, the average size of land holdings has decreased.

Farmers are not able to generate enough income to sustain their families. So they prefer to go to Karachi to find jobs. Along with job seekers some beggars and criminals also migrate to the city, seeking greener pastures in the metropolis.

Any stopgap arrangement or a short-term plan to solve the problems of law and order will not work. The problem is so deep-rooted and chronic that all such measures will turn out to be counterproductive. Therefore, the time has come to a ban more industrial units in the metropolis which has crossed the limit of industrialisation, resulting in various problems including pollution, traffic congestion and emergence of slums. Besides, there are a series of troubles  that branch out into political instability.

The writer works for the National Industrial Parks Development and Management Company

Published in The Express Tribune, October 7th, 2013.

Like Business on Facebook, follow @TribuneBiz on Twitter to stay informed and join in the conversation.
COMMENTS (8)
Comments are moderated and generally will be posted if they are on-topic and not abusive.
For more information, please see our Comments FAQ