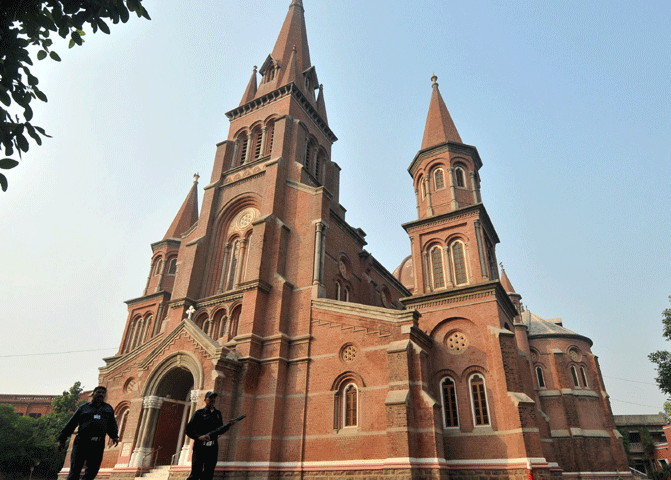 ---
KARACHI:



Mumtaz Khan wakes up before the crack of dawn every day and offers Fajr prayers. Immediately afterwards, he heads towards St Anthony's Church in Karachi. He's been doing this for the past 12 years. He's a guard at the Catholic parish.




"No religion teaches attacking places of worship," says the 43-year-old Pathan. "This is what Islam teaches us."

Khan was born and raised in the meadows surrounding Abbotabad. In search of greener pastures, he moved to Karachi in 2000 where he replaced his uncle as security guard at the 75-year-old church.

From dawn till dusk, he sits inside the iron gate. He carefully looks through the peephole before he opens the gate to let the parishioners in.

"No Pathan would harm anyone, especially the religious minorities," says the tall Khan, proudly claiming. "Those you saw helping the injured in Peshawar attacks were all Pathans."

Khan was referring to the Sept 22 twin suicide attacks on All Saints Church right after the Sunday mass that killed 80-plus worshippers and injured many more. This incident has brought into question the security at places of worship.




While the government has pledged to enhance security, at many churches, only private watchmen like Mumtaz Khan can be seen sitting at the entrances, alone and unarmed.

"A terrorist has to get through me first," he says bravely. "Some of my cousins are also protecting educational institutes in the city. We are never afraid."

Despite the law and order situation, fear seems to be the last thing on his mind. With a wife and four children back in his hometown, his job is what he is most concerned about.

Generations of saviours

Christian missionaries have served the poor and oppressed everywhere in the world. In the post-Partition scenario, Muslim watchmen have determinedly given protection to them.

Hussain Bakht, 30, succeeded his father, Shireen Khan, when the old man retired after 25 years of devoted service as a watchman at St Jude's Church in North Nazimabad.

At a time when many of his age were joining the militant outfits in his tribal town of Dir, Hussain Bakht looked for a peaceful livelihood.

"There is nothing to fear when I'm here," says the blond haired, grey-eyed Pathan guard. With no weekly holidays, he stands guard eight hours every day throughout the year.

"It does not matter if it is a chilling December night or a scorching day in June, my commitment is to my job and to the people whose life I have to protect," says young father of two.

These watchmen, few of them having some education, teach society at large how good it feels to protect one another, irrespective of religious differences.

Published in The Express Tribune, October 3rd, 2013.
COMMENTS (17)
Comments are moderated and generally will be posted if they are on-topic and not abusive.
For more information, please see our Comments FAQ