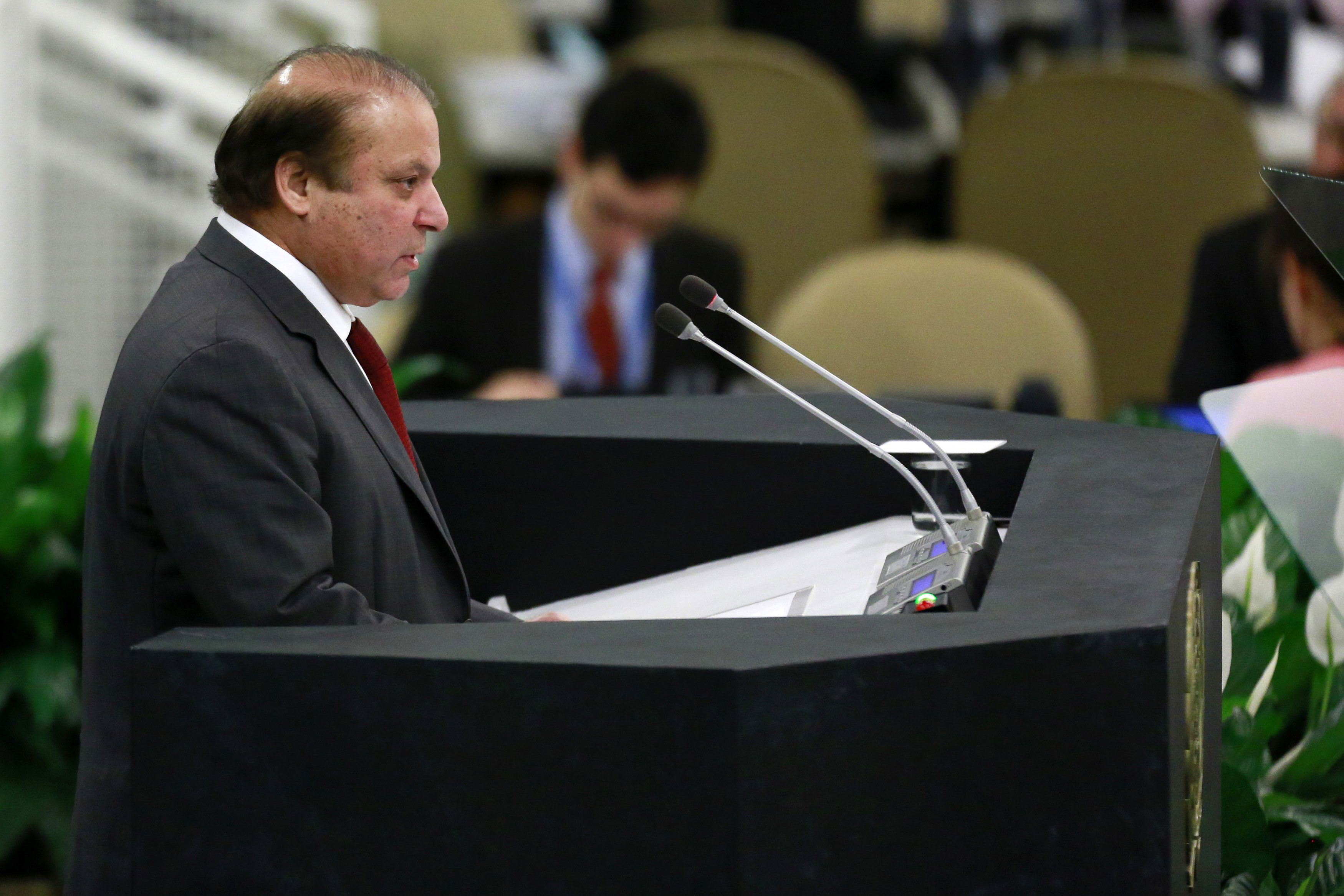 ---
NEW YORK: Prime Minister Nawaz Sharif, in his address to the United Nations General Assembly on Friday, said that his country condemned terrorism "in all its forms and manifestations", but the use of drone strikes could never be accepted as it was "a continued violation of our [Pakistan's] territorial integrity."

The Pakistani premier told UN that the "war against terrorism must be waged within the framework of international law. The use of armed drones in the border areas of Pakistan is a continued violation of our territorial integrity."

Nawaz emphasised that Pakistan had suffered immense losses to the plague of terrorism and was not prepared to endure any more. Therefore, the situation would have to change.

"We have lost 40,000 precious lives of men, women and children, which include 8,000 defense and security personnel. There have been colossal damages to social and physical infrastructure as well. Our economy has been denied the opportunity to grow fully.

"This must change now."

To that effect, he said he had "urged the United States to cease these strikes, so that we could avert further casualties and suffering."

The Kashmir issue

Nawaz said he appreciated the UN's role as an anchor for global peace and stability in the world, but that the UN needed to attend to the issue of Jammu & Kashmir and the implementation of the right of self-determination there.

"The suffering of the people cannot be brushed under the carpet, because of power politics," Nawaz noted, with regard to human rights violations in Kashmir.

Though he reaffirmed his faith in the UN as the only legitimate body to deal with international conflicts, on the matter of Kashmir, he expressed his veiled criticism.

"The issue of Jammu and Kashmir was presented to the Security Council in January 1948; and yet the issue remains unresolved after nearly seven decades."

Minimum nuclear deterrence

The Prime Minister told the General Assembly that as a "responsible nuclear weapon state", his country was committed to the cause of non-proliferation, disarmament and the policy of Credible Minimum Deterrence, but would always keep regional strategic and national interests in mind.

"Our position on the proposed Fissile Material Treaty is determined by our national security interests and the objective of strategic stability in South Asia," said Nawaz.

He went on to state that Pakistan needed and was qualified to have full access to civil nuclear technology for the safe and peaceful purposes of economic development.

"Pakistan has impeccable credentials to join the multilateral export control regime, including the Nuclear Suppliers Group," he continued. "Pakistan will continue to participate constructively in the Nuclear Security Summit (NSS) process, which is a laudable initiative."

Dialogue with India

Concerning matters with India, Nawaz reiterated the massive resources that both countries had wasted in an arms race mostly directed at each other. He said he would like to change the picture now to a scene mutual cooperation and benefit through dialogue.

"We stand ready to re-engage with India in a substantive and purposeful dialogue."

"I am looking forward to meeting Prime Minister Manmohan Singh here in New York to make a new beginning. We have a solid basis to do that. We can build on the Lahore Accord signed in 1999, which contained a road map for the resolution ofour differences through peaceful negotiations.

"I am committed to working for a peaceful and economically prosperous region. This is what our people want and this is what I have long aspired for."

Peace in Afghanistan

"The people of Afghanistan are and should remain masters of their own destiny. We support an inclusive, Afghan-led and Afghan-owned peace process, leading to national reconciliation."

The Prime Minister also noted that Pakistan "encourages United Nations' efforts for the stabilization of Afghanistan. We will work together with Afghanistan for regional and economic cooperation that would establish and reinforce regional trade, energy and communications corridors."

Condemnation of chemical weapons in Syria

Referring to Pakistan's membership in the Chemical Weapons Convention, Nawaz said his government condemned its use and welcomed the joint US-Russia plan to secure and destroy them in Syria.

He urged all the stakeholders in Syria to resolve the political and security crises soon, as more war would only lead to more killings.

"We appeal to the Syrian Government and opposition groups to move to the negotiating table in Geneva to prepare a road map for national reconciliation and the necessary political transitions," said the PM.

He added that:

"Acceptance of the Geneva One document and a decision on the dates for the convening of the Geneva Two Conference will be a big step in ending the crisis in Syria."

Palestine's membership

Nawaz Sharif also said he hoped Palestine would soon join the General Assembly as a full member state.

"Last year, Palestine was given the status of non-member observer state by this Assembly. We hope that soon Palestine will join this body as a full member state.

"We are glad that the stalled peace process has started again. It should lead to the consolidation of an independent, viable and contiguous state of Palestine, based on the pre-1967 borders, with Al Quds Al Sharif as its capital."

Full speech of the prime minister can be viewed here (pdf).