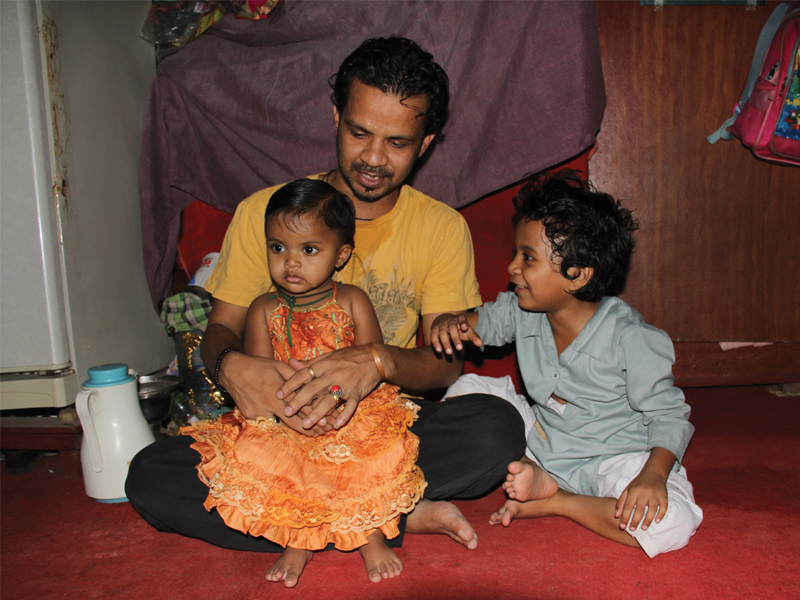 ---
KARACHI:



Abdul Ghani aka Babar felt very alone in the world after his wife was burnt to death in the Baldia factory fire on September 11 last year, where more than 250 factory workers died.




Nasreen, his wife, left behind their daughters - six-month-old Zainab and a four-year-old Muqaddas - and they are the reason why the 33-year-old single parent let go of his depression and decided to live for them.

"For three months I did not sleep," Babar admitted. "Every day I prayed to God and wished for death. I wanted to die." One day, he realised, however, that there was no one else to take care of his daughters. "I realised that I could not leave them to die." For the little ones, Babar became a mother, fought for his wife's compensation money and battled with those who were greedily eyeing the money.

Married to Nasreen for eight years, both the husband and wife worked at Ali Enterprises. On that ill-fated day, Babar had come home for lunch but he felt sick so he took a nap instead of going back to work.

Soon after the fire broke out, Nasreen called him frantically. "Babar aag lag gaye hai, jaldi aao," she screamed, asking her husband to rush to the site. "People were hanging from the windows, calling my name, asking me to hurry up and rescue them," he recalled.

But, by the time Babar and his friends managed to break in the building, most of these people had died. The fire engulfed the factory and the bodies turned to ashes. Someone told Babar that his wife was among these charred remains so he started pulling out bodies from the rubble. One by one, he sifted through the bodies. Her's was the 15th. "My life ended the day I picked her body."

After the horrific incident, Ali Enterprised shut down for good. Babar lost his job and took to looking after his daughters. "Waking up in the morning, making breakfast and then sending my daughter to school was the hardest thing to do. I had never done that before."




With a tired smile, Babar boasted that he can now cook, change smelly diapers and feed the younger one Cerelac and potatoes. He also sweeps, washes and dusts, and at night, he wakes up when the girls cry. "There has been pressure on me to remarry but I cannot forget her," he said. "What if the stepmother is horrible to my girls?"

As the family moves on with a heavy heart, Nasreen's house has witnessed uplift. Her once-crumbling room is now freshly painted with a new TV, DVD player and a fridge. There is also a plaque outside the single-room house that says it belongs to 'Shaheed Nasreen Naz'.

Babar has made sure that the rest of the compensation money - Rs800,000 that he received for both the girls - is saved in banks for their future. The arrival of the money had created a row among the couple's families and the same loved ones, who took care of his children when the two were at work, turned their backs. "My brother lives next door and we hardly meet." Babar claimed they all want the money. "If I start throwing Rs10,000 at them, they would come to me instantly." Even Nasreen's family is after the money, he added. "Once they received compensation from the court, they never asked about the girls."




The two girls are, however, happy with their father. As Babar goes to fetch some old photo albums, Muqaddas nods off the sleep while Zainab walks up to the fridge to grab a banana. Pointing to their wedding photos, Babar recalled how theirs was a love marriage. "She wasn't just my wife but also my best friend. I am nothing without her."

Teenager struggles for younger siblings as court withholds compensation due to her age

Since last September, Arooba, has spent more mornings in courts and government offices than in her classroom.

A girl, who never stepped outside to even buy groceries on her own, has gone through so much in the last one year than she ever had to in her 16 years of life. She has spent hours waiting in courtrooms, running from one hospital to another to give DNA samples, fighting with government officials to release compensation money, struggling to issue a death certificate, arguing with people that the fire was not an accident, and accepting the responsibility of her two younger siblings.




"I wish I had not lost them both," said the grade 10 student, clad in a yellow shalwar kameez with a dupatta draped over her head. Her parents - Jawed and Samina - were among the ill-fated Baldia factory workers who perished in the fire. Though her father's body was found, her mother's has yet to be identified.

Since the incident, life has changed drastically for Arooba, her 12-year-old brother and her eight-year-old sister. But the three children were lucky to have the support of their extended relatives. Her paternal aunt, uncle and their five children moved in to take care of them. They took over the lower portion of their rented house, as the three siblings moved upstairs.

"As the eldest, I feel responsible for everything," she said. "Maybe I would have to start working to support my siblings but I want to study first. My parents always wanted me to study as further I could."

Left devastated by the sudden deaths, Arooba had to hide her grief to make her siblings come out of the trauma. "My sister became fine after a while because she is young but my brother would not talk to anyone for months," she said, adding that he refused to go to school. "It is only recently that he became normal."

The family does not have enough money and Arooba struggles to look after them. "We have yet to receive the government's compensation as the court has withheld saying we are minors," she complained. "I request them to release the money so that we don't become a burden on anyone."

For Arooba, her parents' memories motivate her to move on. "I dream about my parents and so does my younger sister. They always tell us not to cry."

Owners out on bail

A year after the fire at their factory, owners of Ali Enterprises, Abdul Aziz Bhaila and his sons - Shahid Bhaila and Arshad Bhaila - are still out on bail. The pre-arrest bail for Abdul Aziz was confirmed by the SHC on October 6, 2012 while his sons were released from prison in February after the court granted them bail against Rs1 million each.

A mother waits for her 'missing' son

Kausar Parween is a hopeful woman. For the last 12 months, she has been wishing everyday that her 24-year old son Sharjeel Ahmed would come home, even though his body was not found and the DNA tests did not give any positive results. Kausar does not know if he is among the 17 unidentified bodies that were laid to rest in a mass burial.

Shahnaz's 22-year-old son went inside the burning factory to help the workers but he died in the process. A man from Orangi Town later told the family their son saved his life. PHOTO: AYESHA MIR/EXPRESS

"Maybe he was injured and lost his memory," she said. "Someone may have taken him." His belongings, his cellphone, house key have not been found. "Every minute is distressing as I don't know if he is alive or dead. If he died, then at least tell me which grave to offer my Fateha at."

A heart patient with high blood pressure, Kausar has gone to the hospital several times in the past few months.

Twenty-four-year-old Sharjeel was the second to last of her five children, an introvert child who would not talk much but was always smiling. "I see him everywhere," she admitted as she pointed to his chair and computer. "I see him sitting on the chair and listening to songs. I see him smiling."

The young man, who had only joined Ali Enterprises temporarily, had a job waiting for him at a pharmaceutical company. "Sharjeel was just waiting for his Intermediate mark sheet to join the company. He had only joined the garment factory to kill time and earn a bit of money."

The day the inferno engulfed the factory, Sharjeel came to home during his lunch break. His friend asked him to skip the rest of the day and enjoy the rain but Sharjeel declined the offer as it was pay day.

"The manager had threatened to deduct Rs500 if he did not come to the factory," Kausar recalled. "He went and never came back." When the news of the fire broke out, the family started looking for him - factory, hospitals, morgue, Edhi centres, police stations. He was nowhere. For Kausar, the suffering continues. our correspondent

Published in The Express Tribune, September 11th, 2013.