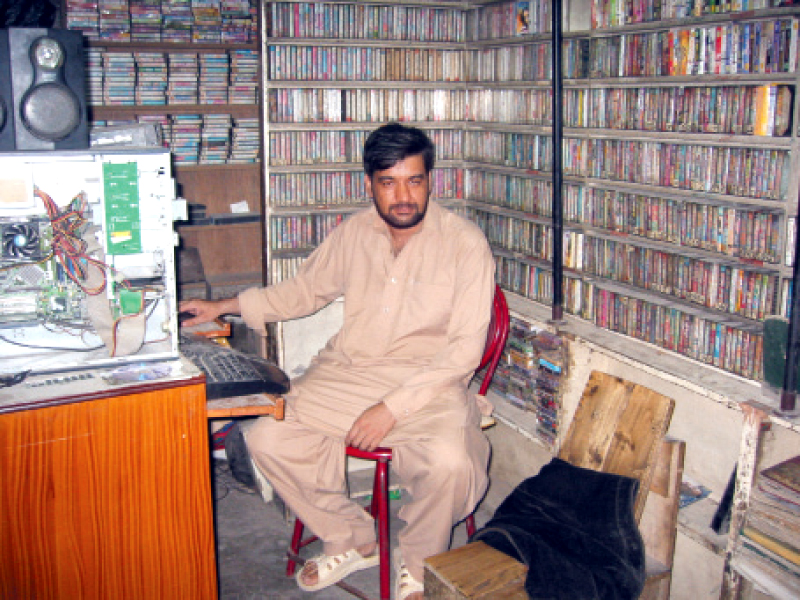 ---
PESHAWAR:



The first time Sher Baz Khan saw an audio cassette was back in 1974. Soon after, it became his lifeline. 




"I was introduced to audio cassettes when I first visited Kabul. Cassettes were being sold for Rs30, which was a lot of money at that time and the profit margin was more than 50%," he said. Sher Baz, a tailor in Darra Adam Khel at the time, then gave up his job, set up an audio cassette shop and became one of the pioneer music sellers and producers in Peshawar.

But what quickly became a lucrative business, died even faster. The last of the few remaining cassette shops on Cinema Road, Kabari Bazaar and Jalil Road, Hashtnagri, may soon shut down.

Large wholesalers of audio cassettes on Cinema Road, including Odeon Music Centre, MMC production, Muhammad Wali Music Centre and Khyber Music Centre have already decided to switch to other profitable businesses. Most owners are planning to set up hostels or mobile shops in place.

In Kabari Bazaar only one wholesale cassette shop, Sher Wali Music Centre, has survived the lack of demand as society has transitioned into adopting CDs, mp3s and memory cards. Six cassette retailers on Jalil Road have also switched from cassette to CD, but the landowner has asked shopkeepers to vacate their space so that a plaza can be built.

This will put an end to the three-decade era since music shops first opened in the city.




Some fear this will also stimulate a decline in Pashto music because wholesalers released dozens of albums of big and small artists every year.

Sher Baz Khan was the man behind singer Zarsanga's rise to fame.  She used to live in a tent in Darra Adam Khel where he met her. "I gave her Rs160 to sing for me," Sher Baz said, adding "her first album was a hit."

He claims to have introduced other Pashto artists, including Waheed Gul Ustad, Mulla Abdul Wahab and comedian Mirawas Khan. Following this, he set up the music centre on Cinema Road. His shop along with Bacha Music Centre and Azeem Music Centre in Karachi became the lifeline of Pasho music.

"I have recorded 3,000 hours of music during my career and introduced more than 100 singers, including Afghan artists in the market," he claimed.

Mangal Khan, a cassette retailer in Kabari Bazaar, said he started working as a helper 33 years ago. Ten years ago, however, the owner handed over the entire business to him and abandoned the industry.

"Until 1997, the cassette business was flourishing as I used to sell 200 cassettes every day, in addition to supplying in bulk to Afghanistan, which was our main market. Today I've only sold two cassettes for Rs40 each," Mangal said. When the Taliban came to power in Afghanistan, business suffered tremendously and has not recovered since then, he added.

Mangal said when cassettes started to wind down from the markets, traders were hopeful CDs would replace them. However, with the introduction of memory cards and USBs, the nature of business changed, leaving Mangal and many like him much disappointed.

"A two GB memory card can hold about 300 songs that can be copied to a card for just Rs30 in Kabari Bazaar. New technology has rendered cassettes and even CDs antique."

Mangal claimed to have nearly 25,000 cassettes in his shop during the 1990s. Back then it was considered a taboo to sell master copies, which were usually kept in the library as records. "But these days I am selling master copies – original Sony cassettes from the 1970s – for just Rs40 a piece," he added.

MMC Productions owner Akber tells a similar tale of his business dying out. He said cassettes were in high demand in Waziristan, Bannu and other tribal areas as well as in Afghanistan until recently.

"I was selling 400 cassettes every day until four years back. Now business is down to just 50 a day and this is no longer profitable," he said, adding other wholesalers are also thinking about abandoning the music industry. With this, he fears classical Pashto music will be lost forever.

Published in The Express Tribune, August 31st, 2013.