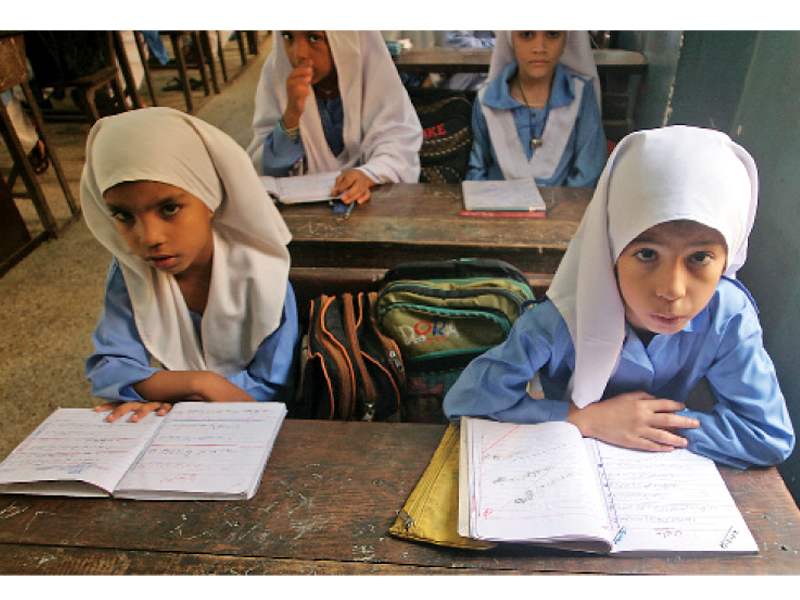 ---
KARACHI:



Girls in Lyari are determined to improve their neighbourhood and they believe education is the only way to achieve that. 




This is the motivation that drives a majority of students at MA Alvi Government Girls Primary School near Cheel Chowk. With their humble family background and violent surroundings, these girls are determined to get educated without being a financial burden on their families.

"It is the girls who will bring change in Lyari," said Kinza Ashfaq, a student of class nine. "The violence affects our studies so does the ignorance of authorities." Kinza felt Lyari will see a visible change if the authorities paid due attention to the education sector.

In a neighbourhood where gang wars take place with more frequency than school exams, there is an organisation that is trying to fill in the education gap. There are more than 260 public primary and secondary schools in Lyari - 128 primary schools for boys and 58 for girls, and 15 secondary schools for girls and 15 for boys - which are being looked after by the Lyari Resource Centre (LRC) since 2010. The centre is also looking after 51 primary and secondary schools that fall under the jurisdiction of the Karachi Metropolitan Corporation, and five mono-technical schools and colleges.

The organisation too started its work with girls' education, recalled LRC chairperson Habib Hasan. "The enrolment has, in fact, doubled within three years," he said, adding that there is a visible difference in attendance between boys and girls schools in Lyari. "Girls are more regular, intelligent, obedient and hardworking," he said.

The organisation is not only looking after these education institutes but also providing uniforms, books and fees for higher studies of a few deserving candidates. "We have to support them financially otherwise they won't continue their studies further," Hasan told The Express Tribune.

Where does the organisation receive the funds for these programmes? The organisation relied on one-time donations and charities when it started in 2010 but the breakthrough came in 2012, when they received hides worth up to Rs7 million. "This has been our only monetary assistance since then that we have set aside only to uplift education in the area," he said. "Not a single organisation or a philanthropist has contacted us to help out in this huge programme."

Agreeing that education could bring rapid changes in Lyari, Hasan put his faith in educated females who will nurture the society.

Girls of Lyari

Nine-year-old Hafsa cannot forget the fond memories of her father, who always had candies, biscuits and fruits in his hands every night when he entered the house. She remembers her weekly outings, the love and care she received from her father, Abdul Raheem.

Setting her white scarf, Hafsa - a student of class five - shuffled on the wooden desk in her classroom. "My father was shot dead a year ago in Ranchore Lines." Since then, Hafsa lost her home as she had to move in with her maternal parents. "It hurts me when someone asks what my father does and where I live. No one takes me for an outing now."

Though Hafsa's father was in Sindh police, she still does not understand why he was killed. The violence in the neighbourhood still scares her and makes her convince to get educated and become a teacher all the more strong.

As one of the victims of violence, Hafsa is among the thousands of Lyari girls whose only hope is public schools near their homes where they can get quality and uninterrupted education free-of-charge.

Published in The Express Tribune, August 30th, 2013.