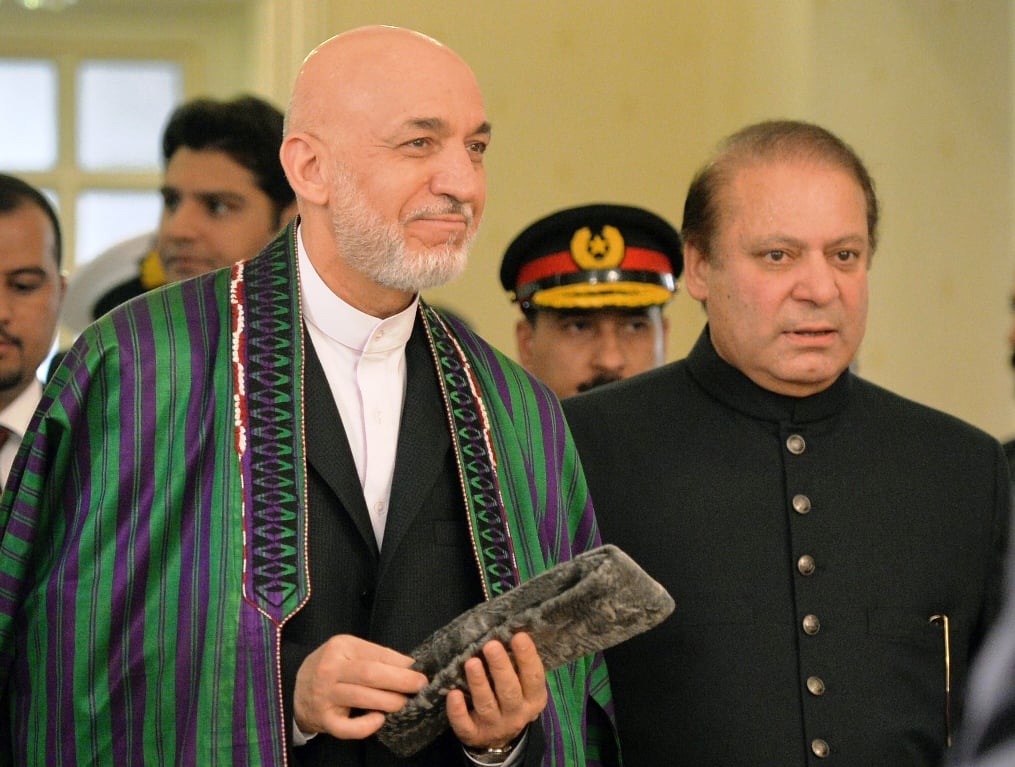 ---
ISLAMABAD: Prime Minister Nawaz Sharif Monday assured the visiting Afghan President Hamid Karzai of his country's support to the peace and reconciliation process in the war-torn Afghanistan.

Speaking at a joint news conference Nawaz Sharif with President Hamid Karzai after their official talks in Islamabad he said they held wide-ranging talks on the security and related issues of common interest and focused on the common challenges and the huge opportunities for both countries.

"I reaffirmed Pakistan's strong and sincere support for peace and reconciliation in Afghanistan. We fully agreed that this process has to be inclusive, Afghan-owned and Afghan-led," Nawaz said.

"I assured President Karzai that Pakistan will continue to extend all possible facilitation to the international community's efforts for the realization of this noble goal," he added, saying that Pakistan would also help reinforce regional efforts in support of stabilization of Afghanistan.

Pakistan and Afghanistan also signed an agreement to boost volume of trade and strengthen economic relationship.

Finance Minister Ishaq Dar and his Afghan counterpart Umer Zakhelwal inked the agreement.

The signing ceremony was also witnessed by Nawaz and Karzai.

"We are advancing the cause of brotherhood between the two countries," Karzai said.

Karzai arrived in Islamabad earlier today and was received at the airport by the Advisor on National Security and Foreign Affairs Sartaj Aziz and was given a 21 gun salute.

He was accompanied by a high-level delegation including cabinet ministers, senior officials and members of the Afghan peace council, a powerful forum set up for talks with insurgents, officials said.

This was Karzai's first visit to Islamabad in 18 months and signals a desire by both countries to overcome distrust and hostility as 87,000 Nato combat troops prepare to leave Afghanistan next year.

Karzai was accompanied by Foreign Minister Dr Zalmai Rasoul, National Security Advisor Dr Rangeen Dadfar Spanta, Commerce Minister Dr Anwarul Haq Ahadi, Chairman of High Peace Council Salahuddin Rabbani, head of the security transition Dr Ashraf Ghani, Deputy Foreign Minister Irshad Ahmadi, President's Chief of Staff Abdul Karim Khurram, Senior Advisor to the President Humaira Etemadi Ludin and Presidential spokesperson Aimal Faizi. Afghan Finance Minister Dr Umar Zakhelwal, who was in Islamabad for talks on economic cooperation, will also join the President's entourage.

Karzai said Kabul wants the release of all Afghan prisoners who are not facing criminal charges in Pakistan.

"We want all Afghans detained in Pakistan without any judicial orders and without committing any crimes set free, particularly Afghan Taliban who fall in this category and those Taliban whose release can benefit the peace process we are obviously seeking their release," he said.

Pakistan has freed 26 Afghan Taliban leaders including former ministers and governors since the process had started in November last year.

Afghan ambassador in Islamabad Umer Daudzai said that leaders of the two countries will also explore ways to increase cooperation on security issues and the economic field.

Daudzai said Kabul will seek "Pakistan's practical steps" to push the Afghan peace process and to facilitate talks between the Taliban and the Afghan High Peace Council.

Karzai was furious when the Taliban opened a liaison office in Qatar in June, billed as a precursor to talks with US officials but perceived as a self-styled embassy for a government in waiting.

Karzai insists that his government should take a central role in any peace talks, but the Taliban refuse to open contact with him or his appointed negotiators, dismissing him as a US puppet.

"The first item with Pakistan will be the peace negotiations," Karzai told a news conference in Kabul on Saturday.

He praised Nawaz for having "all the right intentions for stability and peace", but conceded that previous visits had not achieved the goal of improving security in Afghanistan.

Karzai believes Taliban safe havens in the country are the main cause of increased violence in his country.

"I will travel to Pakistan hoping to get a result out of it. I'm hopeful, but not sure, I will only go with hopes, and wish they materialise," he told reporters.

Afghan government peace negotiators, who will accompany Karzai, have called for the release of the most senior Taliban figure detained in Pakistan, former deputy leader Abdul Ghani Baradar.

Afghan officials believe the releases can encourage former detainees to talk to the Kabul government, although observers say there is little evidence those hopes have been realised. Several prisoners are also understood to have returned to the battlefield.

Analysts say Pakistan can facilitate Taliban peace talks and help with logistics, but does not have the power to force the insurgents to the negotiating table against their will.

"Peace and stability in Afghanistan are in Pakistan's vital interest," the foreign ministry said Sunday.

"President Karzai's visit will impart a strong impetus to ongoing efforts for an enhanced relationship... and enable the leadership on both sides to further strengthen their joint endeavours in the pursuit of durable peace, stability and prosperity."

Officials have, however, been tight-lipped about the prospect of further prisoner releases.

And analysts warn against expecting too much from the visit.

After the botched office opening in Doha, think-tank the Afghan Analysts Network says Kabul is turning back to Pakistan to get access to the Taliban leadership.

"It wants its own channel to the insurgents, independent from the US," wrote analyst Borhan Osman.

"Attempts to go through Pakistan are not new. Most similar moves have been unsuccessful in the end, though," he added.

Relations had appeared to improve at a summit between Karzai and President Asif Ali Zardari hosted by Britain in February, but have since frayed badly in a series of public rows.

Last month, Karzai's chief of staff Karim Khorram claimed the Taliban office in Doha was part of a plot to break up Afghanistan, orchestrated by either Pakistan or the United States.

Afghan General Sher Mohammad Karimi also alleged in July that Pakistan could end the Afghan war "in weeks" if it were serious about peace.

On August 20th, Afghanistan beat Pakistan 3-0 in the first international football match in Kabul for 10 years in an event promoted as a symbol of friendship between the two countries.
COMMENTS (40)
Comments are moderated and generally will be posted if they are on-topic and not abusive.
For more information, please see our Comments FAQ