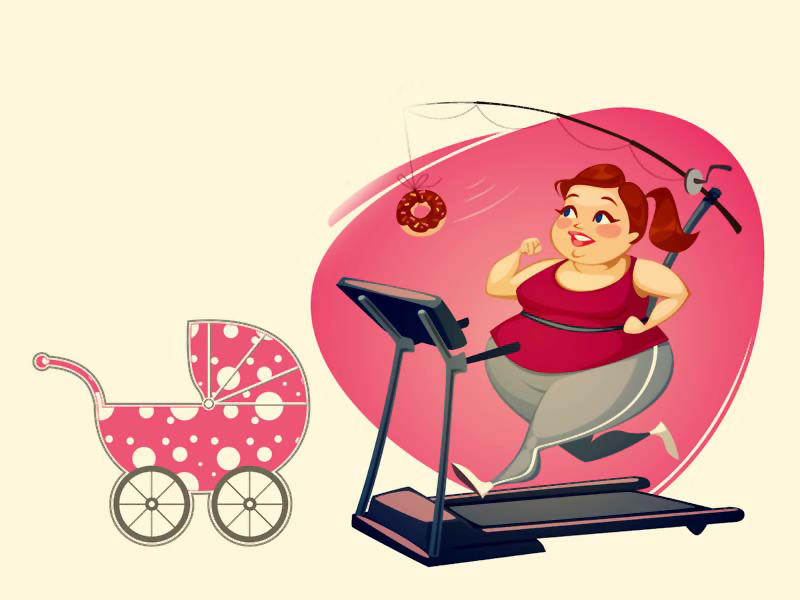 ---
Ms.T investigates the world of celebrity moms and the pressure they face to lose weight 

At the Cannes Film Festival 2012, in her first public appearance after becoming a mother, Bollywood's beauty queen Aishwariya Rai Bachchan was flayed by blistering criticism on her post-pregnancy weight gain. An unfortunate photograph of the international star sporting chubby cheeks and a double chin ignited a vicious scrutiny of her post-partum body. While some suggested that she was not fulfilling her 'duty' as an international icon to look good, others admonished her to learn from the likes of Victoria Bekham and Angelina Jolie, who were back to their waif-like figures weeks after delivery. It was only after new images of the former Miss World actually looking the part surfaced that the critics' party came to an end.




The scrutiny faced by Bachchan in the wake of her Cannes appearance crystallises not just the pressure on female celebrities to lose weight but the rise of a strange fascination with motherhood and the new expectations attached to it. No longer is it acceptable to retain a few maternal pounds after giving birth; the yummy mummy must lead her brood of impeccably attired children while looking chic, svelte and virginal herself. And this is the standard we expect from ordinary mothers. From the celebrity mom, the expectation of post-partum weight loss is even more dramatic, with fans anticipating the return of  pregnant models and actresses back on the ramp or on screens just weeks after delivery, so we can gasp in amazement at their figures and marvel at how a human being could possibly have gestated in that slim torso.




Such is the astringent reality of the showbiz industry. For all the 'girl power' chants by feminists, the 'size zero' debate and 'real beauty' marketing gimmicks, society by and large is hung over the slim and slender ideal with anything bigger considered unattractive. "There is indeed great pressure on us to look good," confesses Vaneeza Ahmad, one of Pakistan's leading models, who gave birth to daughter Inaaya in Febuary 2012. "During and after pregnancy, I ate very healthy food but there was no time for exercise and I was not working properly so naturally I gained weight." Nonetheless, Vaneeza modelled for the April 2012 cover shoot for Libas magazine, just a few weeks after giving birth. Although her post-pregnancy weight was appreciated by many who claimed she had been 'too thin previously'– a rare occurrence in the world of fashion – the sad fact for most women is that though they can return to a healthy weight, the post partum body is, to an extent, permanently bigger and stretched.




Sumeha Khalid, senior editor of Lifestyle magazine, cites model Nadia Hussain as the pioneering Yummy Mummy of Pakistan. The Amazonian model has returned to modelling soon after the birth of each of her three children and even walked the ramp while heavily pregnant. Khalid finds this inspiring. "Nadia has made us realise we can be yummy mummies if we just take good care of ourselves after pregnancy," she says. "Nadia started this trend which has been followed by other models and actresses who balance both family life and thriving careers."




With magazines and gossip websites regularly publishing features such as 'Celebrity baby fashion' and 'Celebrity families', never before has there been more interest in celebrity mothers and their babies. The ever-increasing rush between media firms to publish the first photos of a celebrity new-born is another manifestation of the same phenomenon. The example of Angelina Jolie's cover photo in the November 2008 issue of W Magazine is memorable. The photograph, taken from her husband Brad Pitt's private photos collection, featured Jolie smiling into the camera whilst breastfeeding her little one. The media was ablaze with how thin Jolie looked just a few weeks post-delivery. Blogs and columns devoted to tracking the progress of a celebrity's pregnancy have also mushroomed. First, we obsess over the growing bump, then the baby and then the post-baby weight, focusing always on appearances and ignoring the other realities: the emotional changes and the psychological transformation.




The pressure trickles down to ordinary women who struggle trying to look good at all times while dealing with the challenges of motherhood. "It is not fair on the new mother!" complains Sahar Harris, mother to a beautiful baby boy. "If a woman doesn't lose her pregnancy fat within three months, she is given the stares when in reality, proper and healthy weight loss takes about a whole year. The pressure shouldn't be so intense, especially at such a stressful time of her life!"

But with the media routinely publishing lists of the most attractive 'yummy mummies', the pressure is very much there. "The idea of yummy mummies comes from Hollywood and Bollywood," says Uzma Mazhar, editor of This Fortnight Pakistan. "It is a standard for a celebrity to look good and we want to emulate that." In other words, celebrities want to be thin to look good to us and we want to be thin because we want to look like the celebrities.




But while celebrities have personal trainers and dieticians to ensure they transition quickly back to their pre-partum weight, ordinary women rarely have such recourse and yet they want to look like celebrities. "This is because the media reinforces the thin ideal in our minds repeatedly," says Sahar.

All this hype surrounding weight-loss and body image leads one to wonder if women are ever going to be more than just pretty wall-hangings to feast one's eyes on. Says one newly married woman planning to have a baby soon, "We need something to pin our hopes on and regard these celebrities who champion post-pregnancy weight loss as inspirations. These women give us hope that if they did it, we can do it too!"

Zainab Sikender, Creative Director and Strategist at Expert Parenting and Pregnancy magazine, warns against taking the yummy mummy ideal to heart. "Crash diets have documented adverse affects on one's health. You simply can't eliminate all fat from your body in just one month! A woman requires patience and will-power to maintain her weight," she says.

As for the showbiz world, not only is beauty skin deep, it is also waif thin. "Of course, I will ask my model to go back to size zero after delivery!" says fashion coordinator Umer Mushtaq. "What on earth would be the point otherwise?"

Photographer Tapu Javeri takes a softer stance: "Anybody who has a child has rebelled against the industry," he says. "I think they have enough guts to challenge such norms and ideas."

One may argue that it is 'liberating' or even 'empowering' for a woman to regain her natural and youthful body once it has undergone the trials of a pregnancy. The desire to banish the baby bump feeds into the 'if you look good, you feel good' ideal and makes us obsessed with looking our best at all times. What is sad is that female empowerment, be it for celebrities or regular women, boils down to weight and body image, not to mention the unrealistic expectations it gives us that we can achieve the same drastic weight-loss celebrities can afford. If we could simply curtail our preoccupation with weight and become happy in our own skin, we will save each other a lot of trouble.

Celebrity moms who didn't rush to lose weight

Amy Adams: "I have a muffin top, and that's OK right now," says The Muppets star.

Jennifer Garner: The actresses' motto is "Kids before cardio" and we're totally down with that.

Selma Blair: The actress revealed that two months after giving birth she weighed only one pound less than she did at the hospital. "I have not been exercising yet but I will now," she says – which sounds exactly like something we would say!

Hillary Duff: The singer believes it takes around 10 months for the body to get back into shape after delivery and calls women who did it more quickly 'freaks of nature'.

Published in The Express Tribune, Ms T, August 25th, 2013.