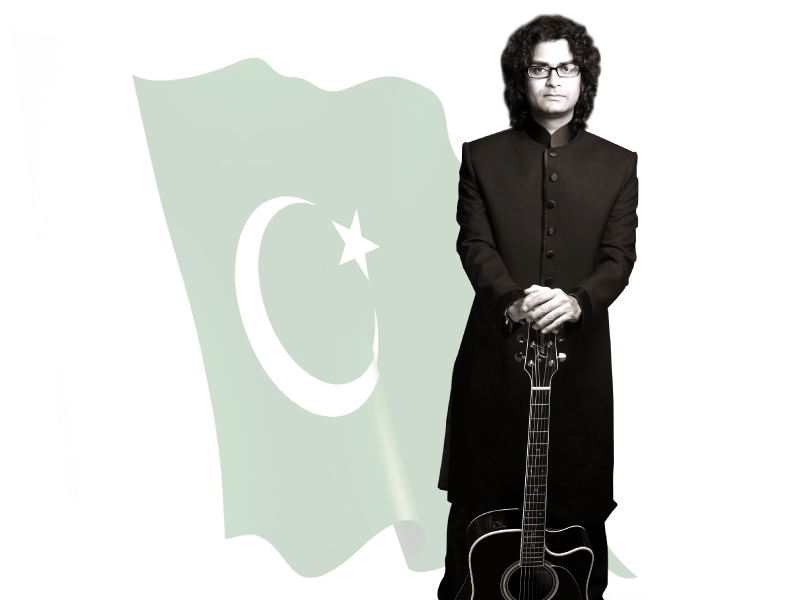 ---
KARACHI:

While many artists have tried their luck with revamping the national anthem, the effort of Asif Sinan

, a jingoist in his own right, is worthy of note. This relatively young chap has walked into the music scene and made quite an impression with a

rendition of Pakistan's national anthem

.


Sinan has been able to blend together the genres of jazz, Indian classical and sufi music. Apart from having played alongside renowned German and American musicians in Pakistan and abroad, he is also known for making his guitar sound like a sitar.

One has to respect Sinan's courage as he chose to play a purely Eastern classical number on a modern instrument while coupling the electronic version of the tanpura with his guitar. When asked how he came up with the idea of transforming the anthem into an Eastern tune, he says, "We all express our love for the country in different ways. And, as a musician I wanted to contribute in such a way that it would be forever. Hence, this Eastern classical rendition came up in my mind. The surprising thing is that it did not take long to arrange and record. I guess it was living inside me for the longest time — it was just seeking a way to come out!" says an emotional Sinan.

While revisiting such tunes are critical as people have a strong affection with them, how did Sinan manage the effort? "I am a follower of my heart and it told me that if I am making something with honesty of intention and purity of emotions then it would definitely be well received — at least by those who also listen to their hearts," he exclaims.

Apart from the fact that the whole anthem sounds as if it's played on a sitar, Sinan has also freed himself from 'taal' (a specified beat) and made the anthem flow free style. In doing that he gives the Anthem far more emotions than you may have ever experienced. He also adds an 'alaap' (prelude) to the anthem which is so seamless that it appears as a part of the anthem itself. The 'gamaks' (short slides) and 'meendhs' (long slides) add a fun feel to it and create continuity in the anthem that is missing in the common stop-short version. There are hidden notes and a hidden melody that do not take our attention away from the anthem for even a split second.

Even without the technicalities, you will enjoy the anthem for what it is — melodic and well played. Our emotions flow with the anthem — happy initially, sad in the middle and leaving us with a glint of hope in the end. So how does this renewed version make a similar positive impact? "This is the sound of peace. My mailbox has been flooded with people who have written to me that they are motivated to do something positive for Pakistan. This anthem has made some cry and made some renew their pledge to do something for the society. For many, it has renewed their love for their country," asserts Sinan. "A Pakistani wrote to me from Australia saying he had just finished his studies and was thinking of settling there but after hearing this anthem, he changed his mind and had a conversation with his parents about coming back. These are far reaching impacts — this is art inspiring you to do good and for me this has been the biggest reward ever," he claims.

Interestingly, Sinan first revealed this anthem live on the opening of the PTI Jalsa on December 25, two years back. "It was a very emotional experience for me — there was a crowd of more than 100,000 people and they listened to it with deafening silence and then cheered for it raucously. I was apprehensive about performing at such a big venue in front of such a mix crowd who had never heard of this version of the anthem before. But the appreciation I got was overwhelming," he recalls.

He released the studio version of the anthem on August 14 this year.



Published in The Express Tribune, August 18th, 2013.

Like Life & Style on Facebook, follow @ETLifeandStyle on Twitter for the latest in fashion, gossip and entertainment.