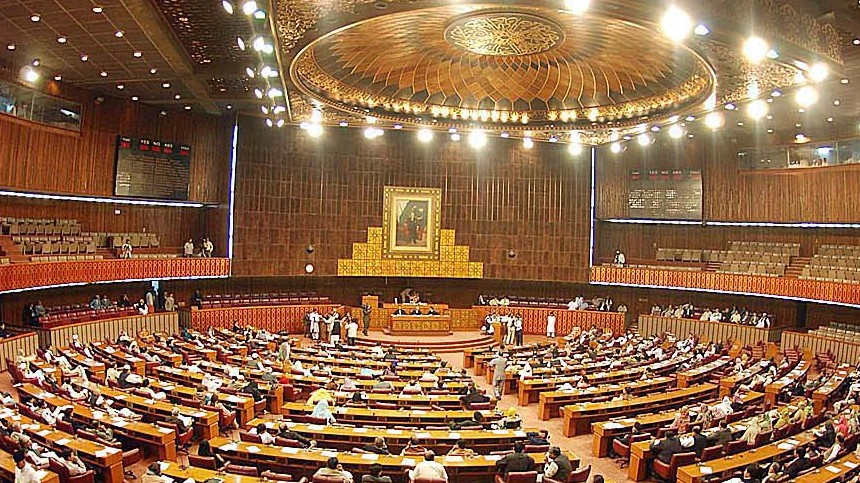 ---
ISLAMABAD:



The National Assembly on Tuesday unanimously passed a resolution condemning repeated incidents of firing by Indian troops across the Line of Control (LoC) and working boundary and demanded that India be told to respect the ceasefire agreement of 2003.




The resolution condemned not only the "unprovoked Indian aggression on the LoC" but also the mob attack on Pakistan's High Commission, demonstrations outside the PIA offices, prevention of the Dosti bus in Amritsar, and vilification of Pakistan in the Indian media.

Minister for Science and Technology Zahid Hamid tabled the resolution, which comes amid escalating tensions between the two nuclear-armed neighbours.

"This house endorses the prime minister's forceful statement urging effective steps to ensure the ceasefire on the LoC; not to allow the situation to drift and to take steps to improve atmosphere by engaging constructively with a view to building trust and confidence. This house accordingly calls upon the government to clearly convey to the government of India the necessity to respect and uphold the Ceasefire Agreement 2003 in letter and spirit," reads the resolution.




Reiterating Pakistan's continued diplomatic, political and moral support for the "legitimate struggle of the Kashmiri people", the resolution said Pakistan is committed to working for peace with its neighbours, while remaining "steadfast in its resolve to fully defend its sovereignty, territorial borders and national interests."

At the outset of the proceedings, Awami Muslim League (AML) leader Sheikh Rashid Ahmed invited attention of the house towards the issue and sought suspension of rules so that the house could hold a debate.

Addressing the house, Sheikh Rashid urged Prime Minister Nawaz Sharif to take the nation into confidence and give a policy statement over the ongoing Indian aggression. Despite the recent overtures by the new government, India's response has been lukewarm due to its inherent reluctance to accept Pakistan as an independent country, he added.

Accusing India of funding insurgents in Balochistan, the AML chief said the new Pakistani government had expressed its desire to normalise relations with India but New Delhi responded negatively.

Shah Mehmood Qureshi of the Pakistan Tehreek-e-Insaf urged the government to utilise all channels to deescalate tensions. "If the prevailing tension escalates, then the [scheduled] meeting between the two prime ministers [in New York] would not yield results," he added.

Qureshi appreciated the government's approach towards the issue, saying that while Pakistan understands that good relations with India are the need of the hour, the political leadership should give a clear message that the Indian aggression was not acceptable.

Nafeesa Shah from the Pakistan Peoples Party condemned the Indian aggression but censured Prime Minister Nawaz Sharif for his statements regarding relations with India even before assuming office.

Published in The Express Tribune, August 14th, 2013.