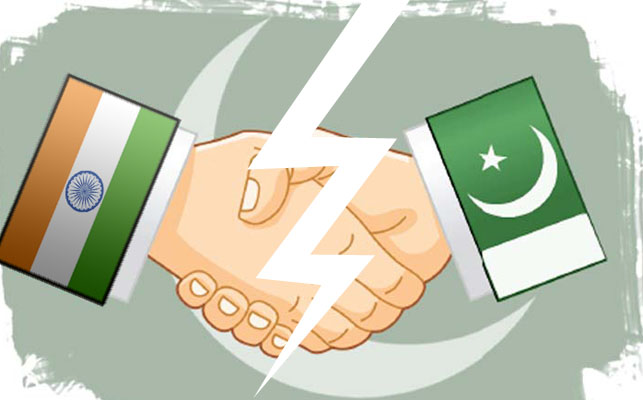 ---
NEW DELHI:

As tension between Pakistan and India escalates over the ongoing spate of clashes at the Line of Control (LoC), New Delhi said on Tuesday that Islamabad 'must act against terrorism' for normalisation of bilateral relations.


Pakistan's government must take concrete steps on issues which "cause hindrance in the dialogues like justice for those who had died in the 26/11 attacks [in Mumbai] and by punishing those who were responsible," said India's foreign ministry spokesperson Syed Akbaruddin in a statement. "Pakistan needs to prove what it means by putting a stop to the violations of the ceasefire on the LoC."

India blames Pakistan-based Lashkar-e-Taiba (LeT) militant group for masterminding the November 26, 2008 deadly attacks on landmarks in its financial capital. Currently, some LeT activists are being tried for their suspected involvement in the attacks in a Rawalpindi jail.

"India is resolved to friendly relations with Pakistan, but Pakistan must act on terror. For a peaceful dialogue with Pakistan we need peace, what happened at the LoC was not conducive to peace or friendly talks. Upholding the sanctity of the LoC is a must," he said. He added that India was committed to resolving issues, but Pakistan should not allow its territory to be used for violence against India.




Prime Minister Nawaz Sharif is scheduled to meet with his Indian counterpart Manmohan Singh on the sidelines of UN General Assembly in New York next month. However, Indian opposition parties have demanded the government call off the meeting. Akbaruddin didn't say whether the meeting would take place.

Tensions flared up between the two countries following the killing of five Indian troops in a cross-LoC ambush on August 6 that Defence Minister AK Antony blamed on Pakistan Army.

Despite the widespread anger in India over the August 6 killings, a small but influential body of opinion is advocating that a talk-freeze would be a bad idea.

"Those advocating calling off the dialogue with Pakistan need to answer one simple question: what could New Delhi potentially gain by not talking to Islamabad?" writes Happymon Jacob in The Hindu, who also teaches international affairs at Jawaharlal Nehru University in New Delhi.

Jacob answers the question himself: "The fact is that there is no alternative. The only other alternative, other than refusing to talk, is military action against Pakistan which, if carried out on Pakistani territory under the existing balance of military power in the subcontinent, is bound to end in disastrous results for New Delhi." He concludes that as "military retaliation against Pakistan is militarily and politically unviable", it is pointless to call off the dialogue; it will be a strategically ill-advised decision.

"New Delhi can cut off the talks, but sooner or later, it will be forced to revive them," Jacob contends. "Not only should India redouble its efforts at engaging Nawaz Sharif but also explore the possibility of establishing backchannel contacts with the Pakistan Army."

Member of Parliament and industrialist Baijayant 'Jay' Panda writes in The Indian Express that while India does feel betrayed at the trail of broken promises made by Pakistan, it is ultimately in India's interest to aid and stabilise the civilian government in Pakistan for its own strategic reasons.

"The frustration and anger that we feel in India at repeated betrayals, both big and small, of countless promises of peace from across the LoC is, of course, understandable." "However," he adds, "not engaging with those who feel the need for peace is to cede ground to those who don't".

Commenting  on the rising levels of jingoism in the Indian media as well as the Indian public, General VK Nayar, an Indian Army veteran and former governor, pleads for the cause of the professional soldier. He writes in his newspaper article that "jingoistic utterances of and public display of agony by widows and soldiers' families (highlighted in the media) do little good" and only fuel "competitive pseudo-patriotism". Describing the adverse role played by the media, he says that television increasingly indulges in such insensitive displays.

Meanwhile in a related development, the India president sent a message of felicitation on Pakistan's Independence Day. "On the occasion of the Independence Day of Pakistan, I have the pleasure of conveying, on behalf of the government and the people of India, our felicitations to the government and the people of Pakistan," Pranab Mukherjee said in a customary statement.

"I take this opportunity to reiterate India's commitment to building a friendly and cooperative relationship with Pakistan that leads to peace in our region and progress and prosperity of our peoples," the message further read.


Published in The Express Tribune, August 14th, 2013.