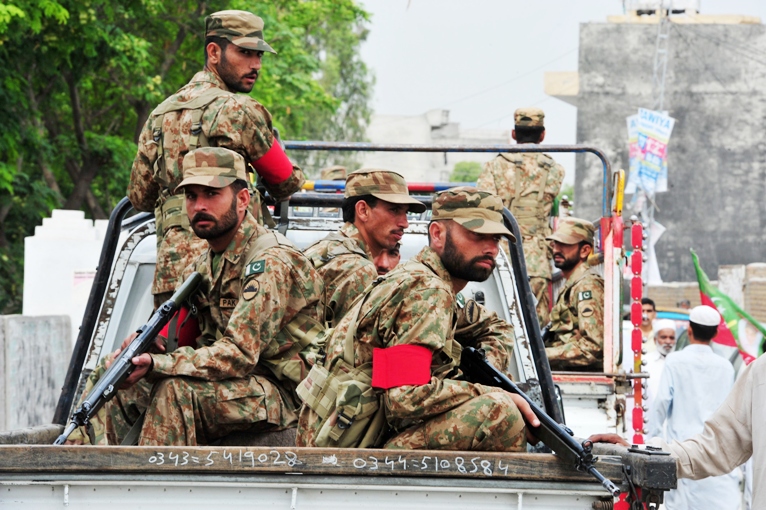 ---
ISLAMABAD: For the first time in the country's electoral history, the Pakistan army will not only be in charge of security inside and outside the polling stations but its officer in charge will be given powers of magistrate first class for the August 22 by-elections.

The election commission of Pakistan on Tuesday issued a notification empowering the local officer in charge of army personnel to exercise powers of a magistrate, if needed. The officers, however, will be restricted to operate within the Pakistan Army Act only.

"The Election Commission hereby authorises, each designated officer-in charge of the armed forces of an area, deployed for providing security inside and outside polling stations of that area of the following constituencies, to exercise powers of Magistrate of First Class on the polling day i.e. August 22, 2013,  in respect of offences punishable under section 80, section 82A, section 83, section 84, section 85, section 86 and section 87 of the Representation of the People Act, 1976."

The officers were directed to "take cognizance of any such offence under any of the clauses of sub-section (1) of section 190 of the said Code of Criminal Procedure and to try any such offence in a summary way in accordance with the provisions of the said Code, relating to summary trials."

Before the May 11 general elections, only the civilian presiding officers had been empowered with magesterial authority for the polling day only. The powers have been extended for three days now - one day before polling day, on polling day and the day after polls.

By-elections

By-elections in 42 constituencies (16 national and 26 provincial) will be held on August 22. Most of the seats were vacated by members who were elected from more than one seat.

The provincial assembly constituencies include 15 of Punjab assembly, four of Sindh and K-P assemblies each, and one of Balochistan assembly.

A total of 537 candidates are running for these seats.