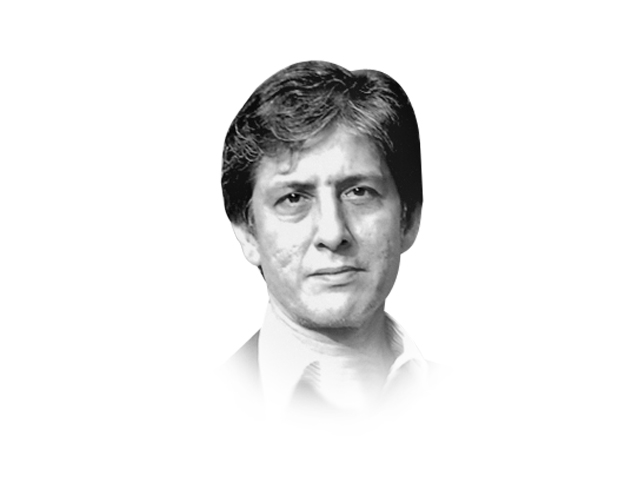 ---
Chaudhry Nisar Khan is getting wiser about his remit. He has taken to explaining, patiently, what it means to fight this war and what are the difficulties in formulating and implementing a security policy. Given that he has never been accused of temperance, this is quite a change.

He is also now clear that the war has to be fought regardless of how it might have started and what might be giving it fillip. Even more important, he now concedes that there are groups in Punjab that must be tackled just like their affiliates in other provinces.

But this is just the starting point. The terrain beyond this point is broken and undulating. Consider.

This war isn't about to end. In fact, the world has entered a phase that will see perpetual conflict. While states realise the threat and are trying to regulate their responses, the conflict, because of emerging technologies and the ability of non-state actors (NSA) — groups and individuals — to challenge the states, will remain unregulated. The imperative of security will force the states to increasingly act like the NSAs (note how intelligence agencies are using hacking methods to counter threats). The existing legal structures are inadequate in dealing with the new kind of multidimensional war and by the looks of it — given technology and innovation — the laws will likely continue to trail behind the conflict curve.

In this backdrop, will Pakistan have to deal with its internal conflict as well as the fallout of the broader conflict. Globalisation is impacting conflict as much as it does the movement of money and goods. As Sohail Tajik put it aptly in a recent article in this space, NSAs, regardless of their agenda and motivation, have begun to share expertise and best practices. We will see more of that.

The states will make physical travel increasingly difficult, especially from and to countries of concern. But that problem will be circumvented by the internet and other communication technologies. Those technologies are equal opportunity benefiters and offenders, depending on where one stands.

The task of Khan is, therefore, not going to be an easy one. Firstly, because he is not the sole authority in the security domain. The army and its intelligence apparatus remain the elephant in the room. Khan will have to get a grip on at least those aspects of internal security that deal with his ministry. He will also have the unenviable task of changing mindsets. Even the army, which is decidedly the most disciplined force, is still largely stuck in old ideas of fighting. While it has taken tactical steps to adapt troops to fighting a low-intensity conflict, its strategic paradigm remains unchanged.

That being the case, it is easy to imagine where the police and paramilitary forces stand. The kind of discipline, training and equipment the police require is simply not there. This means that even after a policy is formulated, the implementation will throw up its own problems. And they won't be easy to tackle.

Because the war is unregulated and thrives on innovation, force structures and responses will have to be flexible, not rigid. This is an old lesson of warfare. Hannibal defeated the Roman armies at Trebia, Lake Trasimene and then Cannae because the inflexible phalanx formation was totally unsuited to Hannibal's fast-paced manoeuvres on the battlefield. The Neapolitans were unpleasantly surprised by Charles VIII's canons; the French by the English longbows. The list is long.

The point about fighting any war, regardless of its nature is that victory demands innovating and staying ahead of the enemy. This is a constant. So far, we have trailed behind. Greater force against an elusive enemy is often a disadvantage. We need smaller, quick-reaction, highly-trained police units to deal with urban situations. But while we have been emphasising field operations, nary a thought been given to the role of analysts and communication and forensic experts.

Trained field operatives are important; they are the ones in the line of fire. But if we want to stay ahead of the enemy, it's the analysts and communication and forensic experts that provide the field operatives their targets and ensure their success.

The current police force is totally unsuited to any role. It cannot even perform normal policing functions, let alone handle complex vertical and lateral CT operations. Moreover, the interior minister will be required to work within the constitutional framework which puts policing squarely in the provincial domain. His task will demand creating a federal force as well as inducing the provinces to improve their police forces. The current system of two cadres, the police service of Pakistan and a provincial one is not going to work.

Similarly, recruiting semi-literate personnel and not instituting specialised units in the police might have worked 50 years ago, they won't now. The idea that semi-literate personnel can be any use in highly-specialised job environments is a mistake we cannot afford when it comes to security. This means that the abominable practice of police recruitments and postings at the pleasure of sitting MNAs and MPAs will have to be discontinued immediately. Politicians have no damn business deciding the functioning of the police. But, let it be stated clearly, that this will be possible only when political parties stop putting their faith in traditional clans who have created their satrapies.

Not easy to do given the nature of constituency politics in Pakistan. A good example is Sanaullah Zehri in Balochistan. He is doing everything possible to frustrate the larger objective of his party chief because his primary aim is to retain control of the PML-N in Balochistan. As for his approach to rules, the incident outside Balochistan Assembly is a good insight into it.

Khan will be up against various vested interests within his party and without that have created the structures that leave little room for agency. It will be a tough call, made tougher by a multitude of restraining factors. But Khan opted for the Daedalian wings when he chose his ministry. Now he has to manage the flight. If he flies too low, the feathers will soak; too high and the wax will come off. Welcome to a wicked problem.

Published in The Express Tribune, August 14th, 2013.

Like Opinion & Editorial on Facebook, follow @ETOpEd on Twitter to receive all updates on all our daily pieces.
COMMENTS (17)
Comments are moderated and generally will be posted if they are on-topic and not abusive.
For more information, please see our Comments FAQ