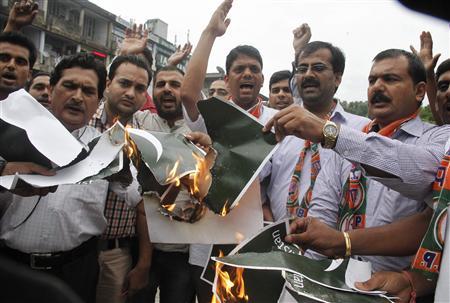 ---
LAHORE:



The Punjab Assembly on Monday adopted a unanimous resolution, condemning Indian aggression on the Line of Control (LoC) and the Quetta Police Lines terrorist attack.        




Speaking on a point of order, provincial Law Minister Rana Sanaullah sought the chair's permission to table a unanimous resolution against the 'uncalled for aggression by Indian troops along the LoC'.

The resolution, which was unanimously passed by the house, demanded that the repeated ceasefire violations by Indian troops be taken up with the international community.

The house also passed another resolution against the dastardly terrorist attack at the Police Lines in Quetta and other terror incidents in the country which killed several policemen and civilians.

Earlier Sanaullah said the government has started a general debate on the Punjab Local Government Bill 2013 and the crux of the discussion would be included in the proposed bill. "A special committee on the bill has completed its work and its report will be tabled in the house on Thursday (Aug 15)," he added.




The law minister said the Election Commission of Pakistan and provincial governments were willing to hold local bodies' elections in December instead of September.

"However, if the Supreme Court does not extend its date, the Punjab government will hold the local bodies' election on the deadline, but without fresh delimitations," Sanaullah said.

He said the provincial government needed at least three months to delimit the constituencies.

Opposition members, mainly from the  Pakistan Tehreek-e-Insaf, repeated the points mentioned in their speeches in the last sessions. None of the members of PML-Q participated in the debate while PPP's Sardar Shahabuddin Khan presented his proposals.

The speaker asked the opposition legislators if they would support the bill if their reservations were addressed and suggestions incorporated. The opposition benches almost unanimously replied in the affirmative.

The PPP's Shahabuddin said his party was ready to support the bill provided the government incorporated their proposals. "We demand the bill be made in accordance with the spirit of Article 140(A) and in light of the Charter of Democracy (CoD)," he said. According to the CoD, local bodies' elections should be held on a political basis.

PTI's Saddique Khan said in the Local Government Ordinance 2001, powers were devolved to the grassroots level while in the proposed bill powers were kept centralised.

He said that the PLG Bill 2013 was against the spirit of Article 140 (A) and Article 32 of the Constitution and it could easily be challenged in court. The house has adjourned till Tuesday morning.

Published in The Express Tribune, August 13th, 2013.
COMMENTS (1)
Comments are moderated and generally will be posted if they are on-topic and not abusive.
For more information, please see our Comments FAQ