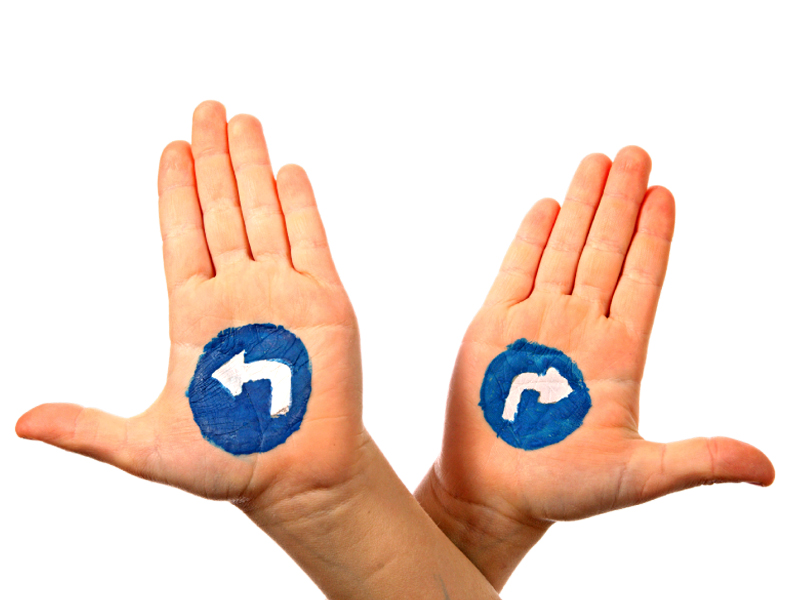 ---
LAHORE:



"I used to insist that she use her right hand but she just wouldn't. One day, she raised her left hand and said 'But Mama, this is my right hand','' says Nazia Amir, a mother of 3, who now understands what her then 4-year-old daughter Muskaan was trying to communicate to her.




"If I forced her to use her right hand, she would just stop whatever she was doing. She even stopped eating at times," shares Amir. Muskaan is now 6 and studies in Grade 1. Despite her initial denial, Amir says it was difficult to see her child struggling for something she apparently had no control over.

Teacher's right

"The dominant hand is a natural aspect of a child's personality," says Kindergarten teacher Tajallah Abdul Rehman who has been teaching for the past 6 years. Out of the 17 students in her class, 2 are left-handed. "Anything that impacts their learning is taken up with the parents, everything else is just part of who they are," she explains.

Citing her experiences, she says in terms of reading, writing or learning she has never noticed any differences amongst children based on their dominant hand.




Social acceptance

Reportedly, parents at times find it difficult to accept left-handed children, and some even seek medical help. 'Surprisingly there still are parents who are under a mistaken impression that their left-handed child has a disability," says Nazia Ahmed, a clinical psychologist at the Department of Youth Affairs. In Ahmed's 5 year experience, while only 6 cases were reported, there were a few where parents even sought medicine for curing left-handedness of their child. Parents, she says, had a very discouraging attitude. "And hence our counselling sessions are more focused towards them," she explains.

But why do parents find it so hard to accept? Ahmed believes it is integrally related to social and cultural practices. "In a society where the right hand is symbolically linked to good deeds and the left for bad, it becomes complicated for parents to work through the left-handedness of their child," she says. Their reason for concern, Ahmed explains, is the continuous stream of social criticism regarding their child using left hand.

Amidst all the hue and cry, the child in question is left lost. Ahmed says children who are forced to use their right hand often end up lacking confidence, self-esteem and become unexpressive. "Their natural behaviour is being continuously criticised even within their homes, which obviously has an adverse impact," she says.

Head of Psychology department at the University of Central Punjab Dr. Asir Ajmal agrees with the consequences. He terms it 'devastating' for the child. "Just imagine the emotional pain when you are being forced to convert your natural advantage into a disadvantage," he says. But the social customs and interpretations regarding left-handed people have existed in other societies as well including in the West, claims Dr. Ajmal.

Having supervised a research titled 'Experiences of Growing up Left-Handed in Pakistan', he shares that the outcomes revealed parents were almost always insistent on their left-handed children to use their right hand. While a smaller percentage insisted that their children use their right hand just to eat, a larger percentage was stricter and insisted that the right hand be used as the dominant hand. He says at times this has forced left-handed children to become ambidextrous, training themselves to use both their hands. But that too, he says, becomes difficult for some. A culturally acceptable solution here, he suggests would be to encourage, not force, left-handed children to use right hand for eating but left as a dominant hand.

Simplifying the debate, registrar at the Mayo Hospital Dr. Salman Kazmi explains that an individual's dominant hand is selected by the dominant cerebral hemisphere of the cerebral cortex – the external layer of the cerebrum of the brain. If the left hemisphere of the cerebral cortex is dominant, the individual will be right handed and vice versa.

"Rest assured there is absolutely nothing 'wrong' biologically or otherwise with left-handed people. As they say 'it's not in anyone's hands'."

Published in The Express Tribune, August 13th, 2013.
COMMENTS (2)
Comments are moderated and generally will be posted if they are on-topic and not abusive.
For more information, please see our Comments FAQ