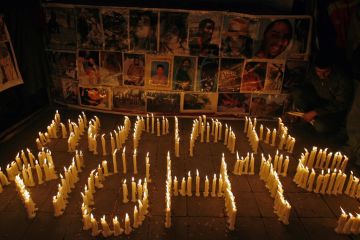 ---
KHAR:



All political parties with some presence in Bajaur Agency have formed an alliance to pressure the political administration into giving tribesmen their due rights.




The alliance was formed at a meeting of all tribal elders and political leaders held at the residence of former MNA Akhundzada Chattan in Amankot on Monday.

Tribesmen said they will ask the government to take stern action against corrupt political administration officials.




Addressing the meeting, Chattan said over the last six years, political administration officials have not only created hurdles in development work in the Federally Administered Tribal Areas (Fata), but their attitude towards tribesmen is also derogatory. "What they call giving relief to the general public has made citizens' lives miserable."

If political leaders do not unite against the bureaucracy in Fata, tribesmen will never be able to stand up for themselves. Nobody trusts officials in the political administration, he said, adding "The bureaucracy has instilled an inferiority complex in tribesmen as opposed to helping and guiding people towards development."

Jamaat-e-Islami's Fata chief and former MNA Sahibzada Haroon Rasheed said although the people of Fata have rendered heavy sacrifices for this country, the government has always deprived them of basic rights. He alleged most political administration officials in Fata are involved in human rights violation and tribesmen have no right to stand up against them.

Political leaders alleged officials had arrested hundreds of tribesmen for days and released them after taking huge bribes.

PML-N president in Bajaur, Haji Rahat Yousafzai, said Fata is not a humanised society and political administration officials are responsible for it.




Tribesmen now need to unite against the officials and raise their voice for their rights. This can no longer be tolerated, he said. "The way people in Fata and especially Bajaur Agency live is not how people live in a modern, civilized world. It's time to unite and end human rights violations."

Haji Bahadur Khan, Sheikh Jehanzada, Qazi Abdul Manan, Haji Naeemullah along with other tribal elders also shared their views at the meeting.

Towards the end, participants passed a resolution demanding the government to establish a 132KV grid station in Bajaur Agency, construct a medical and engineering college, as well as a cadet college. The resolution further said tribesmen should be provided employment in organisations working in Fata, particularly Bajaur. Political administration officials should take politicians on board before taking any steps in the tribal areas, they further said.

Participants also demanded that corrupt officials and elders not be allowed in jirgas.

Published in The Express Tribune, August 13th, 2013.
COMMENTS
Comments are moderated and generally will be posted if they are on-topic and not abusive.
For more information, please see our Comments FAQ