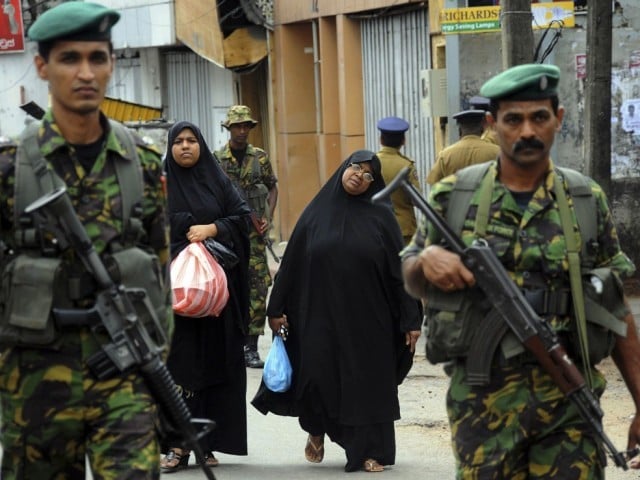 ---
COLOMBO:


Sri Lanka's Muslim leaders closed down a new mosque in Colombo on Monday after attacks by a Buddhist mob revived simmering religious tensions.




The Sri Lanka Muslim Council said it had agreed to shut its mosque at Grandpass and move to an older place of worship which the government had earlier earmarked for demolition as part of the capital's development.




"We have a compromise deal worked out last night," Council president NM Ameen told AFP.




"The government will rescind the order acquiring the old mosque premises and will grant more land and help with renovations and improvements.




"From today, we are out of the new mosque."




Buddhist-led mobs vandalised the new mosque, including pelting stones at the building on Saturday, wounding at least four people. Sporadic clashes also erupted on Sunday despite a heavy police presence in the neighbourhood.




The violence comes after Buddhist hardliners attacked several Muslim-run businesses outside Colombo in March, one of a series of incidents targeting the minority group.

US concern




The US embassy in Colombo has expressed concern at the latest violence and urged authorities to prosecute those responsible.




The US, which in March initiated a UN Human Rights Council resolution against Sri Lanka over alleged war crimes against Tamil Tiger rebels in May 2009, also urged Colombo to ensure religious freedom.




Seventy per cent of Sri Lanka's 20-million-strong population are Buddhists, while Muslims are the second-largest religious group, making up just under 10 percent.

Objections over new mosque




Buddhists had objected to the setting up of the new mosque near a Buddhist temple even though it was built to replace the older mosque earmarked for demolition in line with city works.




A night curfew was lifted at dawn on Monday, a police spokesperson said, adding that the situation was calm and no fresh incidents had been reported since the government announced the mosque's closure on Sunday night.




The government held lengthy talks with Muslim and Buddhist leaders on Sunday and announced what Technology Minister Champika Ranawaka described as a "just solution" acceptable to all sides.




"Through a just solution, we have now peacefully solved the issue," the minister said.




As part of the deal, Buddhists agreed to cut down a Banyan tree, a key Buddhist symbol, that had overshadowed the old mosque and had originally prevented its expansion, residents said.




Hundreds of police, including elite Special Task Force commandos, guarded the area on Monday as workers used power tools to bring down the tree, also located in the Grandpass area.


COMMENTS (18)
Comments are moderated and generally will be posted if they are on-topic and not abusive.
For more information, please see our Comments FAQ