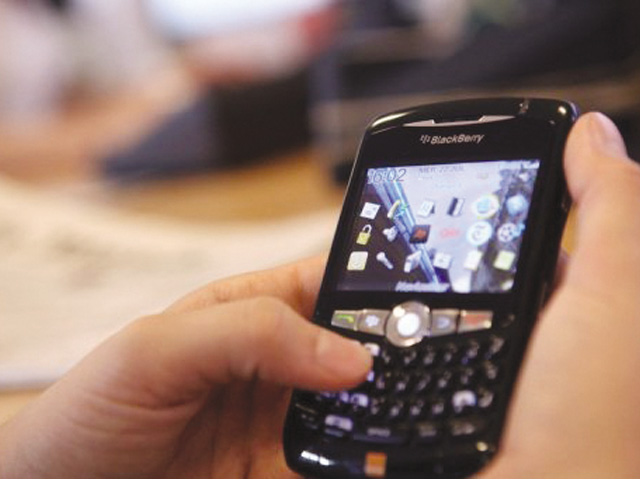 ---
NEW YORK, US: Struggling smartphone maker BlackBerry said Monday it is examining "strategic alternatives," including the possibility of selling off the firm.

The Canadian firm said it had formed a committee to consider "possible joint ventures, strategic partnerships or alliances, a sale of the company or other possible transactions."

The announcement comes with BlackBerry marginalised in a smartphone market dominated by makers using the Google Android operating system and by Apple's iPhone.

A statement issued by BlackBerry said the board's committee would seek ways "to enhance value and increase scale" to help deploy its products based on the new BlackBerry 10 platform.

"We continue to see compelling long-term opportunities for BlackBerry 10, we have exceptional technology that customers are embracing, we have a strong balance sheet and we are pleased with the progress that has been made in our transition," said president and chief executive Thorsten Heins.

The special committee of the board includes Heins, Barbara Stymiest, Richard Lynch and Bert Nordberg, and will be chaired by Timothy Dattels.

"During the past year, management and the Board have been focused on launching the BlackBerry 10 platform and BES 10, establishing a strong financial position, and evaluating the best approach to delivering long-term value for customers and shareholders," said Dattels.

"Given the importance and strength of our technology, and the evolving industry and competitive landscape, we believe that now is the right time to explore strategic alternatives."

Prem Watsa, chairman and CEO of Fairfax Financial, said he would resign from the board due to potential conflicts that may arise during the process.

Fairfax Financial is the largest BlackBerry shareholder. A survey by IDC found BlackBerry's global market share had slipped to 3.7 per cent in the second quarter, the lowest since tracking began, while Android accounted for nearly 80 per cent.

While BlackBerry helped create a culture of mobile users who were glued to the company's smartphones, many of those customers have since moved to Apple or other smartphone makers such as Samsung, mainly using Android.

In a turnaround bid, the company unveiled its new platform on January 30, as it dropped the corporate name Research in Motion to rebrand as BlackBerry, but staggered sales launches across regions.

The Z10 was only launched in the key US market in March while the Z10 followed after the end of the first quarter.