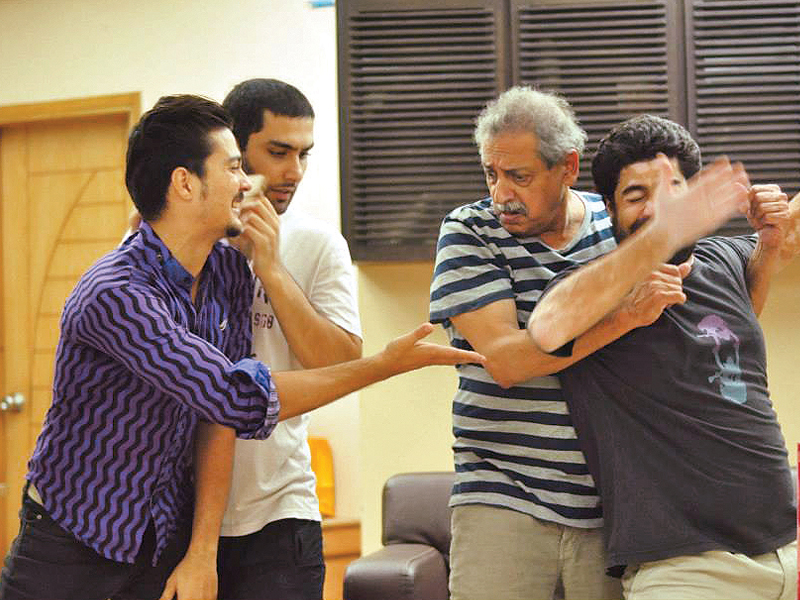 ---
LAHORE:



Sultana Daku is our desi Robin Hood who steals from the rich and gives to the poor. While many serious films have been made on the anti-hero's escapades, it's now time for a few laughs. Usama Kazi and Mohsin Ejaz's upcoming play seems to have all the right ingredients for a spectacular representation of Sultana Daku. And with his theatrical expertise and comedic personality, Salman Shahid is set to play the role of the infamous thief. Written and directed by Abdullah Farhatullah, Sultana Daku will be staged at FTC's auditorium in Karachi starting August 20 till September 8.




"To us, he is a South Asian version of Robin Hood and for a long time, I had thought about doing something that people would be able to relate to while also touching subtly on interesting issues," says Kazi, who like Shahid, is a veteran when it comes to theatre. "Normally, an actor takes inspiration from the director but with someone like Shahid, he provides inspiration not only to the people involved but also to the audience," he adds about the actor who was taking a break from theatre but is now back.




Shahid, who has provided the audiences with a variety of TV shows and theatre acts over his lifetime, says that the play will provide a different kind of take on Sultana Daku and will be based on real-life events. Daku, known for robbing trains and giving to the poor, was caught and hung by the British authorities in 1920 after he continued to terrorise the citizens of Uttar Pradesh.

"I will play the role of Sultana Daku, but this will be a total comedy based on original references — it will be fast and racy," explains Shahid. He feels the play has been cleverly designed as Daku has been portrayed as a likeable villain who makes a promise to his mother which he intends to keep: he would die a clean man. His henchmen are forbidden to rob and loot, but the now retired daku is forced to abduct a journalist who would pen down his tale.

"The play is going to be over-the-top and fast," he says, adding, "It will have an element of slapstick. It's definitely going to be a different kind [of script]."

For Shahid, the character he is set to play has been spiced up by the idea that Daku, who is an anti-colonial figure, has been transformed from an outlawed villain into a comedic personality. He has a strong feeling about the play as he feels Kazi and the production team have been quite successful in the past as well with 0092 for example, a play on the pre-election situation in Pakistan.

Flourishing theatre and future projects

Shahid admits that it's quite encouraging to witness the theatre scene in Pakistan develop to such a large extent. "I think there is a pretty decent theatre scene which has bred out of English theatre; this scene has been able to connect [us] with corporates and successfully put on many plays," he says. "Interestingly though, this theatre scene is primarily based in Islamabad and Karachi. I think it's great that young people are pushing the trade forward."




Apart from theatre, Shahid is set to reprise the role of Mustaq in Vishal Bharadwaj's Dedh Ishqiya in which his role would be smaller than the one he played in the prequel Ishqiya. Apart from that, Pakistani film Tamanna, in which he has a significant role, is set to release this Fall. He is also working on another independent film by Rehan Sheikh tentatively titled Azad and a TV play called Asee Zadi, which will soon be aired.

Published in The Express Tribune, August 13th, 2013.

Like Life & Style on Facebook, follow @ETLifeandStyle on Twitter for the latest in fashion, gossip and entertainment.