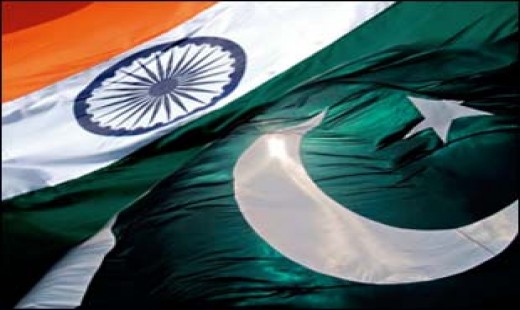 ---
ISLAMABAD:



As India continues to seethe with anger over the August 6 ambush on the Line of Control (LoC), Pakistan has started examining several options, including scaling down its diplomatic staff in New Delhi and shifting troops from its border with Afghanistan to the eastern frontier, The Express Tribune has learnt.




This coincides with a message by Indian army chief General Bikram Singh to his troops to be "aggressive when it comes to dealing with the Pakistani forces" and comes five days after protesters tried to storm Pakistan's diplomatic mission in New Delhi.

"In view of serious threats to its diplomatic missions in India, Pakistan can withdraw some of its diplomatic staff," a senior foreign ministry official told The Express Tribune. Coincidently, India's main opposition Bharatiya Janata Party (BJP) also demanded on Sunday that Islamabad pull out its high commissioner in New Delhi.




The two nations – which have fought three wars since their inception in 1947 – have been embroiled in a verbal duel since the August 6 cross-Line of Control raid that India blamed on Pakistan Army troops.

"Yes, we are thinking on these lines … a major chunk of the diplomatic staff in India could be withdrawn as the Indian government, despite repeated requisitions, did not arrange a foolproof security for our diplomatic missions there," another foreign ministry official added. "Our High Commission in Delhi has reported suspicious movement of mobsters in the surrounding of offices and residences of our diplomatic staff in India."

However, the official added that the final decision would be taken by the Cabinet Committee on Defence, the country's highest forum on national security issues.

Military officials, meanwhile, reacted strongly to 'unprovoked firing' by Indian troops on Pakistani check posts in the Sialkot sector. "Pakistan Army will give a befitting response in case of further ceasefire violations," a senior military official told The Express Tribune. He added that the army could ask the government to withdraw some troops from the border along Afghanistan and redeploy them to the eastern frontiers.

"The military brass has finalised this recommendation in internal meetings. And it would be presented in the DCC meeting," the military official said. He requested anonymity because he was not authorised to speak to the media.




A spokesperson for the Prime Minister House confirmed to The Express Tribune that Nawaz Sharif will be convening the DCC meeting to discuss the latest internal and external security threats. Though no actual date has been fixed, the meeting is likely to be held within a week, the spokesperson said.

"The meeting will discuss the country's internal and external security situation, particularly tension on eastern borders and regional security scenario," said the spokesperson when asked about the agenda of the meeting. It will be the first meeting of the DCC since the PML-N government took charge after the May 11 elections.

A senior official said the prime minister has already received a foreign ministry recommendation that it scale down diplomatic staff in India following Wednesday's abortive attempt by mobsters to storm Pakistan's High Commission.

Prime Minister Nawaz Sharif and his Indian counterpart are scheduled to meet on the sidelines of the United Nations General Assembly in New York next month. However, calls for postponing the meeting are growing shriller in New Delhi.

Indian opposition leader Rajnath Singh said on Sunday that his country's patience was running out and demanded that not only India stop all dialogue with Pakistan but also send back Pakistan's envoy in New Delhi, and recall Indian high commissioner from Islamabad.

Foreign Minister Salman Khurshid evaded a direct reply to a question on whether the New York rendezvous would materialise. The Pakistan government should own up the responsibility for the attacks on Indian soldiers and the firing on LoC in violation of the 2003 ceasefire.

He ruled out India's directly approaching Pakistani army chief to ease tensions. "The responsibility must rest with the (their) government. Our meeting point is the civilian elected government of Pakistan, not the Pakistan Army or any other agency," he told India's CNN-IBN television in an interview.

Referring to Nawaz's statement where he tried to deescalate the situation, Khurshid said there was no indication of acceptance of responsibility for the attack. "One element is that the regret about what has happened, which has certainly been mentioned. But, there is no indication of acceptance of responsibility," he added.

"We have said that we expect responsibility. That hasn't happened, one. Two, the other concern of what we have been expecting: culpability for what happened in Mumbai. There is no indication of that. And, finally, the statement doesn't take into account, the outreach and the extra mile that India has periodically gone to overcome great difficulties posed," Khurshid said.

Earlier this week, a bevy of strategic experts, including former military chiefs and top bureaucrats, asked the Indian government to stop talks with Pakistan till the country demonstrated some meaningful steps on combating terrorism.

In an unusual step, these experts, who are purportedly not affiliated to any political organisation, issued a press release which said: "The government would be well advised not to rush into a dialogue with Pakistan on the assumption that the new prime minister of Pakistan, Nawaz Sharif, is ostensibly committed to improving ties with India."

Published in The Express Tribune, August 12th, 2013.
COMMENTS (46)
Comments are moderated and generally will be posted if they are on-topic and not abusive.
For more information, please see our Comments FAQ