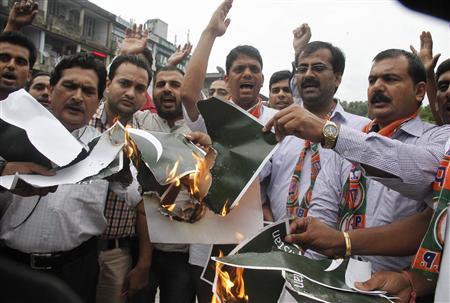 ---
The Bharatiya Janata Party (BJP) demanded that the Congress-led UPA Government should suspend talks with Pakistan until they hand over Dawood Ibrahim and Hafiz Saeed—two 'most wanted' people to India, DNA India reported.

"The question that the BJP has been raising is that Dawood Ibrahim was in Pakistan, taking asylum under the Pakistan Army and the ISI. Pakistan has accepted it today. Now, there is no scope for any doubt. Immediately, the Government of India should put pressure on Pakistan saying that talks will only commence if Dawood Ibrahim and Hafiz Saeed are handed over to us," BJP spokesperson Shahnawaz Hussain said.

The BJP has been strongly against pursuing talks with Pakistan after their Army ambushed six soldiers along the Line of Control (LoC) on August 6 in Poonch District of Jammu and Kashmir.

Hussain maintained that the UPA-led Government should use Pakistan's admittance of giving shelter to Dawood Ibrahim, and pressurize them to hand the don over to India immediately.

"First, Pakistan should improve themselves, hand over Dawood Ibrahim, then we can see about talks. Hafiz Saeed who was responsible for the attacks on Mumbai is openly and publicly threatening India. It is not Pakistan's status, and yet Hafiz Saeed is taking shelter there and issuing threats to India," Hussain said.

"Thus, the government of India should pressurize Pakistan. The whole world should put pressure on Pakistan that Hafiz Saeed and Dawood Ibrahim should be handed over to India. Only after that there is any point of any dialogue. Till they don't get a strong message from India, Pakistan's morale will not be down. The time has come now that Pakistan's politician has admitted that Dawood Ibrahim is in Pakistan, why isn't the Government of India putting pressure?" Hussain added.

According to reports, Shahryar Khan, Prime Minister Nawaz Sharif's special envoy for improving relations with India, said on Friday that Dawood was in Pakistan but has been "chased out" and could be in the United Arab Emirates (UAE).

Additionally, the Intelligence Bureau (IB) has issued a high alert for New Delhi and all other metropolitan cities after the Mumbai attack mastermind Hafiz Saeed issued an anti-India statement on Eid.

Pakistan Prime Minister Nawaz Sharif, who had publicly expressed his desire to mend relations with India, was scheduled to meet Prime Minister Manmohan Singh in New York in the month of September. However, an incident at the LoC on August 6 has caused doubts over whether India will pursue talks with Pakistan at this stage.
COMMENTS (57)
Comments are moderated and generally will be posted if they are on-topic and not abusive.
For more information, please see our Comments FAQ