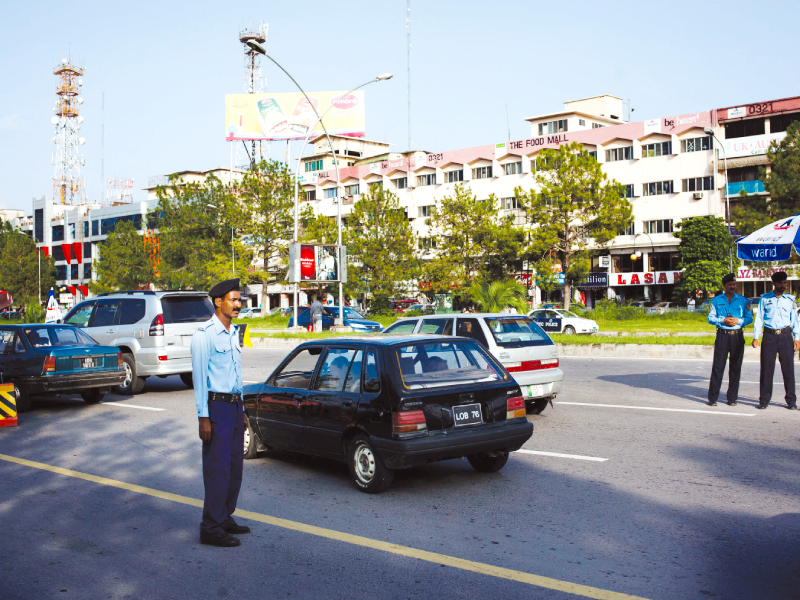 ---
ISLAMABAD:



As the last wave of shoppers swarms markets, police personnel across the capital city brace themselves for duty with little festivity to look forward to.




This Ramazan, constable Mohammad Safdar, 47, has broken his fast with modest provisions at a security check-post on Jinnah Avenue, hurriedly offering his prayers on a road median to return to the job, alert and tenacious, screening cars for threat as they curl around concrete barriers and speed off to keep their commitments.

Eidul Fitr signals relief for most blue-collar workers who can wind up shop and return to their native villages, but Safdar's 12-hour shifts are far from over.  A recent intelligence report, citing potential militant activity on key installations, has led to a security high alert. According to a statement issued by the Islamabad Capital Territory (ICT) Police, more than 2,500 policemen will be on duty at public places and places of worship, ensuring that all suspicious activity including theft can be contained.

"Who doesn't want to be home with their family on Eid? But alas, duty calls." Safdar says with a grin, though his eyes remain on the surge of traffic that wraps around the check-post. After the swell of worshippers thins down, Islamabad is known to fall into a lull.  With a working class that hails largely from villages around its periphery, the capital city's population trims down significantly during religious holidays.




"The streets become eerily empty," shares 26-year-old traffic warden, Saddiq Akbar. "It is an anomaly to find even a single restaurant with its cooking grills alight," he adds, recalling the festivities in his hometown in Charsadda where his young wife puts on a new dress and prepares a meal, her heart and mind invested in the city that lies a few hundred miles beyond, parcelled between mountains.

Zahir has been a driver for the Anti-Terrorism Squad (ATS) for more than a decade.

"Our families have adapted to our absence," he explains with an air of nonchalance. "There is no bonus or incentive involved, we work for a salary just as we always do." There is, however, a small feast at the police headquarters, though those on duty must wait for the food to be dispatched to them at their respective places of duty.

Published in The Express Tribune, August 9th, 2013.