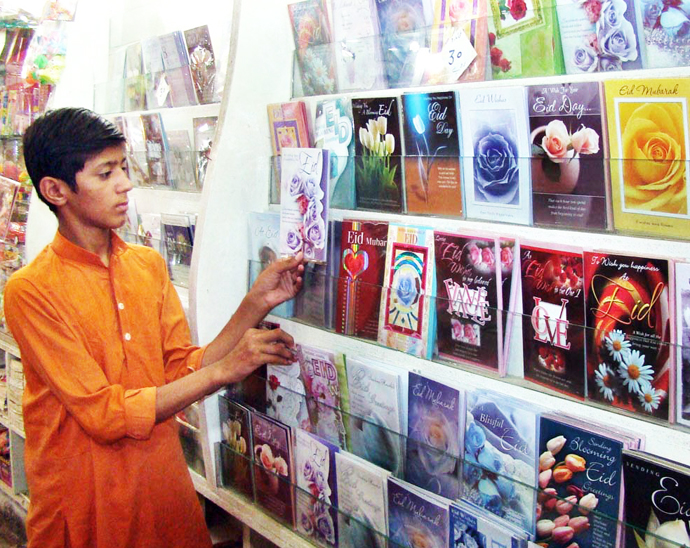 ---
KARACHI:



Fazal Karim, 52, stands in a clogged street of Karachi's Jackson Market, his hand resting on his Eid cards stall. Even amidst the seasonal hullaballoo, with countless Eid shoppers pushing and shoving to get to stalls overflowing with accessories and hosieries, Karim remains unfazed.




In stark contrast to the surroundings, business isn't booming for him. His stall of Eid cards remains unvisited, undisturbed.

"The card business is no more. This is the last time I'm doing this," he says. "People don't need cards anymore – they have been replaced by mobiles and the use of the internet."

Desperate times, alternative measures

Karim recalls selling cards worth Rs6,000 a day during Ramazan in years past. This year, however, he has only sold Rs2,000 worth in the entire month. Cards on his stall range from Rs1 to Rs200.

"Back then, I had a huge variety, but now even the card companies have stopped designing and printing many choices, as there is just no demand anymore," he says.

Because of the slump in Eid cards business, Karim now also sells artificial jewelry and gifts to make a living. Dozens of colorful cards hang on a cloth stretched along a wall and yet, the only two customers around him are three young girls busily searching for earrings.

No longer the same

For many Karachiites, the loss of Eid cards has decreased the charm of the festive day.

"I would spent hours at those stalls set up at Pakistan Chowk and areas of Saddar, but now I see very few of them and they don't even have attractive designs," says Nangyal Khan. "Paper cards have more of an effect on people than E-cards or SMS messages. They form a memory trail that I look back on."

According to Khan, a campaign on social media can help restore this dying culture.

The messengers

These cards have always shared a special relationship with the people entrusted to deliver them.

"We would have bundles of Eid cards to distribute and the Pakistan Post would announce that they should be sent 10 days ahead," recalls Syed Hameed Ahmed, former deputy chief postmaster. Today, Ahmed is nostalgic.

"Now this culture is in decline. Even the Pakistan Post has quit printing its own Eid cards which was a usual practice then and were sent to hundreds of people," he grumbles. "Sure, the internet can be blamed, but the Pakistan Post is equally responsible for not making serious efforts to save it."

Published in The Express Tribune, August 9th, 2013.
COMMENTS (3)
Comments are moderated and generally will be posted if they are on-topic and not abusive.
For more information, please see our Comments FAQ