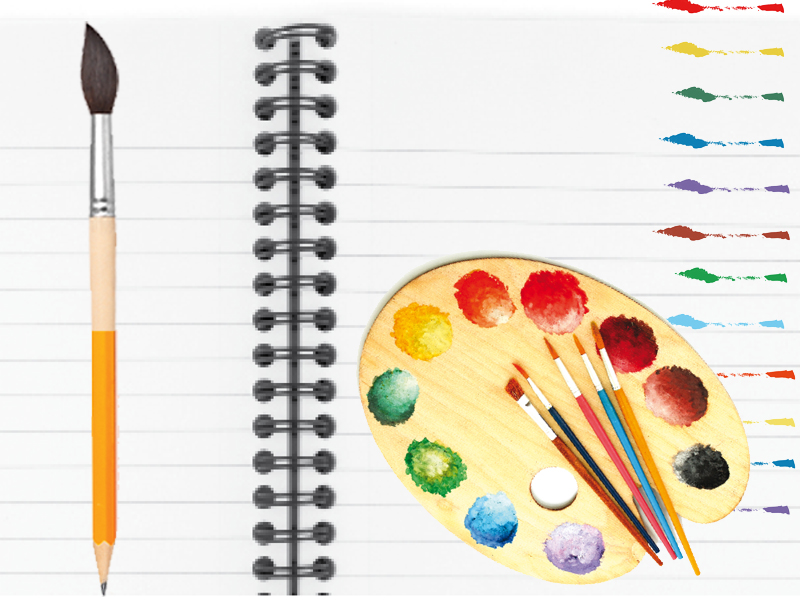 ---
KARACHI:



In the last decades, the exposure of an average Pakistani student to art education has been limited to replication of objects being drawn by their teachers on blackboards. The situation remained pretty much the same after blackboards were replaced by whiteboards and art series books printed by private publishers.




"This method of teaching art shares similarity with extensive focus on rote learning in other subjects," said Afshan A Razzaq, founding director of the AR Media and Education Group. "Almost all art series books encourage students to replicate objects, thereby restricting their ability to imagine and draw by themselves."

She believed that many students may feel a sense of accomplishment after doing such work, but these activities do not contribute to the cognitive or creative development of students.




A child's mind is capable of creating innovative and powerful work, she said. To understand art, teachers should let children enjoy the process of learning and encourage them to use their imagination. With experimenting comes confidence and self-reliance. But this, unfortunately, is not practiced at public and most of private schools.

Lack of official textbooks

In the absence of any official textbook for art education, private publishers and freelance authors have tapped the opportunity and prepared a number of art series books which, believes Razzaq, fail to accomplish the purpose. "Used in both the public and private schools, these books usually contain craft work rather than covering all aspects of art," she said. "Most of the art series are not updated or reviewed for decades as some were even used by our parents back in their school days."

For instance, explained Razzaq, craft activity using matchbox has been used for at least 40 years now and most of the drawing activity encourages replication work. Instead of urging students to step outside and observe the nature before taking up a task, instructions are given to copy and draw.

Art curriculum

The provincial education department has been struggling since the creation of Pakistan to come up with an approved art curriculum for all classes.

In a scenario where there are no proper guidelines, pedagogical approaches, assessment system or officially published textbooks, Razzaq reckons that teachers mostly replicate ideas that inspire them in the craft books.

In 2006, when the ministry of education and education experts reviewed the national curriculum, the subject of art was made an integral part of the curriculum from early education to class two, but the decision has yet to be implemented. Still, not much has been prepared for grade three till middle-level, while only a few guidelines were set in 1973 for arts education for secondary and higher classes, explained Razzaq.

She did not, however, agree with the approach of amalgamation of art as a discipline with the primary subjects, such as science and maths, without a proper assessment system for the former.

"Unfortunately, we have developed a mindset that considers art secondary to the rest of the subjects. It is seen as an extra-curricular activity," she said. "While it is essential to understand arts for the better comprehension of other subjects that are part of the curriculum, the understanding of arts, however, is not dependent on any other subject. It should be taught as a separate subject."

The provincial government's bureau of curriculum director, Abdul Majeed Bhurt, while talking to The Express Tribune said that on paper the government has a curriculum to help develop the basic skills of grade one to five students in the subject of arts and crafts, but it was not formally included in the public school textbooks because of the lack of availability of teachers.

Limited options

Earlier, students would acquire basic arts knowledge after getting enrolled in a fine arts department at public colleges, but now even this option has been taken away from them. At present, there is hardly any public college with a functioning fine arts department.

"A number of colleges used to have fine arts department, including Government College for Women on Shahrah-e-Liaquat, where I took admission to attend art classes, but later it was closed down in the midst of my education in the late 1980s," recalled Razzaq.

With such deteriorating conditions, the provincial government had over a period, intentionally or unintentionally, left the domain of art education to around eight private and professional institutes, which in affiliation with Sindh Board of Technical Education (SBTE) offer either a diploma or a certificate programme in fine arts.

Unqualified teachers

"After meeting more than 50 art teachers at various schools, I came to the conclusion that most of them were not qualified and some did not even have any art background," said Razzaq.

The education department's additional chief secretary, Dr Fazlullah Pechuho, told The Express Tribune that no teacher among the newly recruited art instructors had any prior qualifications in the discipline. Another disturbing reality is the presence of around 21,000 single-teacher public schools, which makes around 50 per cent of the total public schools functioning across the province.

"Sometimes, school administrations assign the subject to any teacher they think is not capable of dealing with other serious and core subjects."

Though there are hardly three to four respectable institutions for art education in Karachi, graduates from these institutions can serve as qualified art teachers at public and middle-class private schools, said the president of Arts Council of Pakistan, Ahmed Shah. "Society as a whole has not understood the importance of arts and fine arts as yet. Had this not been the case, unqualified and redundant teachers on a meagre pay would not have been allowed to teach drawing to the children," he lamented.

Expensive specilisation

Negligence on the part of the government has restricted the access of art education to only a few people resourceful enough to pay high fees, while a common citizen is left to assume that fine arts is an elitist venture that cannot provide them Roti, let alone to equip them with tools to live a better life, lamented Razzaq. "Due to the lack of awareness, parents and teachers are not familiar with the available career options for students who intend to study liberal arts. But even if they do, they won't be able to bear the expenses."

For instance, Karachi School of Arts, which is recognised as the oldest private centre of art education, charges around Rs288,000 for its four-year fine art diploma programme and the cost is apart from the registration and examination fees payable to the SBTE. In comparison, the fee of Arts Council Institute of Arts and Crafts is relatively low, but still reaches up to Rs175,000 for the same programme.

Since there remains a dire disconnect between students and formal art education, foundation courses are offered in the first year of studies at these institutes followed by three-year fulltime studies, which culminate in specialisation in either painting, miniature, sculpture or print-making.

Even at these private institutes, fine arts programme fails to receive as much attention as the myriad of programmes in commercial art, textile, fashion and graphic design.

Cultural perspective

For leading art education to the status of social pariah, Razzaq holds both the conservatives and liberals responsible for their skewed approaches in dealing with the discipline.

She asserted that religion, per say, did not have any conflict with the subject that endorses morality, decency, and permissible joy.  "Many people misunderstand Islam's moderate and realistic position on art," said Razzaq. "It would be interesting to know that after embracing Islam, people associated with the handicrafts enhanced their art according to the Islamic way of life and rejected the old fashioned non-Islamic methods. This helped introduce new forms of art, including naqashi work."

Through art and history, she added, we can peek into the photo album of time. "Art has always played a very important role in the shaping and recording of cultural history and lifestyle. Studying it from this perspective can make both teaching and learning interesting and worthwhile."

Published in The Express Tribune, August 9th, 2013.
COMMENTS (2)
Comments are moderated and generally will be posted if they are on-topic and not abusive.
For more information, please see our Comments FAQ