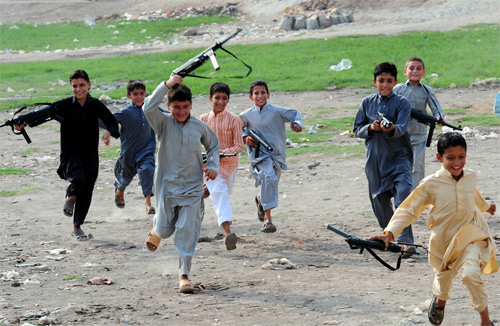 ---
PESHAWAR: Peace activists and members of the civil society have decided to stage a sit-in outside the Chinese embassy in Islamabad after Eidul Fitr to protest against the availability of toy guns – most of which are imported from Pakistan's closest strategic ally.

A large number of children, many under the age of 10, can be seen carrying toy guns of all shapes and sizes. They emulate characters in video games and movies while pretending to shoot their friends, ultimately leading to violence, says Azra Nafees Yousafzai, a social activist and editor of e-magazine Sahar – the voice of Pashtuns.

Guns are used for two purposes: defence and violence, she explains. "But for a child who cannot differentiate between the two, it always leads to violence. When you become violent in childhood, I don't think the violence won't influence you in the future," she stresses, adding fear ends with shooting practice – either with toy guns or in video games.




Yousafzai said the government needs to legislate against the availability of toy guns and make it a cognizable offence so people may not display them. She also demanded a ban on the local production of such toys, saying a sit-in will be staged in front of the Chinese embassy and the diplomatic mission would be requested to stop supply to Pakistan.

Parents said buying toy guns for children is a serious matter and children should not be exposed to things which can have an adverse effect on their minds.




"As least I will never buy a toy gun for my son. But we cannot do anything about video games since a number of them feature violence," said Shabbir Ahmad, the father of 10-year-old Abeer Ahmad, who is an ardent fan of mission games. A number of people have invested in the toy gun business and shopkeepers say they will only stop selling them if the government imposes a ban.

Ayaz Khan, a shopkeeper who has set up a small makeshift stall on the roadside specifically to display and sell toy guns during Eid, said the goods promise a huge profit margin as most of them are imported from China.

Published in The Express Tribune, August 9th, 2013.

---------------------------------------------------------------------------------------------------------------------------------------

[poll id="1193"]