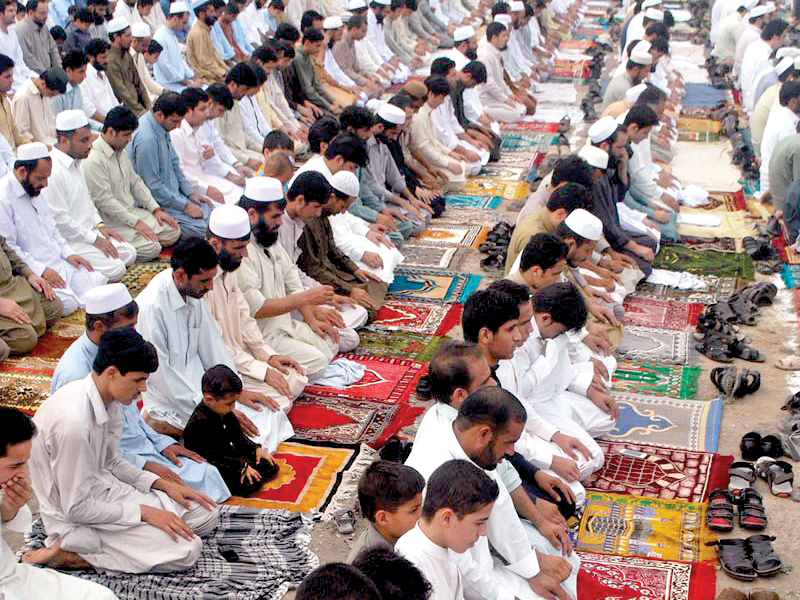 ---
SHABQADAR/ LANDI KOTAL/ MIRANSHAH/ MARDAN:



Parts of Mardan, Swabi, Charsadda and the Federally Administered Tribal Areas (Fata) observed Eidul Fitr on Thursday while the rest of the province will celebrate today (Friday).




Residents of Gujar Garhi, Mardan and followers of a cleric in Nabi village, Swabi celebrated Eid on Thursday despite requests by other locals to observe it with the rest of the country.

Gujar Garhi has a population of around 0.1 million and is situated on the outskirts of Mardan. It sports 60 mosques out of which the clerics of eight mosques announced they had sighted the moon Wednesday evening.




Gujar Garhi police official Gohar Khan claimed around 1am he heard the sound of gunfire in the vicinity prompting him to patrol the area. He found people standing outside Miangano, Madani, Dagai, Bangla, Kathan Khel, Shankar and Chakaro Pul mosques with plans to observe Eid on Thursday.

After spotting the police, some residents asked Khan to accompany them to convince the local clerics to observe Eid with the government. "For unity's sake we went to the clerics to convince them," said Khan. However, the clerics maintained people had started their fasts alongside Saudi Arabia and will celebrate the end of fasting with them.

A large majority in Gujar Garhi was fasting with the exception of those living around the eight mosques.

MPA Iftikhar Mashwani – who won from PK-26 Mardan-IV – explained the clerics under the supervision of well-respected elder Qazi Syed Faridullah decided to observe Eid after the testimony of 10 witnesses who said they had seen the new moon. Upon hearing the news, Mashwani went to convince them to wait one more day, however, the announcement for Eidul Fitr had been made on loudspeakers.

Meanwhile, in Swabi, half the residents of Nabi village observed Eid. On Wednesday night Khajor Masjid cleric Qari Sanaullah announced Eid should be observed on Thursday.

Afghan nationals living in Shumlo Camp, Gandaf, Bagicha Dheri in Swabi also celebrated as they started the month of fasting with Saudi Arabia.

Some people living in Shabqadar in Charsadda district also celebrated a day earlier.

FATA

People in parts of North Waziristan, Mohmand, Bajaur and Khyber agencies celebrated Eidul Fitr on Thursday as witnesses came forth, claiming to have seen the moon for Shawal.

Published in The Express Tribune, August 9th, 2013.