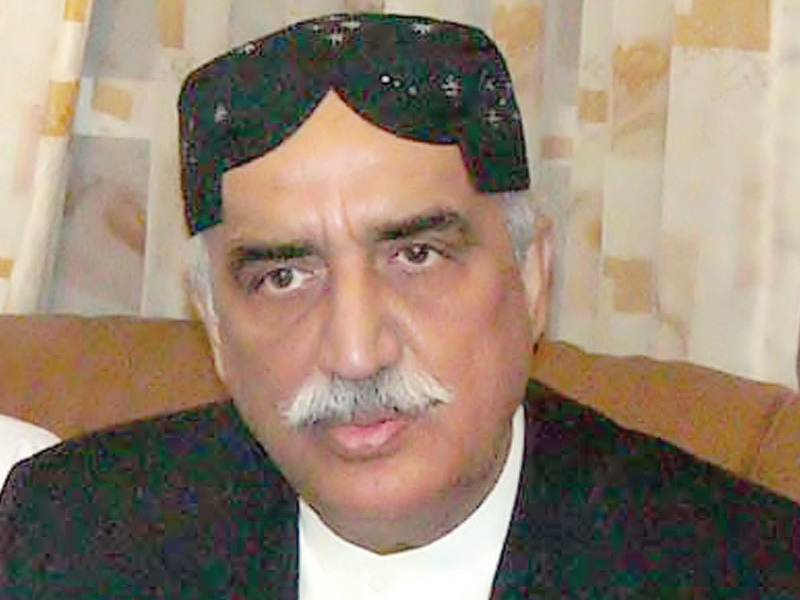 ---
SUKKUR: Leader of the Opposition in the National Assembly Syed Khursheed Ahmed Shah launched a broadside against the government's policies in Sukkur on Wednesday.

He said that tension on the Line of Control is due to the government's weak policies. He claimed that no such incident had taken place in the previous government's tenure.

Khursheed Shah was speaking to reporters after distributing ration among the needy arranged by Gharib Nawaz Welfare Trust.

He said that no extension of tenure can be allowed to the Supreme Court chief justice because the constitution is clear about his period of service.

About the 18th amendment, he said that it is part of the constitution and the government will face hurdles in its implementation.

He claimed that inflation had recorded a 50 per cent uptick during the first three months of the PML-N government. Instead of taking corrective measures to address such issues, the government is passing on the burden to the public on the dictation of IMF, he added.

Shah also claimed that the government has raised prices of electricity and gas to generate Rs150 billion.

He claimed that PML-N's promises to rid the country of issues such as inflation were mere slogans for their election campaigns and that the public should hold them accountable for not fulfilling those promises. Rather than being run on commercial basis, governments are run on welfare basis in order to provide relief to the people.

He said that while incidents of terrorism are constantly rising, the government cannot root them out alone. He said the public will also have to play its role.

He observed that it was hard to comprehend why the government had postponed the all-parties conference whose stated aim was to brainstorm ways and means to counter terrorism.

Taking account of the increasing occurrences of terrorism he said it seemed that the government was not focusing on the problem.

He claimed that in PPP's tenure all political forces and other institutions were gathered to craft a collaborative strategy to counter terrorism. Highlighting the importance of self-sufficiency he stressed the need for carrying on with the Iran gas pipeline project.

Published in The Express Tribune, August 8th, 2013.
COMMENTS
Comments are moderated and generally will be posted if they are on-topic and not abusive.
For more information, please see our Comments FAQ