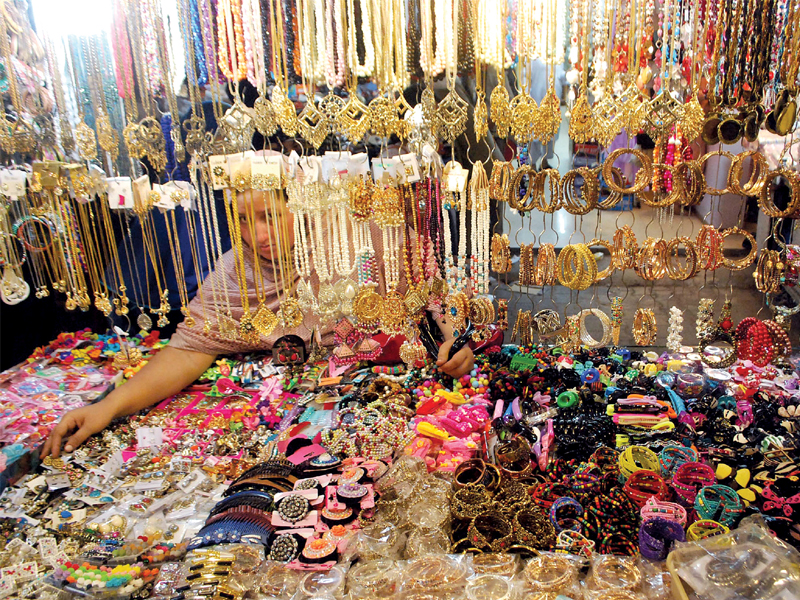 ---
RAWALPINDI/ ISLAMABAD: Eidul Fitr is around the corner and the twin cities are abuzz with activity. Whether it's putting a wardrobe together, planning a feast or doling out presents, everyone is up to something. The marketplaces are lit up with fairy lights as vehicles crowd commercial blocks till the wee hours of the night.

Despite the persistence of security threats in some areas, people have chosen to go shopping rather than watch news channels. "Chand Raat used to be a big deal back in the day and we would celebrate it to the fullest. I still believe that shopping for Eid is a great way to unwind," said Ayesha, who was browsing through bangles at Centaurus Mall. "Retail therapy is the best therapy," she joked.

On the mall's third floor, the creative duo Nashwa and Hammad exhibited home accessories, with truck art designs painted on them. Titled "Trucked Out", the two-day gala featured photo frames, wall-hanging mirrors and jewellery boxes with intricately-painted patterns.


A vendor using his charm to try and sell bangles. PHOTO: MYRA IQBAL/EXPRESS

"The pieces are for anyone who loves truck art. Typically, foreigners have an eye for such art that can be kept as souvenirs," said Nashwa. Her husband, Fahad, said the items can help bring the country's rich traditional art to homes.

Eid Bazaars

To rekindle the joy of the festival, some multi-label boutiques hosted Eid Bazaars. At L'atelier, women browsed through a plethora of designer brands, matched bangles with their outfits and had henna painted on their hands. Similar events were hosted at AP Gallerie and Tzarina.

"I find it convenient to buy readymade clothes. On every Eid, I buy at least two dresses with matching sandals, jewellery and cosmetics," said Khayla, a teacher who was shopping at Saddar in Rawalpindi.

This year, the demand for formal wear has risen by about 20 per cent in local markets, where clothing prices start from Rs4,000, said Zeeshan, a salesperson at Saddar's Bank Road.

The sale of casual, ready-made dresses has increased by around 80 per cent over the past three years largely due to rising inflation, according to Nasir Hussain, a manager at Al-Jannat Shopping Mall in Commercial Market.   However, Hussain said despite the price hikes, the demand for casual dresses is still much higher than that of fancy dresses because the former is more affordable to the masses.




Nimra Khan, a college student, said people are reluctant to visit markets repeatedly to match and design their dresses because of the prevailing security situation and thus choose ready-made dresses.

"Take the example of a ready-made kurta salwar, which can be bought for between Rs1,500 and Rs2,000. An unstitched suit which costs Rs1,500 will require Rs600 of tailor services --- a total of Rs2,100. Which option would you choose?" remarked Safeer, a shopkeeper in Saddar

Business Blues

While prices skyrocket, sweet meats' sales have been slower, according to Niaz Ahmed, Manager at Rasheed Sweets in Jinnah Super Market. "Despite escalating prices, we continue to sell specialities such as barfi at the normal pace," he said.

Saeed Book Bank Sales Manager Akhtar Gul said Eid cards' declining demand has prompted suppliers to stop sending them to retailers. Only 20 to 25 per cent of cards have been sold, he added. "There are no Eid decorations or window displays similar to what we have on Valentines Day, Halloween and Christmas," he added.

Abdul Shakoor of Book Nook said the trend of buying and posting Eid cards for loved ones has lost its charm over the last three years. Of the 2,000 cards that were available on the market, less than half have been sold, he added.

Yasir Khattak from Sector G-6 has been in the bangles business for the last five years. He said the bazaar, which usually sets up shop 10 days before Eid, has only been allowed to erect its stalls for the last five days of Ramazan because of the security threats. He added sales have also been affected by poor weather.

Each stall has been charged Rs17,000 to set up in the market. Khattak said he paid Rs35,000 for 15 days last year and made decent sales.

This year, with only two days left to Eid, Khattak said he has only managed to sell 25 per cent of his stock, a blow to his aim of breaking even during this period.

At another bangles stall, Sardar Wajid from Bari Imam lamented this year's poor sales. "I have been in the profession for 15 years and it has never been this bad. We have to look at other markets next year," he said.

Mrs Nadeem said it is wise to step out during the day to shop. "People have been going out at night in spite of the threats. There is no place to park and heavy traffic is frustrating," she added.

With input from Maryam Usman and Maha Mussadaq in Islamabad and Shazia Mehboob in Rawalpindi

Published in The Express Tribune, August 8th, 2013.