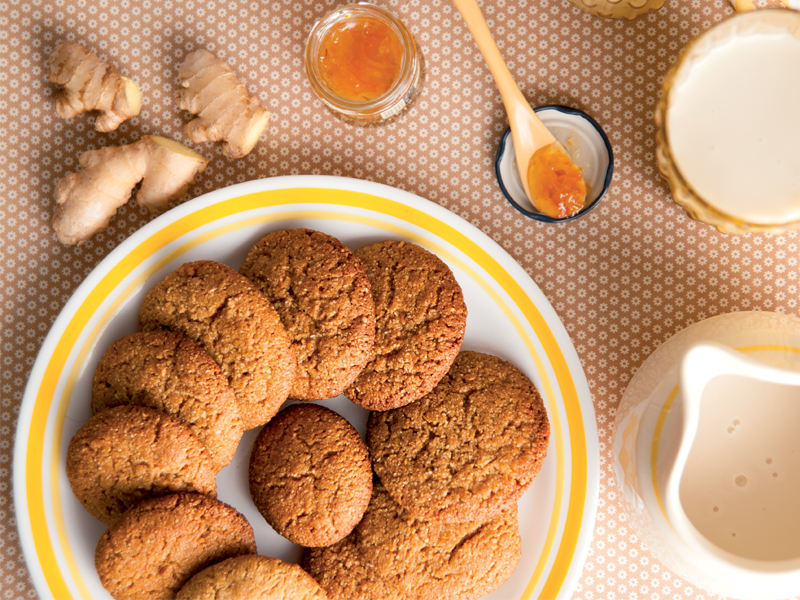 ---
No one knows your body better than you do. Battling gluten intolerance for years and officially undiagnosed for the most part, I affirm this claim like many others like me. After countless hours in hospitals, multiple tests and being diagnosed with various other diseases, eventually a self-diagnosis and confirmation from doctors in New York led to the elimination of gluten from my diet and a relief to my stomach after years. I have celiac disease.

Celiac disease is a disorder resulting from an autoimmune reaction to gluten. It is caused by a reaction to a gluten protein found in wheat, barley, rye, and sometimes oats, which leads to the inflammation and destruction of the inner lining of the small intestine. This chronic digestive disorder prevents minerals and nutrients from being absorbed as well. There is no cure for celiac disease. The only effective treatment is a gluten-free diet.

Lack of awareness and varying symptoms of celiac disease make it hard to diagnose. Rahma Muhammad Mian was diagnosed three years ago after suffering from the skin condition of eczema since birth (a symptom of gluten intolerance). "I was tested for celiac thrice," says the 29-year-old journalist. But the celiac test cannot be relied on. "All three times I was diagnosed with IBS [irritable bowel syndrome]. Until I went to New York where they did a biopsy and I was eventually diagnosed with microscopic-colitis," she says. Microscopic-colitis leads to gluten intolerance. After eliminating gluten from her diet, Rahma's eczema patches started disappearing on their own.

Rahma even had a biopsy in Pakistan but the gastroenterologists missed the possibility of celiac disease. "The field is still new. Quite possible that Pakistani gastroenterologists don't know about it," she says.

"From experience we can suspect if the patient has celiac disease and we test them accordingly," says Dr Zaigham Abbas, consultant gastroenterologist and member of the medical advisory board for the Pakistan Celiac Society. But some celiac patients beg to differ.

I went through numerous tests, ultrasounds and endoscopies myself but it was not until after I abstained from consuming gluten and I started feeling better that I was diagnosed.


Anis Dhanani, the 59-year-old owner of Karachi's best kept gluten-free secret, Damascus, suffered for four decades before he was diagnosed by his brother, a dermatologist who researched his brother's symptoms online. "I am not a doctor, just somebody who suffered a lot," he told The Express Tribune. "My own diagnosis was done on the basis of giving up gluten and I suggest people with symptoms [of celiac disease] consult a doctor and start a gluten-free diet, keeping in mind that it is very hard to diagnose and there is little awareness of the disease even among doctors."

A study titled 'Varied Presentation of Celiac Disease in Pakistani Adults' recently published in the Journal of the College of Physicians and Surgeons Pakistan seems to confirm this.

"It [celiac disease] has extremely varied clinical presentations," says the study. "Not much is known about the presentation of this disease in Pakistani adults."

Solutions and problems

The lack of awareness and thus choices means that people like Anis Dhanani have had to find their own culinary solutions in Pakistan — but they are far and few between for now. His restaurant, Damascus, famous for its shawarmas, has developed a special gluten-free menu — the first in Pakistan.

"[For the] first two years of my intolerance I was at a loss, all my food was coming from London," he says. "I wanted to help and serve my fellow sufferers."

It started with gluten-free pita bread. A simple step, it may seem, but gluten, a protein in wheat, barley and rye constitutes the staple diet of Pakistanis. Gluten gives baked goods elasticity. Without it, a Pakistani meal is considered incomplete and baked goods are dry and crumbly.

"It took around 100 batches," he says, "and a lot of patience, constant experimentation, and finally, three gels and five starches to perfect it."

The work paid off. Damascus is now delivering nation-wide, serving a gluten-intolerant clientele in Karachi, Lahore, Kohat, Badin, Khuzdar, Abbotabad, DG Khan and other cities.

Like Dhanani, a few others, mostly home-based bakers, have decided to cater to celiac patients. But as Dhanani notes, only a gluten-intolerant serving gluten-free food can win the trust of the clients, understand the regulations and plight, and ensure the food is in fact gluten-free and not cross-contaminated.

Tanya Elahi runs a gluten-free and allergen-free bakery from home, Simply Bread, in Lahore. "My five-year-old daughter and I suffer from gluten intolerance," she explains. "I started making gluten-free food for my daughter. She would see other kids in school eating nuggets and cakes and would ask for them," says the self-diagnosed mother.

For Tanya and her daughter dining out can be difficult. Indeed, the pleasures of eating out are often denied to people who avoid gluten as the autoimmune disorder can cause serious problems if even the slightest bit is ingested. To give you an idea, even a dusting of regular flour can cause problems. Menus are a source of anxiety and self-consciousness because — besides its presence in obvious culprits like roti, bread, pasta and dessert — gluten also lurks in soy sauce, thickeners, vinegars, salad dressings, soups, some spices and Pakistani dishes such as haleem, nihari and kunna to name a few.

"The lack of awareness of celiac disease makes it even harder to dine out," says Rahma. The chefs and waiters do not understand the gravity of the disease.

As many sufferers can relate, I have come across waiters who thought I was 'joking', as I dictated the procedure of serving me a gluten-free and allergen-free meal. Suffering with allergies to soy, nuts and cherries along with lactose and gluten intolerance, I usually have to deal with annoyed or baffled waiters and allergic reactions later.

As with most cases of gluten intolerance, various other food allergies develop. "On the villi (lining of small intestine) there are certain enzymes that are important to digest many carb[ohydrate]s including lactose," explains Dr Zaigham Abbas. In celiac disease, the intestinal villi become damaged (flattened). Immune reactions to ingested gluten can cause this damage, which can impair the production of lactase. Loss of this enzyme results in a condition called lactose intolerance and can lead to other food allergies as well. Damascus and Simply Bread address other food allergies as well to ensure gluten-free and allergen-free foods for their clients.

"I have clients who are not necessarily gluten-intolerant but have wheat allergy, diabetes, cancer or suspect they have gluten-intolerance," says Tanya. A gluten-free diet is being recommended for diabetics as well as studies show a reverse in symptoms of diabetes for patients on a gluten-free diet. (For more details please see diabetes.org and always consult your doctor before making any such decisions if you are diabetic).

Creating a gluten-free menu is more difficult than say, offering vegetarian options at a steakhouse. Chefs have to follow special techniques, follow stringent regulation and avoid cross-contamination. Dhanani says, "It takes months to develop each item and the ingredients cost up to five times as much as conventional ones."

Gluten is not only confined to food or ingredients. It causes problems if gluten-free food is cooked or stored in the same facility as gluten food or being handled with the same hands. "I explained everything to him [the waiter] and my gluten-free chicken was ready, but then he used bread to take it off the skewer," says Dhanani recalling the disappointment after hungrily anticipating a meal at a restaurant.

Symptoms and worries

Gluten intolerance manifests itself in different forms. For some it attacks the gut and in others it may cause skin problems as in Rahma's case. "If I use a normal soap I get eczema on my hands," says Rahma. Gluten lurks in soaps, shampoos, lipsticks and toothpastes. Not all celiac patients, like me, have to use gluten-free skin products but mostly all have to abstain from consuming it.

Celiac disease sounds scary at first especially since we Pakistanis consume gluten in some form in every meal. Abstinence from gluten and not being able to eat roti made with atta (wheat) is something most of us have never considered. Having a major sweet-tooth, I still remember the horror when my doctor asserted: "No more gluten. Ever." But the pain I suffer after consuming gluten has instilled in me a fear so bad that I prefer settling for homemade crumbly gluten-free cookies than even thinking of taking a bite of that chocolate cake from the dessert trolley.


Symptoms & signs
It is estimated that about 1% of the world's population suffers from gluten intolerance. Could you be one of them? If you have any of the following symptoms it could be a sign that you have gluten intolerance:
1. Digestive issues such as gas, bloating, vomiting, diarrhoea and even constipation.
2. A Vitamin D deficiency, checked with a blood test.
3. Fatigue, brain fog or feeling tired after eating a meal that contains gluten.
4. Diagnosis of an autoimmune disease such as Hashimoto's thyroiditis, Rheumatoid arthritis, Ulcerative colitis, Lupus, Psoriasis, Scleroderma or Multiple sclerosis.
5. Neurologic symptoms such as dizziness or feeling of being off balance.
6. Skin problems such as eczema.
7.  Diagnosis of chronic fatigue or fibromyalgia. These diagnoses simply indicate your conventional doctor cannot pin point the cause of your fatigue or pain.
8. Inflammation, swelling or pain in your joints such as fingers, knees or hips.
Gluten-Free Food Guide
Islamabad
Barsa Store, G-10 Markaz
Essa G, Kohsar Market, F-6 
Karachi
Agha's Supermarket, Clifton
Order: Damascus Café, Block 9, Clifton (Nation-wide delivery)
Order: Comfort Food Factory, placemyorder@thecomfortfoodfactory.com 
Lahore
Essa G, MM Alam Road and DHA
Makro, Model Town, Link Road
Victoria, Model Town, Link Road
Al-Fatah Stores, Liberty Market and DHA
Jalal Sons, Main Market, Gulberg
Panjeeri Shop, Mini Market, Gulberg
H Karim Buksh DHA
Order: Simply Bread, 0333 4631030 (Nation-wide delivery) 
Peshawar
Jan's Arcade, Islamia Road, opp Chen One store, Saddar
Ahmed's Mart, Jawad Tower, University Road
Avon Superstore, Located between Shell gas station & Spinzer Plaza University Road
Foods that contain gluten
Grains
Barley - Bran - Bulgur - Farina - Kamut - Graham - Semolina - Spelt - Wheat
Baked Goods:
Cake - Bread - Bread crumbs - Cupcakes - Tortillas - Bagels - Muffins - Pastries
Meat:
Breaded meat or chicken - Oven- or deep-fried meats - Hot dogs and other meats processed with 'natural flavours'
Other Items:
Dressings - Couscous - Tabbouli - Gravies - Sauces - Candy - Potato chips - Tortilla chips - Canned soup and broth - Frozen or canned vegetables in sauce - Restaurant or fast food French fries (McDonald's and Fatburger fries are gluten-free).
Cereal made from rye, wheat, bran, and barley always contain gluten, but ones containing oats, corn, and rice are often processed on the same equipment as their gluten counterparts. It is imperative that you look for the 'gluten free' label on cereal.
Published in The Express Tribune, Sunday Magazine, August 11th, 2013.
Like 
Express Tribune Magazine on Facebook
, follow
@ETribuneMag 
on Twitter to stay informed and join the conversation.