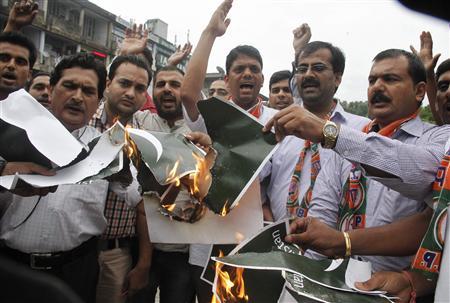 ---
NEW DELHI, INDIA: The Bharatiya Janata Party (BJP), the main opposition party in the Indian parliament filed a privilege motion against the Defence Minister AK Antony on Wednesday and demanded that talks with Pakistan be called off.

Protests against Pakistan have erupted in India in response to the ambush of five Indian troops at a military outpost in the Poonch sector, near the Line of Control even though Pakistan has denied any part in the incident at all levels.

BJP leader Yashwant Sinha claimed that India's Defence Minister AK Antony was misleading the House of Parliament and "acting as if he were the Defence Minister of Pakistan".

The minister in his statements had said that militants along with "people dressed in Pakistan Army uniform" had led the ambush while Indian Army had directly called them "soldiers of the Pakistan Army".

Prime Minister Manmohan Singh had earlier called BJP leaders to his residence to talk about the ambush of Indian soldiers but the party remained unconvinced by his statements.

Earlier during the day Indian and Pakistani commanders also spoke through the hotline to discuss the situation in the aftermath of Tuesday's incident. Pakistani commanders categorically rejected accusations by their Indian counterparts and complained about the recent LoC violations from the Indian side.

The Pakistani foreign ministry said that Islamabad was committed to the ceasefire in Kashmir and wanted a strengthening of existing channels to stop "such ill founded reports" in the future.