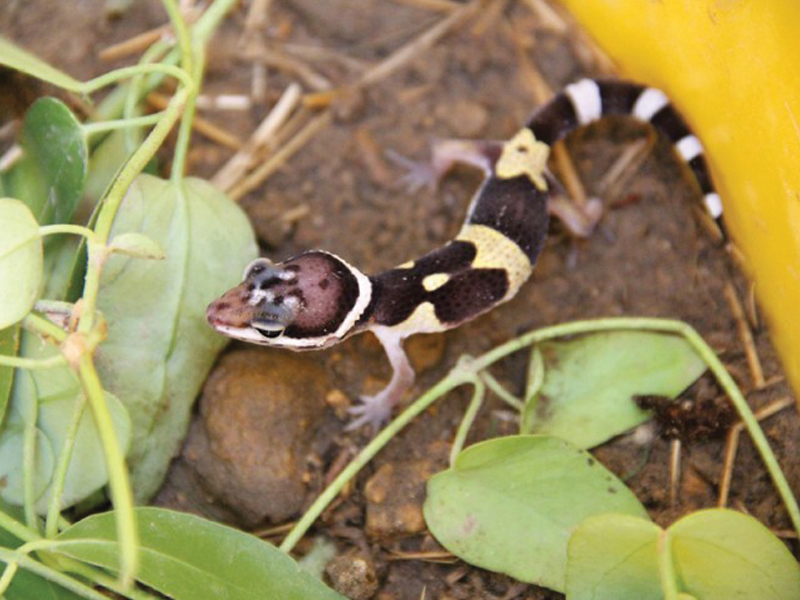 ---
PESHAWAR:



Leopard geckos continue to be netted and sold in Khyber-Pakhtunkhwa with no respite. The beautiful reptile is found in its natural habitat in the hot and dry regions of India, Afghanistan, Iraq and Pakistan but is in popular demand in Europe and USA as a pet.




In Khyber-Pakhtunkhwa (K-P), dealers sell a 50 gramme gecko (adult size) for Rs3,000 – nearly 50% over the retail price in the UK where pet stores sell them for GBP35. Their bright colours, leopard-print banding and gentle temperaments make them good pets, explaining their high demand and resultant efforts to meet supply.

The practice of netting these geckos has been going on in the deserts of K-P and other provinces for several years now.

Talking to The Express Tribune, a dealer said they are very much in demand in the west as in addition to their manageable size and attractive colours, they easily survive in captivity in which they even reproduce.

"Until recently, we caught leopard geckos for export only, but nowadays the reptile is also in demand with the locals," he said. A gecko pair caught in Pakistan can easily sell for Rs6,000.




"The price goes up with the size of the gecko," he informed. "If you have one weighing 190 grammes it could fetch as much as Rs4.5million in the West depending on its colour," claimed the dealer.

However, there are trade myths attached to the leopard gecko. Another dealer said the reptiles were being sent to Europe and America where scientists use them for research purposes. "We have been told these animals are being used to cure cancer. Though, whatever the reason, geckos are being caught and exported in considerable numbers."

An official of the K-P Wildlife Department confirmed the popularity of the leopard gecko as a pet in other countries, adding they are being caught and shipped to the West via Dubai.

"It is nonsense that these reptiles are being used to cure cancer or any other diseases. Breeders in the US are only experimenting with them to create artificial colours and sizes to meet the domestic market's demand."

The official explained in the US, through selective breeding, these reptiles were available in various colours – leopard geckos of those markings and colours are not found in the wild. These techniques used abroad are putting immense pressure on dealers in Pakistan as purchasers demand different sizes, markings and colours. Although breeding in the US occurs on a large scale, Pakistan and Afghanistan are still the main suppliers of wild geckos, shared the wildlife official.

"They are found in semi deserts of the province, near seasonal nullahs. We have seen this reptile in parts of Swabi, Jamrud, Bannu and DI Khan. Geckos found in different areas have variations in colour, which is why hunters try to cover each area to catch a variety," he said, adding they can be found in large numbers in the deserts of Balochistan, Sindh and Punjab."

The wildlife department is too short on resources to curb the practice of netting the reptile, he added.

Published in The Express Tribune, August 5th, 2013.
COMMENTS (19)
Comments are moderated and generally will be posted if they are on-topic and not abusive.
For more information, please see our Comments FAQ