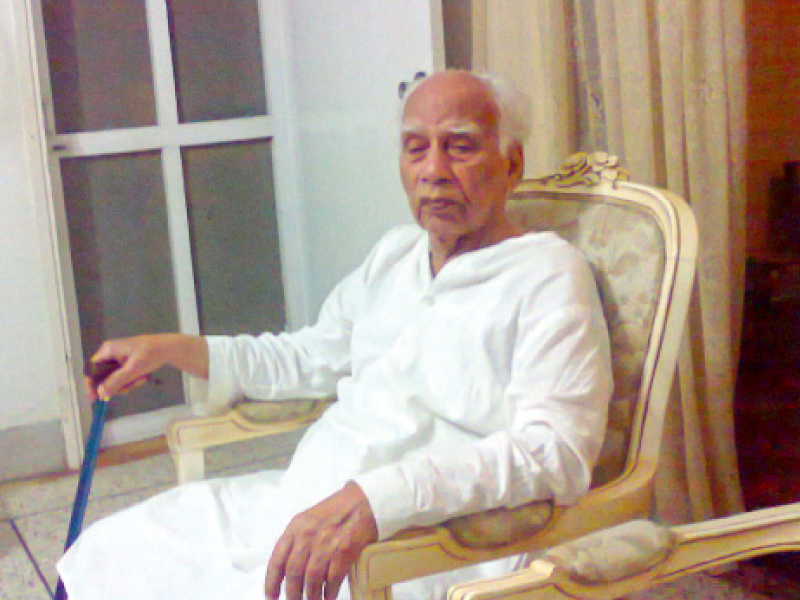 ---
KARACHI:



I had my first encounter with Farman Fatehpuri as a student at Karachi University in 1971. I had gone to Urdu department to see Dr Abul Lais Siddiqui who introduced me to Farman Sahib. Later, once in professional life, I had many other meetings with him mostly at the office of one of his close friends, Syed Zahid Ali, the publisher of the Weekly Current, Karachi. I always found him a lively man at ease with himself who showed no inhibitions while in the company of people much younger to him.




Born on January 26, 1926 Syed Dildar Ali was a down to earth man. Hailing from a middle-class small land-owning Hanafi Sadaat family of a village in Fatehpur in India, he had to struggle hard to make his way to the successes he achieved. His father, Syed Ashiq Ali, who was a sub-inspector in the police died in 1933 when Farman was only seven years of age. Now the life for him and his other family members was not a bed of roses. Immediately after doing his Matriculation in 1946, he had to join Fatehpur's Muslim High School as a teacher. He did his Intermediate from Kanpur's Haleem Inter College in 1948 and graduation from Christ Church College of Kanpur in 1950. He was still at school when he was married to his cousin in 1947.




Partition of India in 1947 had disturbed the communal life throughout the sub-continent. Hindus and Muslims who had lived together for over a thousand years turned each others' enemy overnight. Fatehpur and its villages were also caught up in this frenzy generated by communal hatred. It was in this background that Farman, too, had to leave the place of his ancestors for an unknown destination that was Pakistan. He arrived in Karachi in June 1950.

"My circumstances would not permit me to pursue my studies continuously. For several years I could not appear in any examination. I was the first from among my family members who left everything, the home and agriculture lands, and came to Pakistan. Obviously my brothers and sisters and my wife, whom I had left there, were concerned. Their woes they narrated in their letters always left me in tears. Had I tried I would have easily finished my masters in Urdu but my craze for English left me eight years behind my contemporaries at school until I did my masters in Urdu in 1958," writes Farman Sahib in his hurriedly written (jotted down, to be exact) autobiography - Bila Jawaz.

Against all odds

Farman Fatehpuri's life, however, was a rare example of a man who manages life against all odds and achieves his objectives. As soon as he arrived in Karachi, he joined the Civil Aviation department as a lower division clerk.




After a few weeks he got another clerical job in AGPR department and after passing a departmental examination, became a divisional accountant. But Farman was not made for this and continued to pursue his love for knowledge. In 1953 he completed his law from the SM Law College and then got a Bachelor of Teaching (BT) degree in 1955. He then joined the Education Department and was posted at Kotwal Building School as a teacher of English and Mathematics. He remained there for three years till he completed his masters in Urdu and joined University of Karachi as a junior lecturer in 1958.

He did his PhD in 1964 and was awarded a DLitt degree in 1974.

Once at the Karachi University, Farman started showing his real potentials and let loose his skills for research and criticism. He had already developed a taste for Urdu language and literature at an early age. But his first love was poetry. "The academic atmosphere at Fatehpur's school suited-well for my passion with literature. The appreciation I received from the young colleagues for my poetry at Fatehpur helped me earn a name. And during the decade of 1940 and 1950, I was already among the established poets of the city," says Farman Fatehpuri.

However, notwithstanding his own assessments about the potential he had for poetry, Farman was not made for it. His real forte was research and criticism. He later wrote: "Soon I started developing a taste for research and critical issues. This naturally left the poetry at the back burner. After I had written a few articles, I realised that if I devote myself to this field, I may be able to contribute something worth recognition and may earn an identity for myself. I therefore decided to continue with this. I though continued to compose poetry without any conscious effort; it was research and criticism that became focal point of my work."

Impressions and influences

It was Niaz Fatehpuri (1884-1966) who had played a very important role in the intellectual and professional development of Farman. At a very young age, Farman came into contact with Niaz and fell prey to his hypnotic spell. Niaz was not only a mentor and guide but an ideal whom Farman revered all through his life. Niaz encourgaed Farman by publishing his literary articles in his prestigious Lucknow-based literary journal, Nigar. They developed such an intimate relationship that when Niaz migrated to Pakistan in the early sixties he bequeathed Nigar with all its assets and liabilities to Farman, who as its new editor 'ensured its uninterrupted and regular publication despite unfavourable circumstances.'

Niaz in his own times was a literary icon, admired by some and disparaged by others for his controversial and critical views on literature, religion and philosophy. Despite such an intimate relationship, Niaz and Farman were never on the same wave length ideologically. Niaz was known for his atheistic or agnostic approaches towards life and literature while Farman was a committed Muslim. But that did not lessen the admiration and respect Farman had for Niaz and he continued to pay back what he owed to Niaz. Besides contributing dozens of articles on Niaz Fatehpuri, Farman wrote two books, Niaz Fatehpuri-Fun-o-Shakhsiat and Niaz Fathepuri-Deeda Shuneeda, on the life and works of his mentor.

Dr Abul Lais Siddiqui (1916-1994), himself a great researcher and linguist, was only second to Niaz who left some impressions on Farman and guided him for his approaches in researches and criticism. It was on the advice of Dr Siddiqui that Farman chose the subject of Urdu ki Manzoom Dastanein for his PhD in 1964. It was again on the advice of Dr Siddiqui that Farman came out with another outstanding contribution - Urdu Shura kay Tazkaray aur Tazkara Nigari - for which he was awarded D.Litt by Karachi University in 1974.

When Dr Siddiqui left Urdu Dictionary Board as chief editor of the massive Urdu Lughat, he recommended Farman's name as his successor. It was during the tenure of Farman, first as chief editor and then as president of the Board, that the Urdu Lughat project gained real momentum with the publication of 10 volumes. In 1985, Dr Farman Fatehpuri was awarded Sitar-e-Imtiaz for his outstanding services in the field of Urdu literature and language.

A great Urdu ghazal poet and a legendry political activist, Syed Fazlul Hasan Hasrat Mohani (1857-1951), too was a perpetual source of inspiration for Farman Fatehpuri. Hasrat was an enigma to many. Leading the life of an ascetic, he was an orthodox Muslim with an unflinching faith in socialism and a romantic ghazal poet known and admired for eroticism, tender passions and his own experiences of love in his poetical compositions. Niaz Fatehpuri and Hasrat Mohani were both classmates but that was not the only reason for Farman's admiration and appreciation of Hasrat. It was the unique personality of Hasrat and his remarkable strength as a ghazal poet besides his integrity and impeccable character that must have left a deep mark on Farman Fatehpuri.

There are hundreds of students whom Farman inspired as a teacher and a guide. Teaching, research and writing was his passion of which he was never tired. He contributed hundreds of articles to various literary and research journals and authored more than 40 books. Some of these included Urdu Rubai, Ghalib - Shaer-e-Imroz-o-Farda,  Ghazaleyat-e-Ghalib - Sharah-o-Matan, Iqbal sab kay leay, Urdu Afsana aur Afsana Nigari, Fan-i-Taareekh goi, Tehqeeq-o-Tanqeed, Urdu ki Naatia Shaeeri, Urdu ki Zarefana Shaeri, Urdu Fiction ki Mukhtasir Tareekh, Urdu ki Behatreen Masnavian, Urdu-Hindi Tanazea, etc.

Published in The Express Tribune, August 4th, 2013.