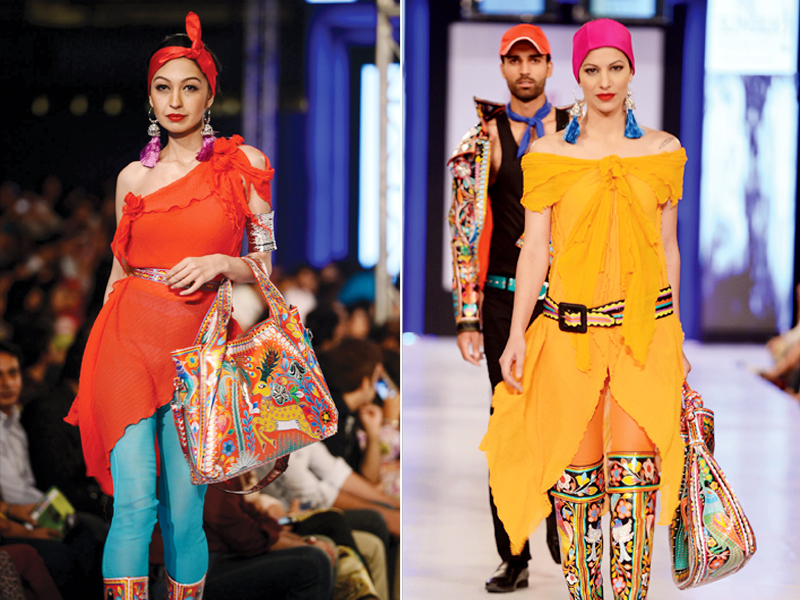 ---
Rizwan Beyg has a tendency to surface into the limelight with flashes of brilliance and then to slink back into the shadows once again. For instance, his showcase in this May's PFDC Sunsilk Fashion Week (PSFW) was an ingenious ode to truck-art.

Coquettish peacocks and flowers painted by actual truck artists and ornamented with the traditional 'chamak-patti' on fitted jackets, high boots, jeans and those gorgeous, delectable bags  — they had the Telegraph's Hilary Alexander declaring it to be the best collection at the event. Rizwan had professed that it would soon be available for purchase.

Only, three months later, come Eid, Rizwan's 'Rangg' is yet to be seen in stores. A pity — what a statement those thigh-high boots or pants would have made amidst the mundane Eid 'designer' chikankari, machine embroidery and digital prints infiltrating the market! Apparently, Rizwan's collection is still in production.

"People associate a certain quality with my brand and I need to uphold it," he tells me. "When I began replicating the truck-art collection I realised that the paint was peeling off the soft fabric. I am trying now to devise a way to digitally print and embellish the designs so that they look similar to the original collection. I am not just focusing on the local market but also at international stores. I have had queries from all over the world."

This is, of course, thanks to the coverage provided by PSFW. Over the last few years, Rizwan's flitted from one council to the other, one fashion week to the next. He was a founding member of the Karachi-based Fashion Pakistan Council only to resign due to internal differences. Instead, last year, he orchestrated the one show wonder 'Showcase' — an event that ended up being sandwiched between two other mainstream fashion weeks and had insiders quipping about "yet another fashion week".  Showcase fizzled out due to supposed organisational difficulties and Rizwan participated in the PSFW this year. The experience, apparently, has worked out well.

"It's a very effective, efficient platform for fashion," he says. "My collection got reviewed in Vogue and the Telegraph and I had talks with Carol Hanlon, a liaison from Australia who was attending the event. A Japanese buyer has also contacted me. But I need to be able to make the collection perfect before I make it available internationally."

He also needs to first at least make it available locally, I point out. At a time when designers are getting business-savvy, making a beeline for mass-retail through flagship stores, Rizwan continues to function through limited capsule collections at multi-labels and through his studio, stowed away in a corner of Karachi's Boat Basin.

"People who want to see my collections in their entirety can always stop by my studio. Mass-retail and flagship stores, though, just don't appeal to me — I'd lose out on originality and detailing," he says. "I might try to bring down prices by mixing machine embroideries with hand embellishments but I wouldn't ever want to resort to the machine completely —  designs churned out through computers  —  when I can create clothes that are more distinctive, more ethical."

It is the ethical side to fashion that is closer to his heart, he professes. Rizwan's design-house currently employs about 800 women living in Pakistan's rural areas and while he may usually evade local events, he is a regular participant in the ethical fashion contingent at Colombo Fashion Week. "All my embellishments are painstakingly created by local artisans, sometimes taking weeks or even months to complete. Women that care about empowering their gender and giving back to society will buy my clothes regardless of the higher price-points."

The rest, if they feel the inclination, may make do with three-piece lawn. Rizwan was one of the first designers to venture into lawn decades ago and he continues to sporadically bring out collections. Does his lawn still sell well, amidst the myriad of other brands shouldering into the market? "It always does," he shrugs. "We make sure that we only print a limited number of suits so that there are no losses."

He only recently released his Eid collection in the market and is now planning on temporarily shifting base to the UAE. "I have been invited by Sheikha Jawahir of Sharjah to work with the local Bedouin women of her country," he says. "I will be acting as a consultant for setting up a centre that will focus on the revival of Bedouin crafts. It is more important to me to revive these indigenous crafts and to spread awareness about ethical fashion rather than profits or sales."

An altruistic declaration — and he may just do wonders in Sharjah — but still, what's the point in putting up a breathtakingly beautiful fashion week showcase only to not make it available for purchase? Even the older clothes stocked in his studio have greater finesse than so many designer collections currently infiltrating the market. There are racks upon racks lined with couture pieces sparkling with golden gota and intricate marori-work, detailed chikankari that he delved into many years ago, as well as, Swati phulkari motifs, gypsy-style tunics and shrugs with cross-stitched flowers along their lengths and wedding-wear replete with sequins and hand-embroideries. A maroon sari currently being created for Indian actor Sonakshi Sinha glitters with tiny embroidered flowers and Rajisthani gota-patti and the truck-art bags lie stacked on a chair, brought out so that I could marvel over them up-close. "They will be ready for retail in a few more months," says Rizwan.

This is the litmus test that Rizwan now needs to pass — to find a balance between his love for craftsmanship and the need to retail. He may still be the King of Couture but fashion has now become a fast-changing game. Designers need to put out regular collections and make their clothes easily available in order to stay in business. Besides, why should someone like Rizwan be restricted to bridal orders and the uber-rich who can afford his embellished creations? He's one of the finest designers Pakistan has — it's about time all of Pakistan begins wearing him!

Maliha Rehman

is a fashion and lifestyle journalist with an obsessive, compulsive need to write. Log on for more fashion updates on Twitter
@maliharehman.

Published in The Express Tribune, August 4th, 2013.

Like Life & Style on Facebook, follow @ETLifeandStyle on Twitter for the latest in fashion, gossip and entertainment.
COMMENTS
Comments are moderated and generally will be posted if they are on-topic and not abusive.
For more information, please see our Comments FAQ