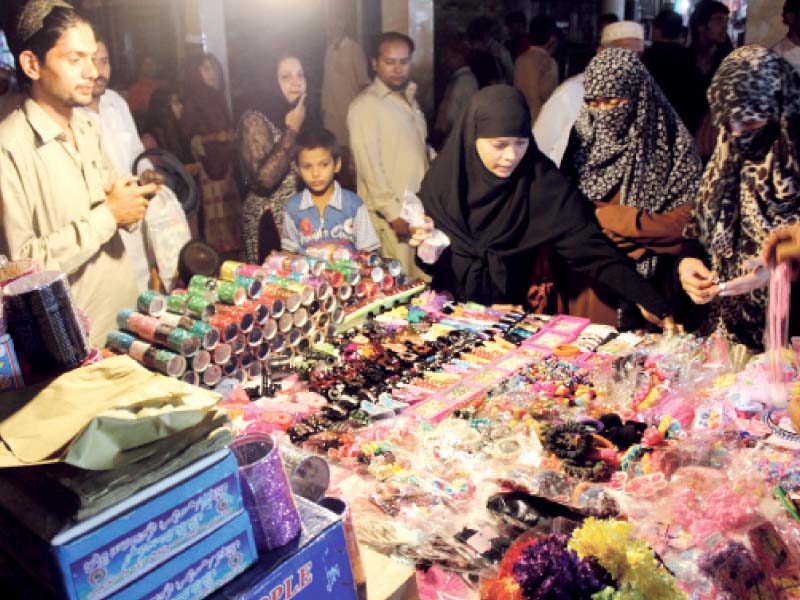 ---
ISLAMABAD:



As Eid draws near, the annual shopping spree witnessed this time of the year has lost much of its charm with soaring prices and humidity levels. Customers thronging markets and shopping malls in the capital are on the lookout for the best deals in the last week of Ramazan, much to the chagrin of shopkeepers.




Though main commercial markets were jam-packed with buyers after iftar, many shopkeepers lamented that sales were slow to pick up this Eid compared to the past many years.

"This year, people have started Eid shopping a bit late. In the past, they would usually start to shop in the last two weeks of Ramazan, but this year, it's not the case. In this backdrop, it's too early to predict if we make healthy profits from our sales," said a shopkeeper at Aabpara while Talking to The Express Tribune. The shopkeepers said that though ostensibly markets remain flooded with people, 70 per cent of them turn up for window-shopping.

"First it was scorching heat which hampered people from venturing out and now it's rain, if it remain the same in coming days, I am afraid, we may end up making zero profits," said Mohammad Muzaffar, a shopkeeper.

Nawaz, a salesman at the Jinnah Super Market, said this year they ordered more stitched clothes as compared to last year. "So far, I've not been able to sell even 10 stitched dresses," he said, while eying potential customers at the entrance of his shop. "This year, we're offering special discounts but we've not managed to attract buyers as yet," he said.

Sharafat, another shopkeeper in the same market, said compared to the past, sales on Eid were on the decline. "Earlier, nearly everybody in the family would buy clothes or, at least, accessories, but now most parents prefer to get things for their children only," he said.

Mohammad Qurban, a shop owner at Karachi Company said, "In the past, some of my customers would shop consecutively for three days ahead of Eid, but now they just shop for one day. "They cannot afford it, obviously due to inflation," he said.

He said he had put clothes on sale since Ramazan 15 to attract customers, but it hadn't made much difference."Customers complain that we charge double the price. "On the contrary, we have our own compulsions as we have to bear other expenses including payments to salesmen and hefty utility bills." he said.

Shafiq Hussian, who was out for Eid shopping at Karachi Company along with his two daughters and wife said, "For us, Eid shopping has become a luxury. For the last few years, I and my wife have stopped buying new clothes for ourselves and only shop for our two daughters," he said. "How can a family with a monthly income of Rs20,000 afford to buy new clothes for everyone?"

Shiza, another customer said, "In other countries, prices decline on religious occasions, but in Pakistan it's exactly the opposite with prices going up. "I was shocked when a shopkeeper said that the price of a set of bangles for a one-year-old girl was Rs130," she said.

Published in The Express Tribune, August 3rd, 2013.
COMMENTS
Comments are moderated and generally will be posted if they are on-topic and not abusive.
For more information, please see our Comments FAQ