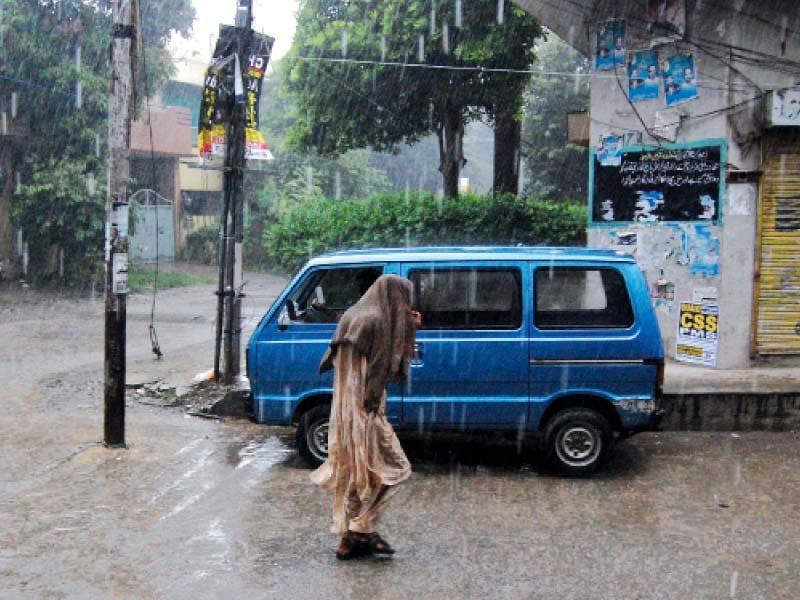 ---
ISLAMABAD:



After teasing residents for two days, the heavens finally poured down on the federal capital, bringing some relief from the consistent heat, humidity and buckets of sweat.




Several areas of Islamabad received isolated rainfall on Thursday. Areas around sectors G-9, G-11, 7th Avenue, G-6 and some of the F-sectors witnessed showers during different parts of the day.

The city's weather remained partly cloudy in the afternoon and the Pakistan Meteorological Department (PMD) has predicted rain and thundershowers at scattered places in Islamabad and Rawalpindi over the next 48 hours.

By 9pm on Thursday, Islamabad had received 12 millimetres (mm) of rain and Rawalpindi 6mm. Rawalpindi had also seen 24mm of rain on Wednesday, but despite expectations and PMD predictions, Islamabad got only trace amounts of rain during the mid-week.

So when the rain began on Thursday, it was only natural that citizens were grateful.

"Thank God for the rain! I hope it will continue," said taxi driver Muhammad Nawaz, who had stationed his cab near Aabpara Market. "We are out on the roads all day, so we know how bad the heat has been these past few days."

But there were others who felt the humidity would not go away.

"It's 'sawan'," said Amir Qureshi, a shopkeeper in sector F-7, referring to the month on the Punjabi calendar associated with the Monsoon rains. "It is going to remain dank and humid until the rainy season is over."

The nugget of folk wisdom was reflected in the humidity levels for the twin cities, which remained in the mid-70s. However, the cool breeze and the cloudy weather are expected to provide some relief from the mugginess.

Published in The Express Tribune, August 2nd, 2013.