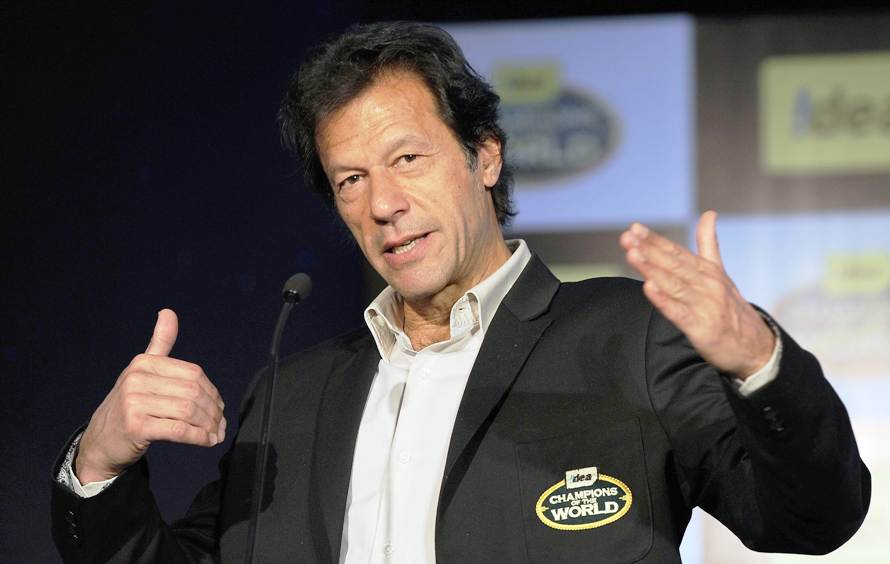 ---
ISLAMABAD: Pakistan Tehreek-e-Insaf (PTI) chief Imran Khan vowed on Thursday that not only will he appear in person before the Supreme Court after being summoned for contempt of court, he said that he will stand by his stance, even if it meant he is sentenced and disqualified from being elected into the assemblies.

Speaking on Express News show Kal Tak on Thursday, hours after being issued the notice by the Supreme Court to explain comments he made that derided the judicial body, Imran said he was only seeking justice as a citizen of Pakistan.

"I consider this [contempt notice] a joke that a Pakistani citizen who is asking for justice from the Supreme Court is being given a contempt notice, who has struggled for restoration of the judiciary, participated in long marches for the independence of judiciary."

The PTI chief asked that didn't a citizen of Pakistan have the right to seek justice from the Supreme Court over the alleged rigging during the May 11, 2013 elections.

"If this is contempt, then I do not think they know the meaning of contempt."

Asked that if the court convicted him of contempt of court and sentenced him, would he accept the sentence or term it a conspiracy to disqualify him, Imran said he was ready for the punishment and would maintain his stance till the end.

"Under no circumstance will I apologise. I have committed no mistake. I am fighting the fight for democracy in Pakistan, and if they send me to jail for contempt, I am ready to go to jail."

Imran said he felt being wronged by the court.

"I think the Supreme Court is wrong in summoning me in contempt of court."

However, Imran vowed that he will appear before the court. "We talk of rule of law so I will appear in person."

Asked if he was disqualified from the assemblies as a result of a sentence handed down by the court, Imran said, "

Let them disqualify me, I am ready for that."

Earlier, an official announcement form Pakistan Tahreek-e-Insaaf (PTI) confirmed that their party chief Imran Khan will appear in person before the Supreme Court (SC) on Friday.

Imran, who was issued a notice on Thursday, will appear before a three-member bench headed by Chief Justice Iftikhar Muhammad Chaudhry on Friday, and will be accompanied by lawyer Hamid Khan and senior party leaders of party. The court has also directed Attorney General Muneer Malik to assist in the matter.

CEC's resignation

Asked about the resignation of the Chief Election Commissioner Justice (retd) Fahruddin G Ebrahim, Imran said that other members the Election Commission should also resign after the alleged rigging in the May 11 elections.

"In a country where all parties said rigging has taken place in the elections, then principally they must resign."

The PTI chief further claimed that the former CEC had little to no control over the election commission.

"Ebrahim had nothing in his hand. All the other members were politically appointed. His stand on the presidential election was also overruled."

Imran added that they had petitioned the Supreme Court to conduct thumb impression verification of votes in four constituencies. If the verification did not take place, he said that his party will protest by coming onto the streets.

"That is the right of a democratic party to demand free and fair elections."

Drones

Asked about drones, Imran said that drones were not acceptable since it provided fuel for the militants to act against the state.

"Drones, for any self-respecting country, is not acceptable."

He referred to the recent incident on Nanga Parbat and pointed to the reason claimed by militants. "They said it was in reaction to the drone strike on Waliur Rehman."

The PTI chief, who has pushed for talks with militants, said that they had more of a chance to stop militants if they disengaged with US' War on Terror.
COMMENTS (80)
Comments are moderated and generally will be posted if they are on-topic and not abusive.
For more information, please see our Comments FAQ