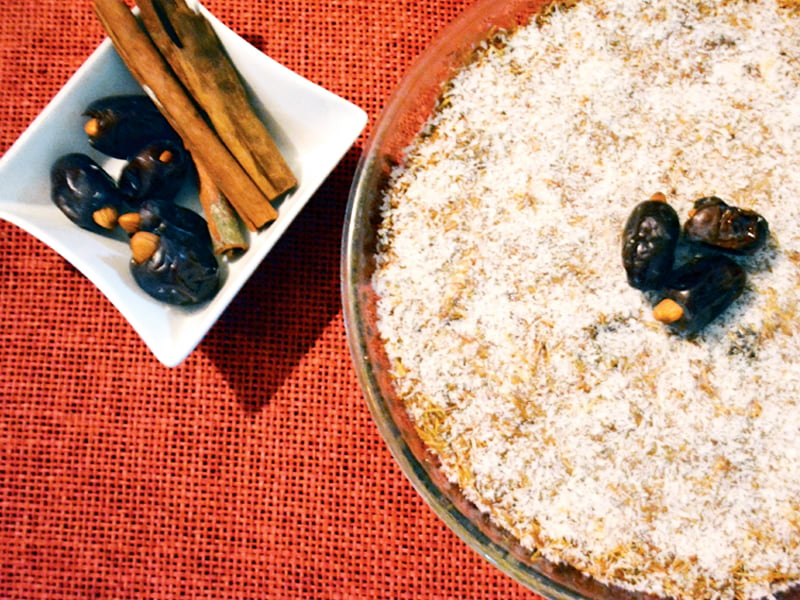 ---


Eidul-Fitr, also known as 'meethi Eid' with everyone competing to cook something great and unique and yet easy to serve for their guests. Have a go at this recipe for traditional 'sawaiyaan' and wow your guests with the little added twist of cinnamon, walnuts and dates. I guarantee they will love it! 

Ingredients:

Vermicelli 1 packet

Condensed milk ¾ of tin

Cinnamon 1 and ½ tsp

Dates (deseeded and cut) 8 -10

Walnuts (crushed) 1 tbsp

Coconut powder (crushed) for garnishing




Method

•  Crush the vermicelli in the packet using both hands.

•  Open the packet and empty the vermicelli onto a non-stick frying pan. Fry it until it becomes brown. Remember that the more you fry the vermicelli, the crispier it will be.

•  Once the vermicelli has been fried, add the cinnamon, walnuts, dates and condensed milk to the pan.

•  Keep stirring the mixture until the vermicelli is covered in the condensed milk completely.

•  Pour the mixture on a flat dish and spread it evenly. Allow it to cool in the refrigerator for about an hour.

•  Sprinkle the crush coconut powder over the dish for decoration or cut the coconut into tiny triangular pieces and place them on top. Either way, your guests will relish the desert!


Madiha Hamid is a digital media professional. She runs a food blog for Pakistani and regional cuisines called cheflingtales.com. Follow her on Twitter @cheflingtales


Published in The Express Tribune, Ms T, August 4th, 2013.

Like MsT on Facebook, follow @TribmagMsT on Twitter for your dose of girl talk.
COMMENTS
Comments are moderated and generally will be posted if they are on-topic and not abusive.
For more information, please see our Comments FAQ