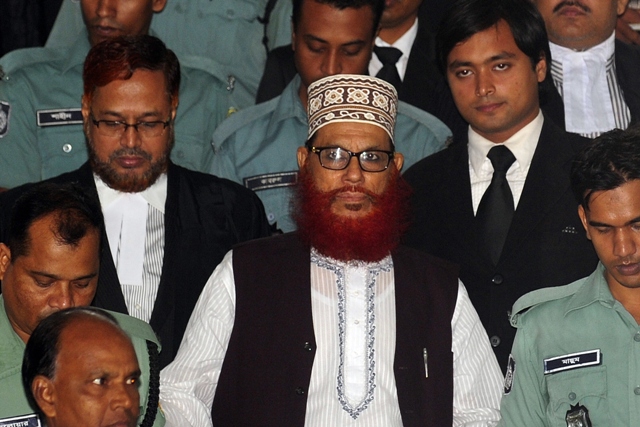 ---
DHAKA: Bangladeshi security forces have killed at least 150 protesters since February, using excessive force during demonstrations against war crime trials for Jamaat-e-Islami's top politicians, a rights group said Thursday.

New York-based Human Rights Watch said security forces have also injured more than 2,000 protesters during the street rallies, and in some cases had targeted individuals for attack.

"The killings have been worryingly high," said Mark Dummett, co-author of the report "Blood On The Streets: The Use of Excessive Force During Bangladesh Protests."

"In some cases protesters have been singled out," Dummett said.

The report comes on the day that the High Court is set to rule on the legality of the country's largest Islamic party, a judgement that could spark further protests.

Nationwide protests kicked off in February, led by the Jamaat-e-Islami party over sentencing of its leaders for war crimes, sparking battles with security forces and the deadliest political violence since independence.

A local tribunal has so far convicted six for war crimes committed during Bangladesh's 1971 war, four of whom have been sentenced to death.

Police and officials have sought to down play the number of deaths during the protests, and criticised the party supporters for attacking security officers and rampaging through the streets. At least a dozen officers have also been killed.

The HRW report was based on 95 interviews, including of injured people and their family members. One of those interviewed was a 12-year-old boy.

"He was aiming at my chest but six small rubber pellets hit my face," the boy said, referring to a security officer.

"The man who fired it was standing about two metres away from me. I then pretended to be dead and they dumped me with some other bodies."

With Bangladesh bracing for more war crimes verdicts in coming months and elections only five months away, HRW said it feared more deadly protests.

"Unless the government takes firm action to rein in the security forces, there is going to be a lot more blood on the streets before the year is over," said Brad Adams, Asia director at Human Rights Watch.

Although initial protests were aimed at the tribunal, a more hardline group joined the rallies in May, demanding, among other things, a ban on public mixing between men and women and the death penalty for blasphemy.

HRW said at least 50 people were killed when the government launched a crackdown against the new group, after tens of thousands of its members converged on Dhaka on May 5-6 to protest.

The government has said police have recovered only 11 bodies from that violence, most of which occurred near Dhaka's central mosque.

The opposition has criticised the trials as a politically motivated exercise aimed at settling old scores rather than meting out justice.

The government maintains the trials are needed to heal the wounds of the 1971 war in which it says three million died. Independent estimates put the death toll at between 300,000 and 500,000.