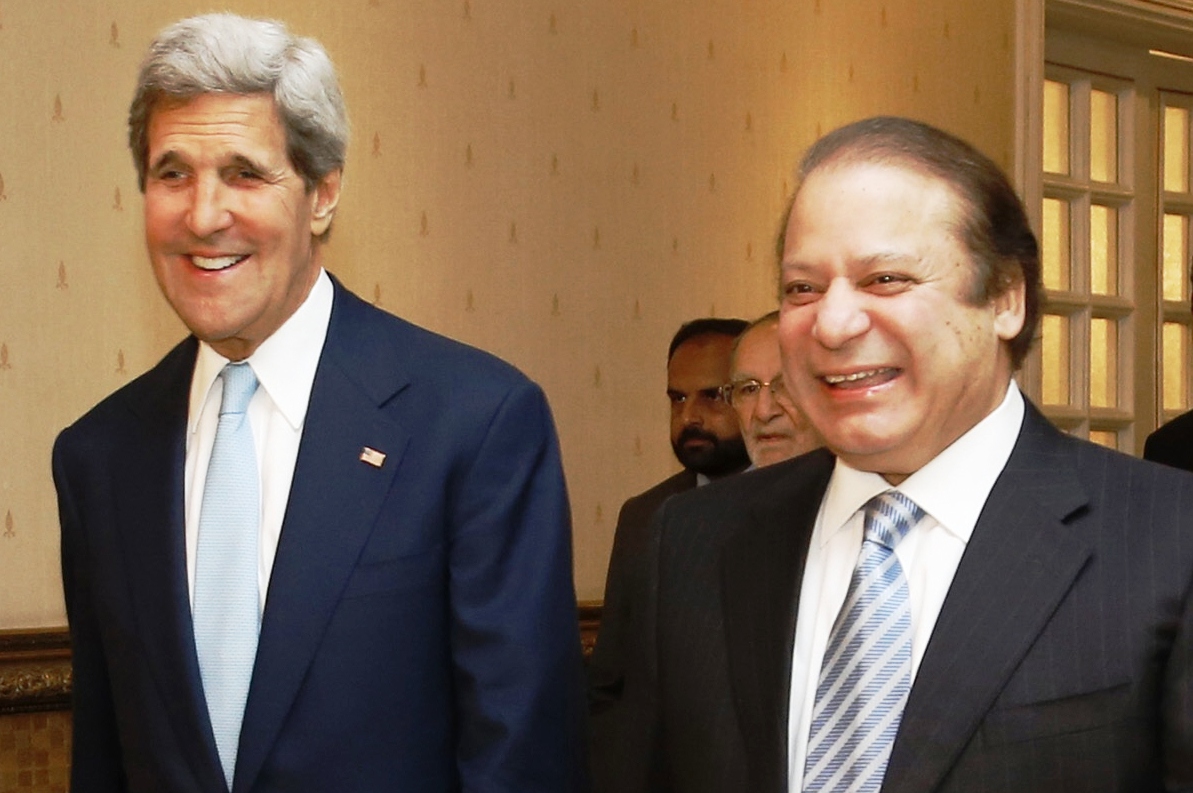 ---
ISLAMABAD: In his first meeting with US Secretary of State John Kerry on Thursday, Prime Minister Nawaz Sharif has asked the US to stop drone strikes in the country's tribal areas, Express News reported.

Kerry arrived late Wednesday at the start of a long-anticipated visit.

The US Secretary of State will also be meeting outgoing President Asif Ali Zardari and Chief of Army Staff General Ashfaq Pervez Kayani.

During his talks with Kerry, Nawaz emphasised Pakistan's desire to get access to the American markets to boost economy and assistance in overcoming the energy crisis.

Kerry reiterated the US government's stance on Diamer Bhasha Dam and said his country will facilitate its construction.

Aziz-Kerry

During a joint press conference with Kerry, Aziz assured that Pakistan wants peace in Afghanistan and will facilitate the process of ensuring a stable Afghanistan. He told journalists that concerns related to drone strikes were raised and discussed during the meeting.

Aziz added that the US Secretary of State was also briefed on the country's upcoming terrorism policy.

He said Pakistan hopes to double the bilateral trade with the US.

Speaking about US' emphasis on fighting militants in Pakistan, Aziz said the armed forces are already present in most of the tribal areas and new military action is a question of increasing capacity and the right timing. He, however, added that talks will be the first priority.

While answering questions during the conference, Kerry said political resolution is better than fighting.

Responding to Pakistan's concerns over drone strikes and violation of sovereignty, the US Secretary of State said he would like to point out that elements such as Ayman al Zawahiri also challenge the sovereignty.

Replying to a question, Kerry revealed that nothing was discussed with regard to a possible prisoners swap agreement between Pakistan and US and of repatriating Aafia Siddqui.

May polls

Kerry earlier paid tribute to the polls, which marked the first time that an elected civilian government completed a full term in office and handed over to another at the ballot box.

"This is a historic transition that just took place. Nobody should diminish it," he told US embassy staff.

"I think President Zardari deserves credit... It is an enormous step forward. It is historic. In the 66 year history of Pakistan that has never happened. So change comes over time," he added.

Pakistan-US relations, deeply troubled in recent years, have recovered at least somewhat from the crisis sparked by the US killing of al Qaeda mastermind Osama bin Laden in May 2011.

Islamabad demands an end to US drone and bristles over US insistence that it do more to eradicate the threat posed by militants.

Pakistan, where anti-American sentiment runs high, complains that the United States fails to appreciate the sacrifices it has made in fighting terror, claiming to have lost 40,000 people since 2001.

But US officials say they are hopeful that the onset of a more stable government under Nawaz, with a clear majority, offers a new opportunity to rework relations along realistic objectives.

"We have obviously seen a pretty tumultuous relationship with Pakistan over the course of the last four and a half years," a senior US official told reporters travelling with Kerry.

"Starting last summer I think we entered into a very constructive period. We really try to have much more sober expectations, to be more realistic," the official added.

Pakistan faces mammoth challenges posed by a domestic insurgency, the external threat posed by Afghan and foreign militants on its soil, a crumbling economy and an energy crisis.

Since winning the May election, Nawaz has said he wants to strengthen Pakistan's relations with Washington, but that the United States must take seriously concerns about drone strikes.

He has made economic growth and resolving the energy crisis the top priority of his new administration, but Kerry will be looking to stress that more must be done on militant havens.

"Fostering or helping in any way to provide some sort of base for extremism is ultimately not in any of our interests, including in Pakistan's interest," a US official told reporters.

"We'll have to see where the new government is on this and what they're willing to do as how they see it as part of their broader efforts at promoting stability," the official added.

"They are the ones bearing the brunt of continued extremism in Pakistan and that by asserting greater sovereignty over their own country and taking care of these... that is the only way for Nawaz to be able to accomplish the goals that he has set out."

Pakistan's nuclear arsenal and drone attacks are expected to be part of the discussions.

"The whole purpose of this conversation is to have a very comprehensive, very robust, very serious, very real conversation on the range of our mutual and national security interests," a senior US administration official told reporters.

"It will be hard to imagine that any issue that we think is one of our key national security priorities is not on the agenda."

It is the first visit by a US secretary of state to Pakistan since October 2011 when Hillary Clinton urged Islamabad to dismantle havens for Afghan militants and encourage the Taliban into peace talks to end the war in Afghanistan.

Nearly two years later, efforts are in disarray to negotiate an end to the conflict in Afghanistan and the opening of a Taliban liaison office in the Gulf state of Qatar in June outraged Kabul.

Kabul-Islamabad relations are mired in distrust and while the West has praised Pakistan's support for efforts to help a peace deal, many Afghans consider Pakistan an abettor of the Taliban.