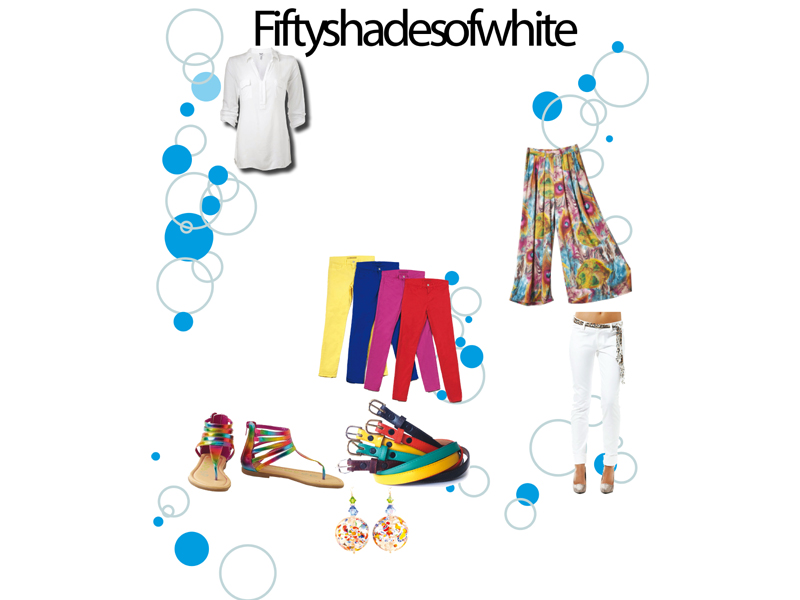 ---
You got it right, tis the season to wear white! Nothing spells summer like this light reflecting hue which absorbs less heat than other colours, making it a favourite during the sticky, sweltering hot season.

But while it is the perfect choice for the sultry weather, be warned that not everyone can look fabulous in white. Unlike dark colours that enhance your figure, whites can make your flaws stand out if worn the wrong way. Here, Ms. T recommends some trendy ways to wear white and look good.

50 shades of white 

It's important to find out the shade that flatters your face and enhances your complexion. While you may dream of resembling Marilyn Monroe in an ivory cocktail dress with a halter bodice, the truth is, it might just be the wrong white (and the wrong cut!) for you. White has many shades, from bright white to warm white (beige). For light skin tones, opt for beige white rather than the stark, crisp white. For darker complexions, choose to wear milky-white, which doesn't make your skin look dull.

Shirts

After picking out your white shirt, look for a fruity fun shade to complete your outfit.  Traditionally, it's always safe to wear a white shirt with blue jeans, but for the fun-factor, we recommend printed or colourful palazzos. The white keeps it simple and summery and the colour brightens your look.

For an evening out, wear earth toned pants or neutral colours with a silk or chiffon white top. Accessorise with silver or stone jewelry and nude, beige or brown heels. For a day out with friends, wear a cotton white shirt atop vibrant coloured trousers or leggings. Try out bright floral pants if you want to bring some variation to your look.

Pants

Before we go any further, make sure your white pants are not transparent. Whether you like skinnies, straight or cropped, the fitting of the pants should flatter your body shape. There's nothing worse than wearing white pants that are see-through, oversized or poorly stitched.

Pair your white pants with any colour you like: from nudes and pastels to bright and dark. The lighter coloured tops give a fresh and calm vibe, while the more radiant shirts make you look sexy and bold. For a night out, go for a darker coloured tunic, which gives a formal look, but still keeps the summer feel with the white pants. If you're stepping out during the day, try wearing pastel shades.

If you've been indecisive about wearing white this year, it's time to kick those fears good-bye and give white a chance. After all, it's a must-wear colour of the season. So weather it's a BBQ party, a baby shower or a formal dinner, it's time to dig out those whites and beat the heat in style.

Eastern wear

No matter how old you are, when you wear a crisp white cotton kurta or an ivory chiffon outfit, you send off good vibes. White is always in fashion as far as desi clothes are concerned: from an all-white outfit to those essential white shalwars and dupattas, dressing up would be that much harder without our white eastern essentials. The one rule to remember when wearing all white is that your undergarments should be your skin colour, which will save you from embarrassment.

Try wearing chunri duppattas with a white shalwar and kameez or combine any shade of white with Sindh's susi lined cloth. On a hot day out, wear chicken-kari kurta with cotton capris or cotton white kurta with white embroidery on it. A pair of fancy khussas is a fashion forward way of adding colour to your white ensemble. For formal wear, go for white chiffons and silks embellished with sequins or kamdani.

Published in The Express Tribune, Ms T, July 28th, 2013.

Like MsT on Facebook, follow @TribmagMsT on Twitter for your dose of girl talk.
COMMENTS
Comments are moderated and generally will be posted if they are on-topic and not abusive.
For more information, please see our Comments FAQ