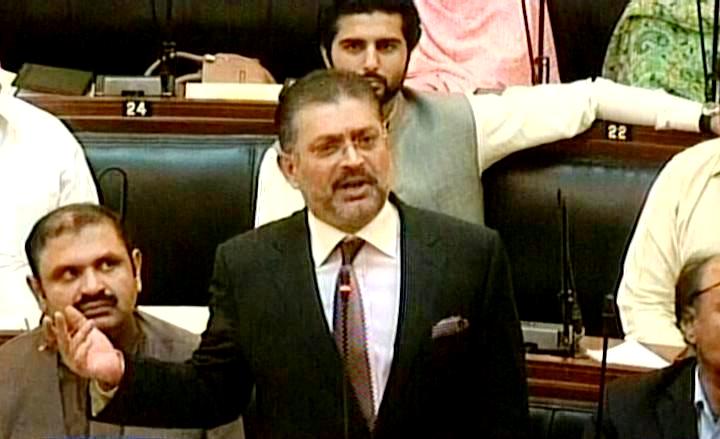 ---
KARACHI: Sindh Information Minister Sharjeel Inam Memon on Thursday said that the government can't be held solely responsible for ensuring peace in the city, if the judiciary won't do its job.

Addressing members of the Sindh Assembly, Memon said, "If the government catches terrorists and throws them in jail for the court to carry the cases forward and the courts don't have the power to rule against them, what do we do?" Memon said.

The provincial information minister said that cases against the Pakistan Peoples Party (PPP) are always singled out because it's an easy target.

"Cases pertaining to the NRO issue were eight but only one was taken forward - the one against Benazir Bhutto," Memon said, amidst an uproar in the assembly.

"Everyone remembers the bloodshed of 12 May. Six years have passed but there have only been three hearings," Memon detailed.

"Where did the judges go? Why don't they take the other cases forward?" Memon questioned, claiming that the judiciary is afraid of ruling against the culprits.

Be it sentencing Zulfiqar Ali Bhutto to death, or killing Benazir Bhutto, PPP has always been an easy target, Memon stated.

"We don't believe in political victimization. We won't bring up false cases against people who have wronged us in the past," said Memon, claiming that PPP wasn't even in the government when cases were filed against them.

"Peace in Karachi is as desirable to us as it is to the people of Karachi," asserted Memon.

He said, the people of Karachi might have a bigger stake in Karachi, but PPP's stake in Karachi is not insignificant.

"We want peace to prevail in Karachi but for that to happen, everyone has to play a role. It can't all be left to the government," Memon said.

Memon said that all political parties need to step forward.
COMMENTS (41)
Comments are moderated and generally will be posted if they are on-topic and not abusive.
For more information, please see our Comments FAQ